Cryptocurrencies replacing traditional fiat currency for day-to-day transactions are one of the most anticipated features of blockchain technology. While the idea of using crypto to buy real-world goods and services sounds cyberpunkish, the widespread adoption of "digital currency" as a payment method doesn't seem like happening soon.
Few businesses and merchants are willing to accept crypto as a means of payment due to fear of loss, which makes sense because of its high volatility. Yet, the Alchemy Pay Network proposes a solution that bridges cryptocurrency and traditional fiat payments. This solution aims at increasing the adoption of cryptocurrency payments.
One of the innovative ways the network aims to achieve that is through introducing the Alchemy token (ACH) — to incentivize Alchemy Pay's users — as its official token. Both merchants and customers get cashback rewards, a percentage of the transaction deposited in ACH to their account.
ACH is trading at $0.01347 with a market capitalization of $66,570,277, according to CoinMarketCap, at the time of this writing.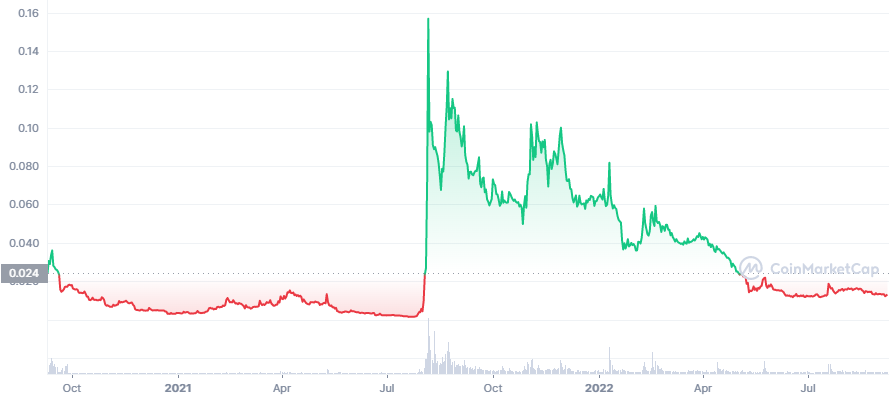 This article will explore more about Alchemy Pay and ACH token. We'll also provide some foresight into what the future might be for ACH's price.
Prediction Summary
By the end of 2022: We predict ACH will reach an average minimum price of $0.018 and an average maximum price of $0.021.
By the end of 2023: We predict ACH would reach an average minimum price of $0.027 and an average maximum price of $0.031.
By the end of 2024: We predict ACH would reach an average minimum price of $0.039 and an average maximum price of $0.046.
By the end of 2025: We predict ACH would reach an average minimum price of $0.058 and an average maximum price of $0.068.
By the end of 2027: We predict ACH would reach an average minimum price of $0.120 and an average maximum price of $0.140.
By the end of 2030: We predict ACH would reach an average minimum price of $0.410 and an average maximum price of $0.470.
Quick Overview of ACH Crypto
ACH Crypto Overview
| | |
| --- | --- |
| Coin Name | Alchemy Pay |
| Coin Symbol | ACH |
| USD Price | $0.01347 |
| Market Cap | $66,570,277 |
| 24h Volume | $10,634,666 |
| Total Supply | 10,000,000,000 |
What is Alchemy Pay?
Singapore-based payment gateway Alchemy Pay is an innovative project that intends to combine traditional fiat and cryptocurrency payments into one platform. The big idea is to provide clients with a wide range of payment alternatives and make it simpler for businesses to process such transactions.
Alchemy Pay works with many currencies and can be integrated into apps, POS (point-of-sale) terminals, web forms, and other applications. This feature allows customers to choose the most convenient payment method, whether they will pay cryptocurrency or fiat, and the merchant in their local currency.
ACH Crypto is the official token for the Alchemy Pay network intended to improve the adoption of cryptocurrency payments, a move that has proven successful over time. The project team plans to develop solid and successful tokenomics for its customers continuously.
Without underplaying the token's potential, it's been a rocky road for $ACH since its release in 2020. However, everyone asks the million-dollar question, "Is ACH a good investment?"
Before we offer our opinion on the matter, let's see what history can teach us about ACH's prospects in the crypto market.
ACH Crypto Price History: Performance & Stats
When Alchemy Pay cryptocurrency token launched in September 2020, it sold for around $0.02. However, things started going towards a downward spiral for ACH as its price dropped by half and was trading for $0.01 in the following month. Things only got worse for ACH as it reached an all-time low of $0.001338 on July 20.
Following an announcement from the Alchemy Pay team highlighting a collaboration with Binance in August 2021, the token took a dramatic U-turn which saw the price of ACH going from $0.004263 on August 2, 2021, to its all-time high of $0.1975 on August 6 — a massive 4,000% gains in just four days.
This spike didn't last forever, as expected, and ACH declined again in August with an average price of $0.09805. The downward trend continued till the token hit $0.06284 at the end of September 2021.
ACH token's valuation started to improve in November, riding on the wave of the market's reaction to Bitcoin reaching new highs. It rose above the $0.10 mark to reach $0.1197 during this period.
The jitters about the Omicron form of Covid-19 caused the crypto market to dip massively towards the end of 2021. ACH was adversely affected, as were other cryptos, and ended the year trading at $0.06356. But, looking at the positives, ACH closed the year with a value that's a 1,000% increase from the previous year.
2022 was a famine season for cryptocurrencies, and the ACH token was part of the token that got it the hardest. Russia's invasion of Ukraine, China's crypto prohibition, the de-pegging of the UST stablecoin, and the demise of LUNA all caused the token to freefall until it splattered at a low of $0.01328 in mid-May.
The Alchemy Pay team, staying true to their mission of constantly improving the network, got the ACH token listed on the KuCoin exchange. This expansion positively impacted ACH's market value as the token peaked at $0.03593 on May 24.
However, it wasn't long before the coin started going through another decline, mainly because of the cancellation of withdrawals on the Celsius cryptocurrency lending platform.
ACH had been recuperating ever since and experienced more ups than downs in the following month or two. Currently, ACH sells at $0.01347 with a market cap of $66,570,277.
Next, we'll look at some Alchemy Pay price predictions from famous crypto prediction and analytics websites.
ACH Crypto Price Prediction: Analytics Websites Opinions
Before we get into the forecasts, you should know that no crypto price predictions are 100% accurate.
Longer-term forecasts are often made using an algorithm to predict the market trend the coin would take, which can change at a moment's notice due to external factors influencing the crypto market.
DigitalCoinPrice
DigitalCoinPrice believes ACH's value will gradually increase over the year. Its ACH crypto price prediction for 2022 shows that the token might end the year with an average price of $0.0240. The website also expects ACH to reach a market value of around $0.0264 in 2023 and increase to $0.0289 the following year. 
2025 won't be any different according to DigitalCoinPrice's ACH price prediction, which says the price might close the year with an average price of $0.0382. However, the prediction site believes prices might fall in 2026 to a low of about $0.0342.
The prices of ACH were $0.0751, $0.0863, and $0.0977, respectively, according to DigitalCoinPrice. ACH is expected to come back strong in the subsequent years, with prices peaking at $0.0443 in 2027 and possibly around $0.0596 by 2028. A bullish market trend is also predicted for ACH in 2029, 2030, and 2031.
PricePrediction.net
PricePrediction is betting on Alchemy Pay with its highly bullish prediction for ACH. Its ACH crypto price prediction outlined the token will trade at an average price of $0.019 in 2022, $0.027 in 2023, $0.039 in 2024, and $0.054 in 2025.
Following the same market sentiment, the site projected the prices of ACH in 2026, 2027, 2028, 2029, 2030, and 2031 would average at $0.082, $0.12, $0.18, $0.27, $0.37, and $0.54 respectively.
Gov.Capital
AI crypto prediction site Gov.Capital is more optimistic about ACH price going forward. Its Alchemy Pay price prediction expects ACH to finish 2022 with a market value of around $0.00946 — the lowest projection from all the analytics websites we've reviewed in this article.
However, the site went further to predict the coin price would rise to around $0.14 in 2023, $0.31 in 2024, $0.52 in 2025, and $0.77 in 2026. ACH might cross the $1 mark in 2027, according to Gov.Capital trading at an average price of $1.06 throughout the year.
WalletInvestor
WalletInvestor's prediction for ACH agrees with the market sentiment that ACH would be an excellent long-term investment. The website believes ACH could be worth around $0.0227 in 2023. It also projects the token hitting somewhere around $0.064 in 2027.
Also read: Tectonic crypto price prediction
Our Price Prediction for ACH Crypto
| | | | |
| --- | --- | --- | --- |
| Year | Minimum Price | Average Price | Maximum Price |
| 2022 | $0.018 | $0.019 | $0.021 |
| 2023 | $0.027 | $0.028 | $0.031 |
| 2024 | $0.039 | $0.040 | $0.046 |
| 2025 | $0.058 | $0.060 | $0.068 |
| 2027 | $0.120 | $0.130 | $0.140 |
| 2030 | $0.410 | $0.420 | $0.470 |
ACH Crypto Price Prediction 2022
This year has been a bearish run for the crypto market. ACH token lost its fair share of value — a 70% décline from its overall value in 2021. However, the Alchemy team's commitment to developing the network helped the token recover quickly, and it pumped over 48% in July.
We expect ACH to trade sideways for the rest of the year, closing with an average price of $0.019. The token will sell between a maximum of $0.021 and a minimum price of $0.018.
ACH Crypto Price Prediction 2023
The Ethereum smart contract on which Alchemy operates is due for an upgrade to the Merge in 2023 — an innovation that could see ACH pumping. With this upgrade, Alchemy will become more scalable and less expensive to deploy contracts with bridges to the Binance Smart chain.
Our prediction for Alchemy Pay in 2023 is bullish, and we expect the token to maintain a positive trend throughout the year. ACH is likely to trade at $0.028 with a maximum price of $0.031 and a minimum price of $0.027 in 2023.
ACH Crypto Price Prediction 2024
The little wins and success that Alchemy Pay has enjoyed over the years are because of a hardworking team actively scaling up the value of the Alchemy ecosystem. Today, the network boasts a large username of 2 million+ merchants in over 70 countries across the globe.
As the project gains more transit, we predict ACH will trade at an average value of $0.04. Alchemy Pay is expected to fluctuate between a maximum value of $0.046 and a minimum value of $0.039.
ACH Crypto Price Prediction 2025
Alchemy Pay's expanding ecosystem interconnects exchanges, web3 services, worldwide remittance, cryptocurrencies, and blockchain networks. Its community has more opportunities to grow thanks to this robust ecosystem.
Banking on Alchemy Pay's ecosystem growth in the future, the price of ACH could reach a maximum price of $0.068. We also project Alchemy Pay will conclude the year with an average price of $0.06. The lowest price expected for ACH in 2025 is $0.058.
ACH Crypto Price Prediction 2027
Another reason Alchemy Pay has thrived in the competitive crypto ecosystem is its growing list of mainstream partners that has helped the network scale worldwide. Knowing Alchemy Pay's team has developed the network, we expect a bullish year for ACH in 2027. ACH's price will range from $0.12 to $0.14, with an average price of $0.13.
ACH Crypto Price Prediction 2030
While we don't believe ACH can reach $1 by 2030, there's a possibility the token would rise past $0.4, setting a record high. Our technical analysis of ACH reveals it will sell between $0.41 and $0.47 throughout 2030.
However, for this prediction to be realistic, Alchemy would need to annex its partner funds and technological innovations to evolve into the next era of technology and blockchain systems.
Where to Buy ACH
You can buy and trade ACH on cryptocurrency exchanges such as Uniswap, Sushiswap, Gate.io, Huobi, and Coinbase. There are also options to buy and sell ACH tokens on both spot and derivatives markets.
FAQs About ACH
How many ACH Crypto are there?
ACH has a total supply of 10,000,000,000 ACH with 4,943,691,067 ACH coins as of this writing.
Is ACH Crypto a good investment?
When cryptocurrency markets' volatility is considered, it can be tricky to give a direct answer as to whether you should invest in a token. Yet, we recommend you research the coin or token; the underlying project, the team behind it, and the white paper would be a great place to start.
If you think ACH is a good fit for your investment portfolio after your research, invest according to your risk tolerance.
Remember, past price performance and crypto analytics predictions about a token aren't indicators of how the coin will perform in the future. As a rule of thumb, never invest money you cannot afford to lose.
Will ACH Crypto go up?
Prices of cryptocurrencies are the "digital rollercoaster life," filled with ups and downs. Analysts and algorithm-based forecasters are not immune from making inaccurate predictions. Remember that past results do not guarantee future success. It would be best if you do your research at all times before investing in any token.
Can Alchemy Pay Hit $1?
There's no certainty that Alchemy Pay's price will rise to $1 soon. However, many crypto analytics websites and experts are rooting for the coin to exceed $1 by 2030.
Bottom Line
Despite not ranking among the top 30 cryptocurrencies in the world by market valuation, Alchemy Pay has shown to be a fascinating idea with promising futures and a wise investment.
The future of ACH and Alchemy Pay will rely on how the network develops going forward and whether or not its underlying value will be sufficient to overcome the difficulties that all cryptocurrencies must overcome, including fierce competition, government policies, and volatility.