The Cardano cryptocurrency (ADA) is drawing lots of attention in the crypto market today, following the recent surge and ranking of the cryptocurrency. The blockchain network of Cardano is also gaining lots of traction lately, which is likely one of the major factors pushing up the price of the Cardano coin. We have this informational content just for you, in case you are looking for where to buy Cardano ADA cryptocurrency today.
Before you consider the exchanges where to buy Cardano, it's worth reflecting back to what Cardano really is and the team behind it.
What is Cardano
Simply put, Cardano is an open-source and digital currency network that aims to run a public blockchain platform for smart contracts. The blockchain platform was launched five years ago by Charles Hoskinson, one of the co-founders of Ethereum. Hoskinson said he left the Ethereum development team after a dispute arose on keeping the Ethereum blockchain nonprofit. His departure from Ethereum led to his involvement with the three organizations tasked with the development of the Cardano blockchain.
These organizations are namely:
The Cardano foundation
IOHK
EMURGO
It's important to also mention that Cardano is one of the most successful blockchain rivals to Ethereum. The network features improve properties, as it's the first-ever blockchain network developed through peer-reviewed research. This unique property ensures that the billions of data transacted on the Cardano network are well secured. The Cardano blockchain is also robust enough to enable foundational change, and also scalable enough to accommodate global systems.
"Cardano restores trust to global systems – creating, through science, a more secure, transparent, and sustainable foundation for individuals to transact and exchange, systems to govern, and enterprises to grow," the webpage reads.
What is Cardano (ADA) Coin
Cardano (ADA) is the native digital currency of the blockchain network. Since its inception in 2017, the cryptocurrency has seen an impressive record in market performance and adoption. The Cardano cryptocurrency was also designed to address certain issues faced with other popularly-traded cryptocurrencies like Bitcoin. This includes the issue of scalability and also high transaction fees which is a critical problem plaguing the Ethereum coin precisely.
The Cardano coin uses an algorithm called Ouroboros to address this issue of scalability. The Ouroboros algorithm runs on a Proof of Stake (PoS) model, enabling the network to save more energy, whilst facilitating a faster transaction.
Cardano Coin Market Overview
As of February 18, the Cardano coin was ranked as the fifth-largest cryptocurrency in the market, according to Coinmarketcap. During press time, the cryptocurrency was trading at the market price of $0.9135, with a total market capitalization of $28.41 billion. A total of 45,000,000,000 Cardano coins will ever exist in the world, and 31,112,484,646 ADA are already in circulation in the market, according to the data from Coinmarketcap.
The Cardano cryptocurrency made its all-time high in January 2018, at $1.33.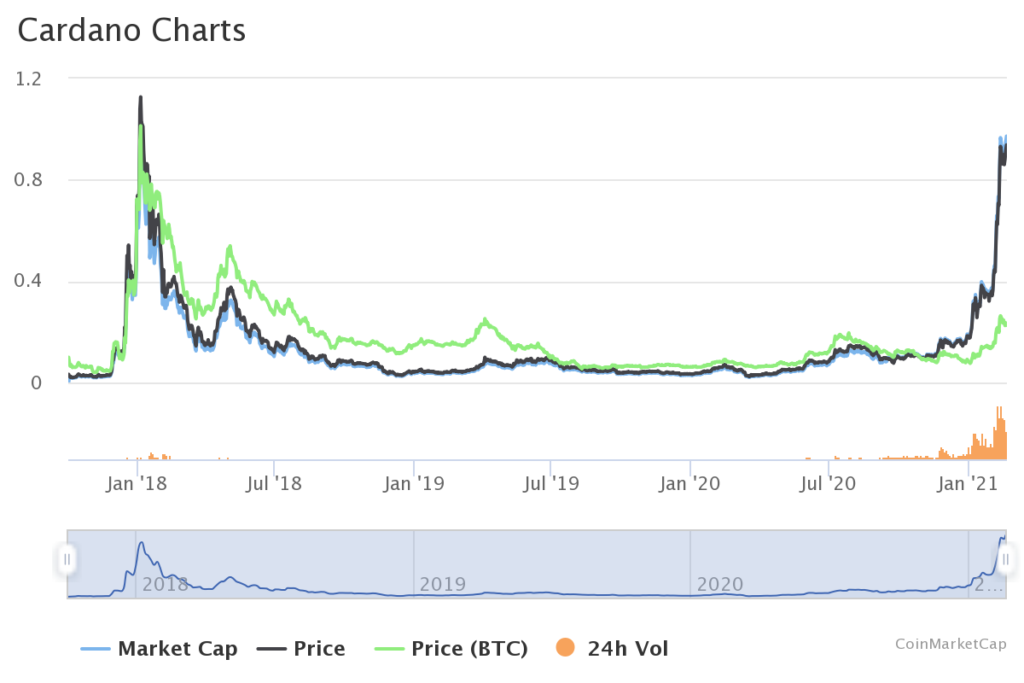 Where to Buy Cardano Now
ADA is seeing lots of demand in the cryptocurrency market today; unfortunately, some people don't know where to buy Cardano coins at the moment. However, below are the best cryptocurrency exchanges where you can buy the cryptocurrency today.
Binance
Kraken
Huobi Global
HBTC
BiKi
OKEx
Binance
Binance is the largest and best cryptocurrency exchange where you can buy Cardano ADA easily and in a secured manner. Besides supporting a user-friendly interface for trading cryptocurrencies, Binance exchange has the most liquidity for any trading pair in the digital currency market. Although Binance doesn't support the direct purchase of Cardano coin using fiat currencies, there are three other convenient ways to buy Cardano coin from the exchange. They include:
Stablecoin Deposit via Bank Transfer: You can buy the Cardano coin on the Binance exchanges using stablecoins like Tether (USDT) and Binance USD (BUSD). First of all, you need to deposit fiat currency to your account in order to purchase your preferred stablecoin. You can deposit fiat currency through bank transfer. When you purchase BUSD or USDT, you can then use these stablecoins to buy Cardano instantly on your Binance account.
Trading Crypto for Cardano: You can also purchase Cardano cryptocurrency from Binance using other cryptocurrencies like Bitcoin, Ether, and so on. To do this, you have to deposit the cryptocurrency to your Binance account, after which you can trade it for Cardano. Interestingly, Binance is one of the exchanges that offer the best rate in the crypto market.
Cardano trading pairs supported on Binance includes:
ADA/BNB
ADA/BUSD
ADA/USDC
ADA/BTC
ADA/ETH
ADA/TUSD
ADA/USDT
Buying Cardano with Credit Card on Binance: Note that, Binance doesn't allow direct purchase of Cardano coin using credit cards. However, you can use the credit card to purchase other supported cryptocurrencies on the exchange, which you can then convert or trade for Cardano ADA.
Kraken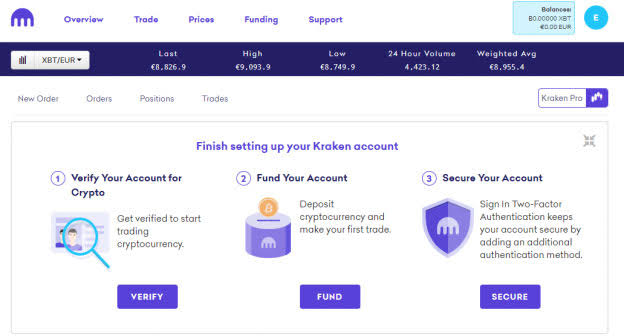 Kraken is one other top crypto exchange where to buy Cardano today. This exchange is based in the United States, precisely in San Francisco. However, it supports many other countries on its platform. Its services are secured, and the exchange controls a decent amount of trade volume; hence, liquidity shouldn't be a problem here. Using Kraken, you can directly buy the Cardano cryptocurrency right from your fiat currency wallet, unlike Binance.
Buying Cardano on Kraken: In case you don't have an exchange, here's how you can purchase ADA from Kraken.
You have to register with the exchange. Sign up using your valid identifying information.
Verify your identity. Although, you can buy Cardano with cryptocurrencies on Kraken even without confirming your ID. However, you need to validate your information to enable you to deposit fiat currencies like US dollars, Euro, etc., right into your account. Buying from fiat currency is definitely the ideal and easy method, especially if you are a beginner.
Deposit fiat currency. After verification, you can then deposit your fiat currency to the exchange.
Purchase ADA instantly. This is the final step. You can easily purchase ADA from the Kraken exchange once your account is funded. Kraken supports the direct purchase of Cardano ADA using fiat currency.
Huobi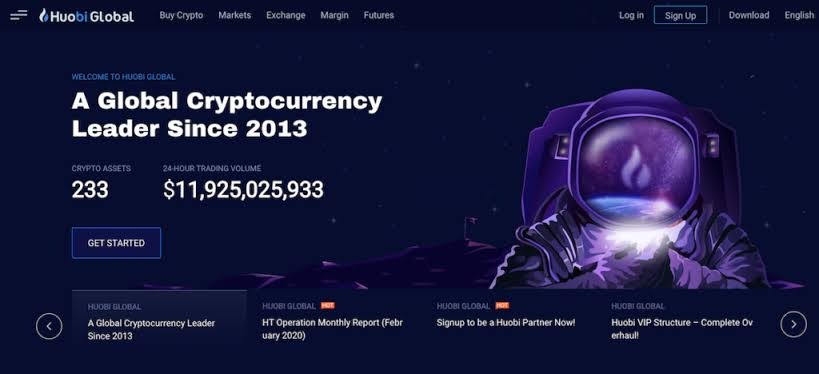 Huobi is another industry-leading digital currencies trading platform where you can easily buy Cardano today. The exchange is based in Seychelles; however, it has offices in different countries, including Singapore and the United Kingdom. The exchange supports users from many jurisdictions, and they have several cryptocurrencies for users to buy/sell/trade, including the Cardano ADA.
Instantly Buy/Sell Cardano on Huobi: Huobi exchange supports instant crypto buy/sell for Cardano. All you need to do is register with the platform, fund your fiat currency – like USD, AUD, RUB, CNY, and many more – and use the instant buy/sell feature to purchase the Cardano coin.
Trading for Cardano: You can equally trade your cryptocurrencies for Cardano on the Huobi trading platform. Currently, the exchange supports the following crypto-to-crypto trading pairs for ADA coin;
HBTC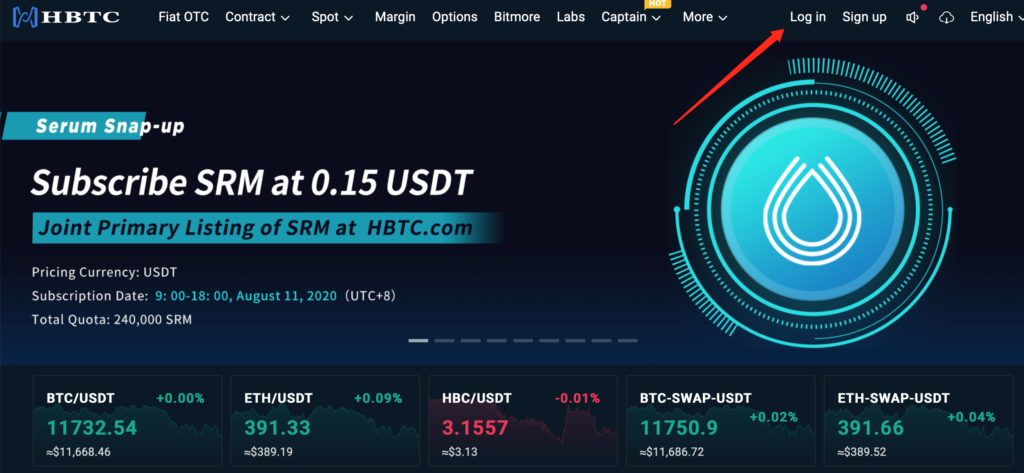 HBTC is the next platform where to buy Cardano instantly. The exchange is based in Singapore; however, it supports some other countries. Interestingly the exchange was launched by the former chief technology officer at Huobi Global named James Ju. HBTC reportedly accounts for millions of transactions, according to data from Coinmarketcap.
Buying Cardano from HBTC: You can purchase Cardano from HBTC exchange by exchanging your coins for ADA. Additionally, the crypto exchange also supports two trading pairs for the cryptocurrency, which includes the following:
BiKi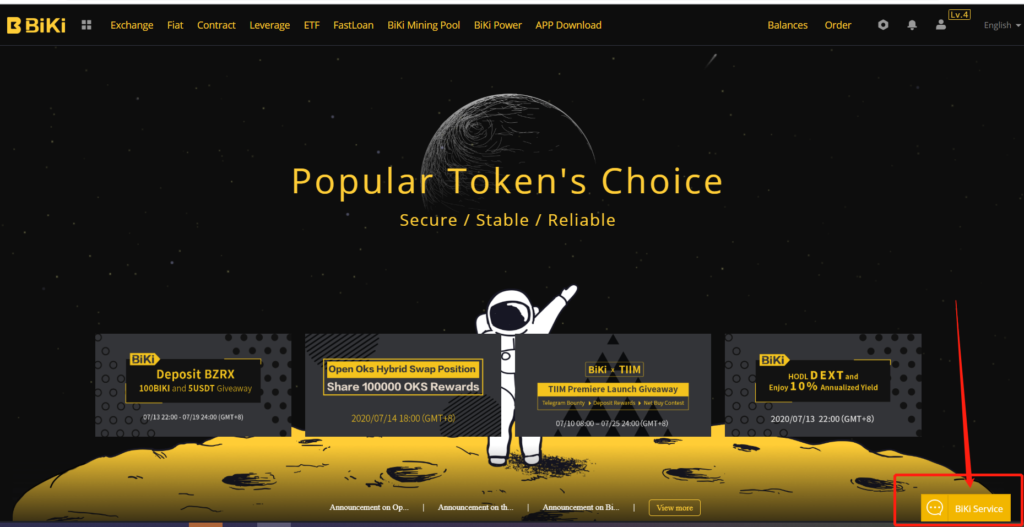 BiKi exchange is another Singapore-based cryptocurrency exchange where you can buy Cardano ADA. The exchange was launched three years ago and supported more than 150 digital currencies for trading, and that includes the ADA cryptocurrency. The exchange features a user-friendly interface for beginners to navigate easily.
How to buy Cardano from BiKi: BiKi is similar to Binance, as it only supports cryptocurrency deposits. This means that users will have to trade their cryptocurrencies like Bitcoin, Ether, etc., to purchase the Cardano cryptocurrency. Meanwhile, BiKi supports the ADA/USDT trading pair for the cryptocurrency. Interestingly, they also offer 3x leverage on this trading pair.
OKEx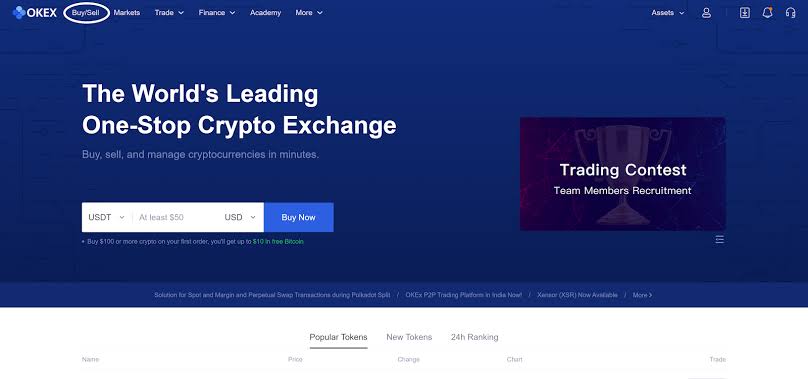 OKEx is the leading Malta-based cryptocurrency exchange where you can buy Cardano coins instantly. The exchange is one of the most reputable trading platforms in the cryptocurrency industry, as it supports several trading options, and of course, OKEx supports a good number of digital currencies on its platform. The exchanges support users from different jurisdictions, including Australia, United Kingdom, Japan, and some other countries.
Buying the Cardano Coin From OKEx
You can easily purchase the Cardano coin from OKEx using these simple steps:
Register with the exchange
Deposit cryptocurrencies like Bitcoin and Ether to your account.
Then, trade the coins for Cardano on the OKEx' spot market.
Trading pairs for Cardano on OKEx
OKEx exchange supports the following trading pairs for Cardano:
ADA/USDT
ADA/OKB
ADA/BTC
ADA/ETH
Please note that cryptocurrency trading, including Cardano, is risky. Ensure you only invest the amount you can afford to lose.