Near Protocol is making waves in the crypto and dApp world due to its unique sharding solution to the problem of scalability that's been ridiculing the blockchain industry. The protocol has a native token and wallet, which are a crucial part of its ecosystem. As the protocol is gaining more popularity,  many more crypto wallet solutions support Near. 
With the support of big players in the industry and new ones, Near protocol can grow its user base even further. However, with many wallet alternatives for the Near protocol, there's confusion as to which wallet is the best for the Near protocol. Is the Near official wallet the best? Or, Is there an excellent alternative?
In this article, we'll explore what a Near wallet is, how it works, how to spot a good Near wallet, and provide some of the best Near wallets on the internet.
What is a Near Protocol wallet?
A Near Protocol Wallet can be a physical device, software, or service that stores the public and private keys for NEAR transactions. Near Protocol wallets usually provide advanced features like staking, encryption, lending, and more.
How does a Near Protocol wallet work?
A NEAR wallet operates in a very straightforward manner. First, the wallet software creates public and private keys that you need to send and receive NEAR tokens. The public key, which is available to the whole public, helps others to send NEAR to your wallet. 
On the other hand, a private key is a different set of characters and digits connected to the public key but is reserved exclusively for the wallet owner to access the blockchain.
Criteria for choosing a safe Near wallet
Your choice of Near Wallet can be crucial to your success on the Near Protocol platform. But how do you choose the best Near wallet? Here are some things to look out for in an ideal Near wallet.
1. Reputation
Testimonials, international acclaim, company accolades, and accreditations are some vital signs that highlight a wallet's reputation. Only after conducting a thorough study on the wallet's creators will you be able to identify the most refined Near wallet.
To confirm the wallet's legitimacy, look into the founders' backgrounds and accomplishments in the crypto industry. Additionally, you want to look for any prior instances of wallet leaks. Besides, it's crucial to look at how the business handled the violations and setbacks.
2. Security
You would put your valuable cryptocurrencies in a crypto wallet, and you have every right to know whether the wallet is secure or not. When choosing a crypto wallet, you should have the ultimate assurance of the security of your assets. Protecting your assets should be the primary goal in choosing a cryptocurrency wallet.
3. Compatibility
You would store your priceless cryptocurrencies in a cryptocurrency wallet, and you have every right to know if the wallet is secure or not. The highest level of asset protection should be guaranteed when selecting a cryptocurrency wallet. In actuality, the security of your funds needs to be your top priority when choosing a Near wallet.
4. User Experience
User experience is the most critical and final consideration when choosing a crypto wallet. You cannot use a cryptocurrency wallet to its full potential if you are not at ease utilizing and comprehending how it works.
There are tons of Near Protocol Wallets to choose from, and it can be hard making the right decision. We've shortened the journey for you and separated the weed from the shaft. Below is a list of our recommended wallets for Near Protocol users.
List of best Near Protocol wallets
1. NEAR wallet

The Near Protocol's native wallet is called NEAR wallet. Because it uses your network pseudonym rather than an address, it is simple to remember where to send money. It is also simple to use and easy to stake on this platform. You can also link it to Ledger to ensure that only the Ledger owner can make transactions or remove the stake from the wallet.
2. NearFi Wallet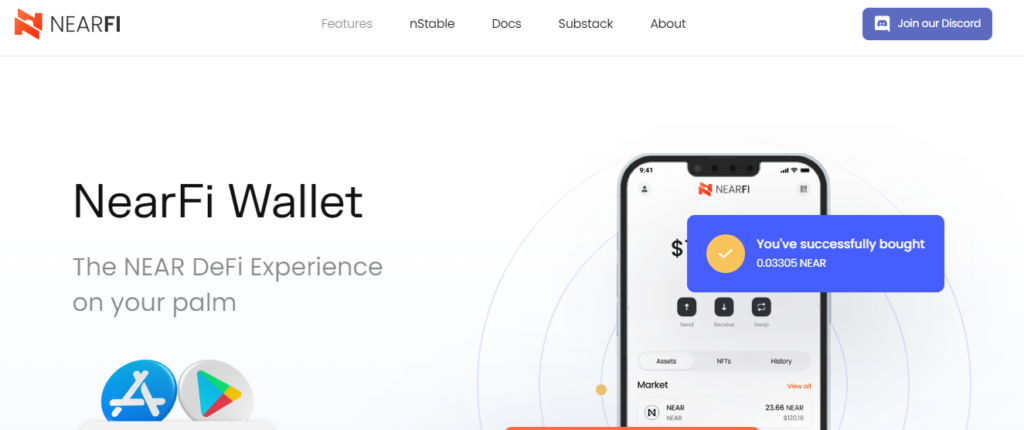 NearFi wallet is a NEAR blockchain wallet designed to allow NEAR owners to use all Defi services on the NEAR blockchain on their mobile devices. Users would enjoy a genuinely NEAR experience everywhere they went using NearFi Wallet. All of the Defi services on the NEAR blockchain, including AMM, lending, margin DEX, stable currency swap, and yield farming, are integrated by NearFi.
3. MyNearWallet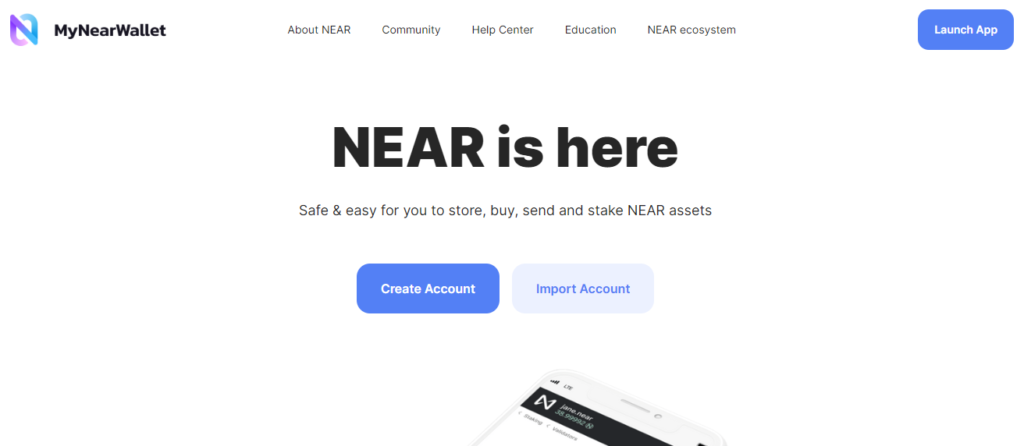 MyNearWallet is an on-Custodial digital wallet designed for the Near Protocol. You can connect your hardware wallet to this wallet's ledger support for better security. By staking your NEAR, you can also make money on the platform and receive 10% APY in return.
The capability of connecting your wallet to 500+ projects built on the NEAR and Aurora ecosystem is another feature that makes MyNearWallet popular.
4. Metamask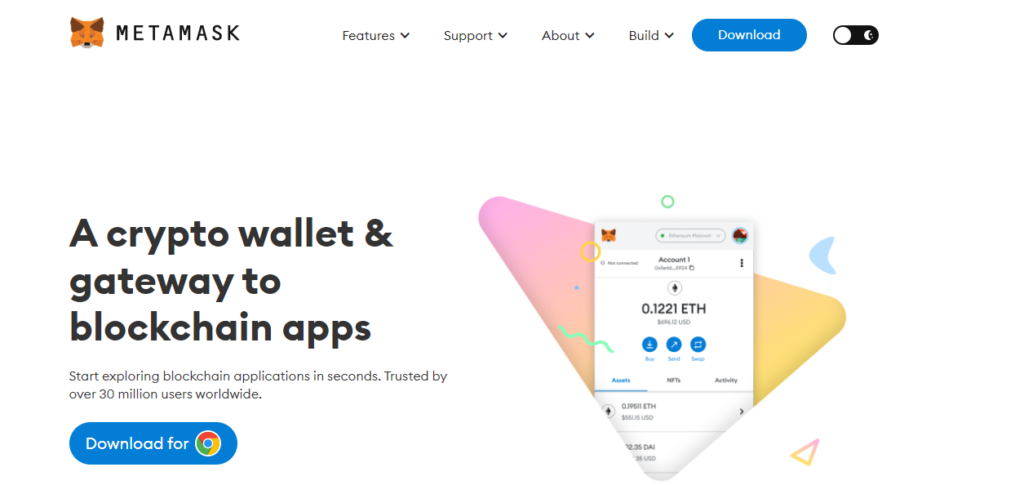 You can manage your NEAR tokens and digital assets using MetaMask, which is available as a browser extension and a mobile app. It provides you with a key vault, secure login, token wallet, and token exchange.
MetaMask offers the most straightforward and safe way to connect to Near's blockchain-based applications. When interacting on the new decentralized web, you are always in charge.
5. Ledger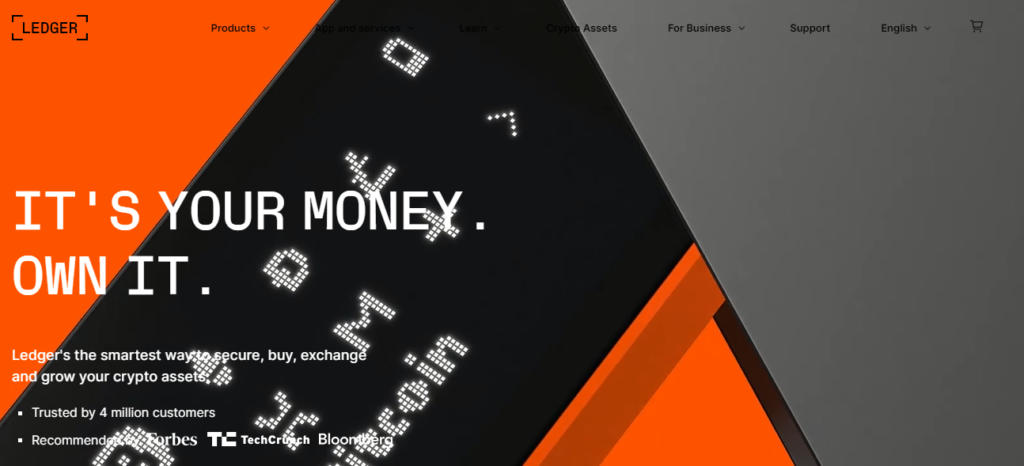 Ledger pride itself on being the most innovative way to secure, buy, exchange and grow your cryptocurrencies. This assertion isn't far from the truth because 4 million users trust this blockchain wallet service, which indicates they must be doing something correctly. Major tech publications like Forbes, Techcrunch, Bloomberg, and others also suggest it as a crypto wallet.
You can quickly exchange Near and other cryptocurrencies with a ledger wallet account to get the most out of your assets. Additionally, they provide access to all of Near's services, including Defi apps, NFTs, and others.
Ledger could be the best option for you if you want to build your cryptocurrency holdings on a single safe platform without lifting a finger.
6. Coin98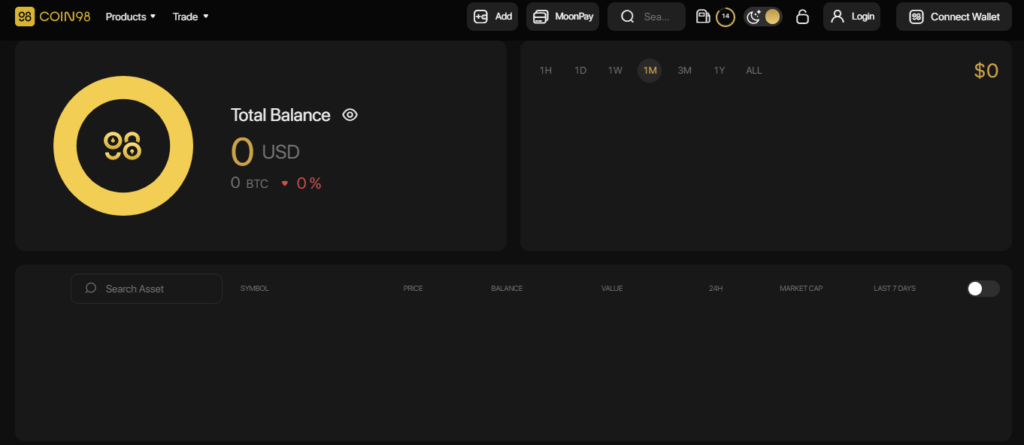 The Coin98 Wallet is a crucial and exceptional feature of the Coin98 Super App. It is a non-custodial wallet that users can use to send, receive, and store digital assets from many chains. This blockchain wallet intends to develop into a Dapp that offers Crypto customers a variety of goods and services while offering superior, innovative experiences when using those goods and services.
Coin98 wallet strives to be the most excellent Defi gateway by offering simple and faultless experiences to all users, regardless of experience level.
Near Protocol's NEAR is supported by Coin98 Wallet and all currencies and tokens on over 50 different blockchain systems. This Near wallet is a fantastic option if you want greater access to various blockchain platforms.
7. Liquality Wallet

Liquality Wallet is a browser extension that allows Web3, Ethereum, Bitcoin, Binance Smart Chain, Polygon, NEAR, Arbitrum, and Rootstock applications. It offers a variety of blockchains and provides one-click atomic swaps with built-in support for ETH/ERC20s, BTC, TERRA, NEAR, polygon, and Avalanche.
This platform lets you hold, send, receive, exchange, use dapps, and do many more things. It also works as a secure and self-custodial wallet. This feature suggests that your private key would be accessible only to you. Nobody else has access to or authority over your digital assets.
There is no registration step necessary if you wish to use this wallet. Create a password instead of importing or exporting your mnemonic seed phrase, and you are ready to use Liquality Wallet.
8. Math Wallet

Math Wallet is a multi-chain wallet that supports the NEAR token and enables simultaneous transactions with multiple cryptocurrencies. You can store, transfer, or stake different crypto assets with a Math wallet by your side without having to worry about their security. This unique feature is one justification for its widespread use.
9. Guarda Wallet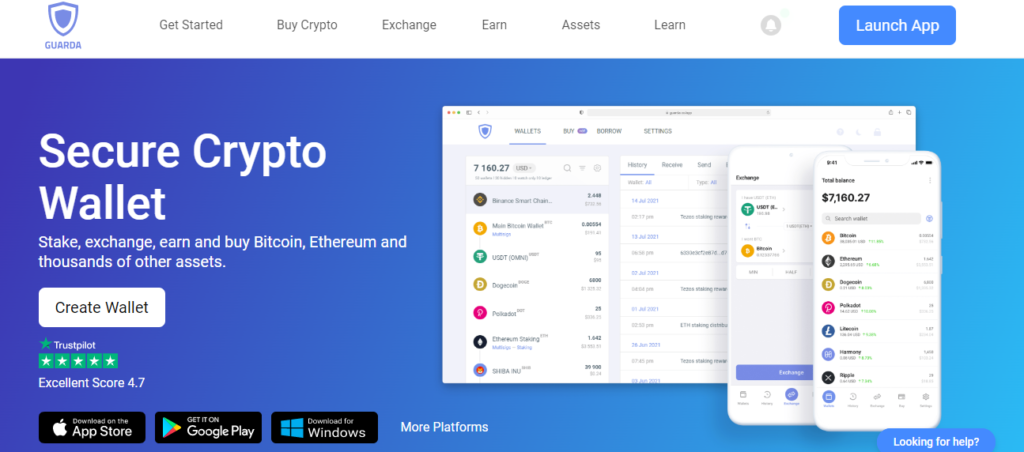 One of the top near wallets on the market, Guarda Wallet enables users to conveniently purchase, trade, swap, stake, and store more than 400,000 digital assets.
Due to its user-friendly interface, extensive feature set, and strong emphasis on customer happiness, the highly secure multi-platform wallet is well-liked by both new and seasoned cryptocurrency users. In reality, we have found Guarda Wallet to provide some of the most helpful customer services in cryptocurrency.
The Guarda Wallet's multi-platform approach, high-quality customer service, and relatively high crypto purchase fees can be used as an argument to support the fee's justification. These features make crypto asset management with Guarda Wallet straightforward, secure, and accessible.
10. Trust Wallet

Trust Wallet stands out from other Near-supported wallets since it supports over 1 million coins on numerous blockchains. The program aims to lower the risk of assaults while enabling users to utilize cryptocurrencies in their daily lives by restricting access to mobile devices (and Apple Mac PCs with the M1 chip).
Trust Wallet has many advantages for people who live in a region where cryptocurrency payments are more widely accepted by users or want to save various coins in one location.
11. Portis Wallet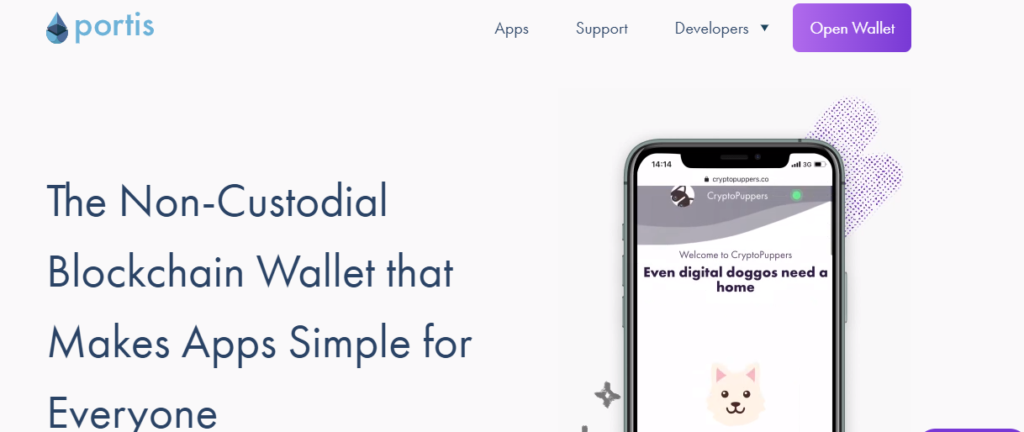 The most well-known NFT and DeFi dApps, such as OpenSea, Raible, Uniswap, Yearn Finance, and many others, effortlessly connect with Portis, an intuitive self-custody wallet.
For added assets and NFT security, Portis also provides 2FA. Its user-friendly design, a wide range of supported protocols, and the developers' dedication to enhancing and safeguarding the platform make it one of the finest wallets for Near.
12. Narwallets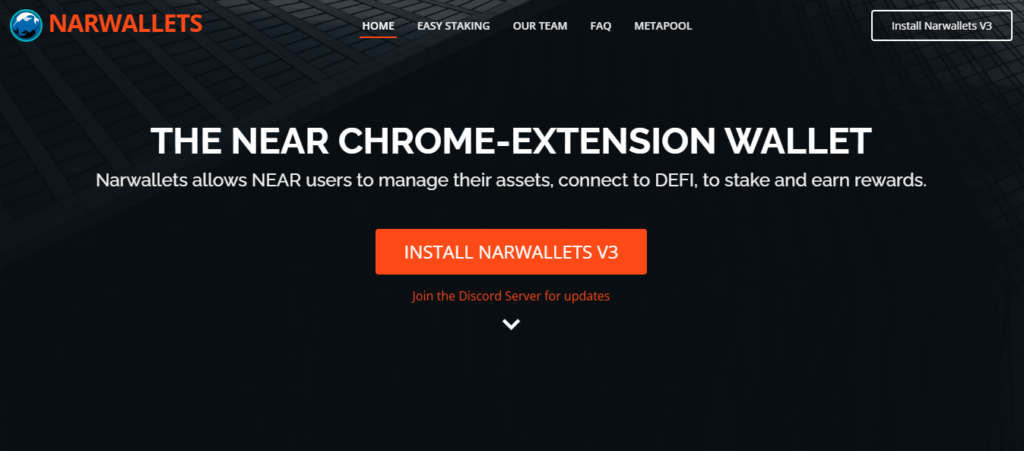 A wallet for the NEAR blockchain called Narwallets is a browser extension. With this tool, you can manage every NEAR account, every NEP-141 token, every liquid stake, every traditional stake, and even every lockup account.
This wallet on local Chrome storage stores your information and is entirely secured. Additionally, as it's a non-custodial wallet, the business does not keep your keys, password, or other information on its servers.
How to make a Near Wallet account?
This section will cover the steps involved in opening and activating a Near Wallet account. For this article, we'll be using MyNearWallet as an example.
Setting up MyNearWallet
Creating a MyNearWallet is as smooth as it gets, and you should be done in minutes. First, you'll have to visit MyNearWallet's official website: https://mynearwallet.com. Select the "Create account" button on their homepage, then click "Get started."
Next, you'll see a notification to select the recovery mechanism for your wallet. Three options are available: email notification, Ledger hardware wallet, and seed passphrase. If you choose the seed passphrase recovery method, the system would require you to confirm your seed phrase before moving on to the next step, where you'll activate your account.
Before you can activate your account, you'll be required to fund your wallet with a minimum deposit of 0.1 NEAR. However, if you want to connect with the NEAR ecosystem using your wallet or a custom address, you'll need at least 1 NEAR deposited into your new wallet.
How to use a Near Wallet?
There're many purposes for a Near Wallet apart from storing and trading NEAR tokens. With a Near Wallet, you can perform the following operations:
1. Staking
Staking NEAR token is only possible with a Near-supported wallet. To give you an idea of the typical staking process on various Near wallet platforms, we'll walk you through the process of staking on
a NEAR wallet.
Select the "Stake" option from the navigation bar on NEAR Wallet's central dashboard. Using a mobile device, you can find the "Stake" tab in your dropdown menu.
The next step is to activate the "Staking Validator" button. You'll see a list of available validators; pick the one you prefer. There are no restrictions on which validator you can stake with as long as you own a NEAR token. Select "Stake with Validator" when you have made your decision.
You will be asked to input the number of NEAR tokens you wish to stake after clicking "Stake using Validator," enter the desired amount, then select "Submit Stake." The system will prompt you to confirm two transactions to finish the staking process; one transaction to choose the validator and another to deposit and stake with the chosen validator.
2. Unstaking your stake
The process of removing your stakes on a Near wallet is simple. Choose your preferred validator from the list on the staking dashboard. Select "Unstake" after making your choice, then confirm. After 36 to 48 hours, you can access and withdraw your share. Go to the validator page and click "Withdraw" to remove your stake.
3. Monitor staking information
You can select validators through the NEAR wallet interface and view essential metrics like;
The total amount staked: This data would show you how many NEAR tokens you've staked with a particular validator and how many rewards you're earning.
Unclaimed rewards: Rewards earned but not withdrawn from the staking pool are known as unclaimed rewards. These unclaimed rewards are automatically staked once more to compound incentives and increase the total amount staked.
Tokens for withdrawal: These are unstaked tokens that you can take out immediately.
Unstaked tokens awaiting release: These tokens are still awaiting the expiration of the 36–48 hour window.
Validator fees: Fees paid to validators who stake on your behalf are known as validator fees. Validator fees are assessed on rewards rather than the token balance validators have pledged.
4. Connecting your NEAR Wallet to a dApp on NEAR
It is easy to link your NEAR Wallet to a decentralized application on NEAR. To do this, you'll have to visit Awesome NEAR and select one of the several dApps there.
The interface will display an option to "Sign In With NEAR Wallet" when you click on the application you want. After clicking, a notification explaining that the dApp is seeking access to your account will appear on your screen. The dApp will immediately connect to the dApp when you click "Allow."
How to transfer from Binance to Near Wallet
Buying and transferring NEAR from Binance to a Near wallet is the same across various Near-supported exchanges, such as Kucoin and Gate. You can purchase and add a NEAR token to your Near Wallet in two easy steps:
First, you'll have to buy NEAR on the Binance marketplace using USDT.
After you've exchanged USDT for NEAR, you can send the tokens to your Near Wallet by inputting your Near wallet address in the "Send Token" section.
How to add NEAR to MetaMask
You can add NEAR to Metamask on the BNB Smart Chain by following these three easy steps:
Go to the Metamask network and ensure you use the BNB Smart Chain Mainnet.
The next step is to choose "Import Tokens."
You can search and choose NEAR as the token you wish to import on the "Search" page. Alternately, you can visit the "Custom Token" tab and paste NEAR's BSC contract, which you can find on CoinMarketCap, into Metamask's 'Token Contract Address' field. The NEAR token symbol should show up automatically if you pasted the proper contract address.
FAQs
Can You Use Metamask with Near?
Yes, you can. Since the NEAR network is not EVM-compatible, adding it to Metamask is technically impossible. However, the Aurora Mainnet, an EVM-compatible layer based on the NEAR Protocol, allows the integration of Metamask and the NEAR network, even though it's not EVM-compatible.
Can I send near from Crypto.com to a near wallet?
Sending NEAR tokens from crypto.com to any NEAR wallet is possible. According to a news release on August 17, 2021, Crypto.com Defi Wallet added NEAR Protocol (NEAR) to its expanding list of 200+ Defi tokens.
Can I stake NEAR using a wallet?
Yes. It's simple to stake on Near through the native NEAR wallet. Follow these steps to stake NEAR from NEAR Wallet:
Open the "Staking" tab from the Near Wallet home page.
Select the validator and click "Stake My Tokens."
Enter the validator's name on the newly created page. You'll find the validator's fee before submitting your stake.
Indicate how many NEAR tokens you want to assign. To stake every token in your wallet that is currently accessible, choose the "Use Max" button.
Finally, confirm the transaction by clicking "Submit stake." You would receive a notification if the stake were successful.
Is the near protocol worth investing in?
According to price predictions from various analytics websites and crypto pundits, Near protocol is considered an excellent short- and long-term investment. There's also a possibility of NEAR crypto hitting a new all-time high by 2027.
But, it would be best if you considered the high volatility of the crypto market when investing in any token or coin, as prices can go either way. Always invest what you can afford to lose.
Does near protocol have a future?
Near protocol does have lots of potential in the future. NEAR's blockchain is primed for tremendous growth thanks to its fast speeds, minimal fees, and innovative UX. The platform also removes obstacles to adopting Web 3, which is why most users find the protocol attractive.
In addition, its native token is reaching new heights and setting records in the crypto market. Market experts project the price of NEAR will increase exponentially in the coming years.