UFO Gaming shook the crypto-gaming industry when it reached its all-time high in November despite just having launched early last year. However, since then, things have gone on a downward spiral for UFO crypto. Additionally, the token's price has fallen 93% from its launch price to $0.000002.
Yet, for various reasons, many cryptocurrency market experts believe UFO crypto will come back strong. This prediction might be accurate as the project has a lot of potentials. Also, it features a unique blend of Defi, NFTs, and P2E, in a single platform, which allows the project to maximize value for its users.
Interested investors and gamers who want to buy the token would have a hard time obtaining the token because UFO Gaming is still a young crypto project and must be listed on the most well-known cryptocurrency exchanges.
This article will list various exchanges that support UFO crypto and provide a step-by-step guide to buying UFO tokens. We'll also answer some related questions you might have about UFO crypto at the end of the post. 
Let's get started.
Best Exchanges Where You Can Buy UFO Crypto
Since UFO crypto is still a new coin, it has yet to be available on most leading cryptocurrency trading platforms. The platforms below support UFO cryptocurrency, so check them out if you want to buy UFO tokens.
KuCoin
We recommend KuCoin as the best place to buy UFO crypto because of its competitive fees and trading prices.
KuCoin started as a crypto trading platform but has since expanded to provide other services, including credit or debit card purchases and P2P exchange functionality.
Users can trade over 300 well-known tokens and new entries like UFO Gaming (UFO) on KuCoin's platform. In addition, the developers are dedicated to updating the number of supported cryptocurrencies.
KuCoin is available in several countries, including the United States.
Gate.io
Another excellent platform where you can trade UFO crypto is Gate.io. This platform was launched in 2013 and has since developed into a popular crypto trading platform.
While it isn't as popular as Binance, it is a favorite among crypto beginners who want to invest in altcoins like UFO. This platform provides a user-friendly interface for non-tech users. Also, it does a great job of keeping its powerful and sophisticated charts simple for users of all skill levels.
Gate.io is also known for being among the first exchanges to list new tokens on its platform, which is evident from the large number of altcoins available.
Notably, Gate.io claims to hold a responsible position against any form of market manipulation on its platform.
Currently, Gate.io supports many countries, including Great Britain and Australia. But, Canadian and USA users are not allowed on the platform.
MEXc
MEXc is a centralized exchange that's owned and run by MEXC Global. This exchange claims to have more than 5 million users in more than 70 countries. The company also claims it uses high-performance mega-transaction matching technology. However, we need the data to confirm this.
However, we know this exchange is one of the few places where buyers looking to buy UFO Gaming (UFO) can safely acquire and trade the token.
How to Buy UFO Crypto: Step-by-step Guide
Below is a step-by-step guide to buying your first UFO token.
Before we proceed, note that you'll need a crypto wallet to connect with the decentralized exchange and a Binance account to buy the base currency.
Step 1: Download a Metamask Wallet
While there are many other crypto wallet alternatives, we recommend using Metamask because it's the most integrated within the Ethereum network.
You can download the chrome extension if you're using a desktop. For mobile phone users, the wallet's app is available on iOS App Store and Google Play for iOS and Android phones, respectively.
Ensure you visit the Metamask website to download the genuine Chrome extension and mobile app.
Step 2: Set up your Metamask
The next step requires you to register and set up the cryptocurrency wallet. Make a note of your wallet address and keep your seed phrase secure; you'll need it later in Steps 4 and 6. You can use Metamask's support page as a resource if you have any issues with the sign-up process.
Step 3: Buy Ethereum as Your Base Currency
After setting up your wallet, visit the Buy & Sell Crypto page on Binance and log in to purchase Ethereum.
The sign-up process is straightforward. If you have never used Binance, you must visit their website to create an account. After setting up your Binance account, purchase some ETH there.
Step 4: Send Ethereum from Binance to Your Crypto Wallet
Go to your Binance wallet section and search for the Ethereum you bought after purchasing it.
Select "Withdraw" and enter the necessary data. Set the network to Ethereum, enter your wallet address, and then enter the desired transfer amount.
Click the withdraw button and wait for the transaction to get processed into your Metamask wallet before moving to the next step.
Step 5: Choose a Decentralized Exchange (DEX)
There are several DEXs available; you only need to confirm that the exchange supports the wallet you choose in Step 2. For instance, you can go to Gate.io to complete the transaction using the Metamask wallet.
Step 6: Connect Your Wallet
Utilize your wallet address from Step 2 to connect your Metamask wallet to the DEX you wish to use.
Step 7: Trade Your Ethereum with the Coin You Want to Get
Choose your Ethereum as the payment method and UFO Gaming as the coin you wish to purchase.
Step 8: If UFO Gaming Doesn't Appear, Find its Smart Contract
You can use https://etherscan.io to find the smart contract address if your desired coin needs to be listed on the DEX.
Afterward, you can copy and paste it into Gate.io.
Step 9: Apply the Swap
After completing the previous procedures, select the Swap button.
UFO Gaming Token Price
UFO Gaming is currently trading at $0.000002, according to data from CoinMarketCap.
The token has a $2,552,839 24-hour trading volume. Additionally, analytics show that UFO crypto has increased by 8.57% during the past 24 hours.
Based on market capitalization, UFO Gaming Token is ranked #339 on CoinMarketCap. The live market cap of the coin is $59,141,997.
UFO crypto has a maximum supply of 25,757,575,757,575 UFO coins with 25,757,575,757,576 UFO coins in circulation.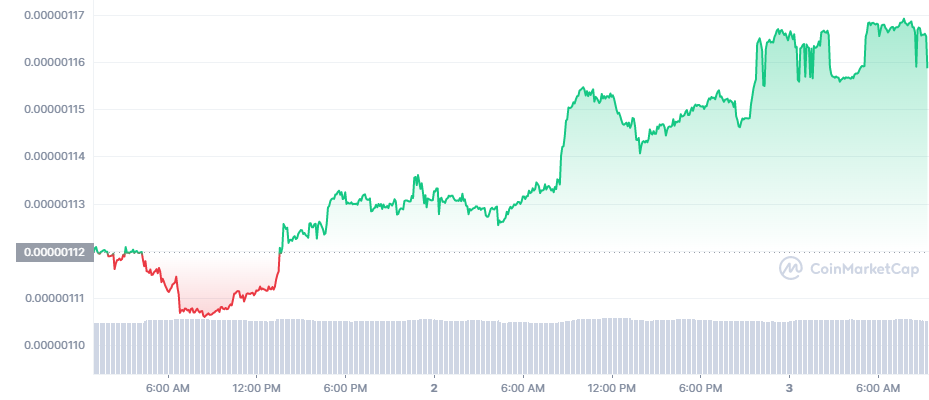 Conclusion: Is UFO Crypto a Good Investment?
We do not advise investing in UFO Crypto or any other cryptocurrency. Your level of risk tolerance will influence if you decide to invest in UFO.
The market's perception of UFO cryptocurrency is currently conflicted.
While some cryptocurrency market professionals predict the token will increase in value in the future, others think something other than UFO could be an excellent long-term investment.
This year's performance of UFO Gaming tokens is below average. Additionally, UFO would face fierce competition in 2023 because of the emergence of new crypto-gaming projects.
Bear in mind that cryptocurrencies are volatile investments. So, avoid investing money that you can't afford to lose.
FAQs
Where Can I Buy UFO Crypto?
UFO Gaming token is a new crypto, so it's unavailable on popular exchanges like Binance. However, you can purchase UFO on decentralized exchanges like MEXC, LBank, Uniswap (V2), Gate.io, and KuCoin.
Can I Buy UFO on Binance?
UFO Gaming token isn't listed on Binance at this time. However, you can still purchase the token using the Binance wallet. You'll have to connect your Binance account to a DEX like PancakeSwap. 
Buy a base currency (Ethereum) on Binance and then swap it for UFO on PancakeSwap.
Should I Buy UFO Token Now?
It depends on your risk tolerance and personal choice. But we will tell you some things you should know before you buy the UFO token.
First, market sentiment on UFO Gaming is neutral for now. Also, some crypto analytic websites have flagged UFO crypto as a risky long-term investment.
Before making any trading decisions, conduct your research and analysis. Never trade or invest funds that you cannot afford to lose.
What is UFO used for?
UFO Gaming Coin is a digital currency used to purchase in-game items and services. The developers created the coin to give gamers a more efficient and secure way to transact.