The Tron blockchain has one of the most active and rapidly-growing communities across several social media platforms, including Reddit. As a Tron (TRX) investor, you should consider joining one of these communities to stay up-to-date on the current developments in the ecosystem, as well as communicate ideas and thoughts on the progress of the network. This article will highlight a number of active Tron Reddit communities you might want to join this year. 
Tron Reddit Communities
Reddit is a networking media platform wherein people can join or form groups based on their individual preferences. Below are active Tron Reddit communities you can join in 2021.
Tronix (Community for Tronics)
The Tronix Reddit community has one of the largest followers on Reddit. It has a gross number of 88.9K members. Its discussions range from the market performance of the TRX cryptocurrency, price changes, its growth, and how to purchase the cryptocurrency, irrespective of your location. 
TronScript
TronScript is another popular Tron Reddit community with over 29k followers. Discussions on the group are mainly related to the Tron blockchain. Also, the members of the community provide daily updates on the TRX cryptocurrency, newly available trading pairs for TRX, as well as address debates surrounding Tron. 
TRXTrading
As the name of this Tron Reddit community suggests, the group is basically focused on TRX-related trading contents. With over 9k followers, the community focuses on price prediction for the cryptocurrency and how best to trade TRX. They also discuss topics from memes to other events involving the cryptocurrency. 
TronMTG
This Tron Reddit community has more than 5k followers. Discussions on this group range from technical analysis on TRX to strategies and tips on trading TRX.
These lists have been compiled based on the membership, number of trends, and the popularity of each community.
Why you should join a Tron community
Joining a Tron Reddit or Facebook community is one of the easiest ways to access daily news or content specifically related to the TRX cryptocurrency or the Tron blockchain.
These communities are where you can meet other TRX users and ask questions pertaining to Tron.
Some of the groups have professional analysts who offer free trading signals.
A brief history of Tron and TRX
Tron is a blockchain network launched to enable infrastructure for a truly decentralized Internet. The network started off in September of 2017 from a nonprofit organization dubbed the Tron foundation. The organization was founded and headed by Justin Sun, a 31-year-old tech entrepreneur born in Xining Qinghai, China.
Sun, a graduate of the University of Pennsylvania, is also the CEO of BitTorrent, a communication protocol aimed at enabling peer-to-peer file sharing. The founder of Tron was also a former worker at Ripple.
The native cryptocurrency TRX was ranked the 21-largest digital currency by market capitalization on Coinmarketcap. TRX's market capitalization sits around $6.9 billion. After reaching an all-time high (ATH) of $0.3004 on January 05, 2018, the cryptocurrency dropped drastically, and it's yet to reclaim that price level. The cryptocurrency has been trading around $0.098.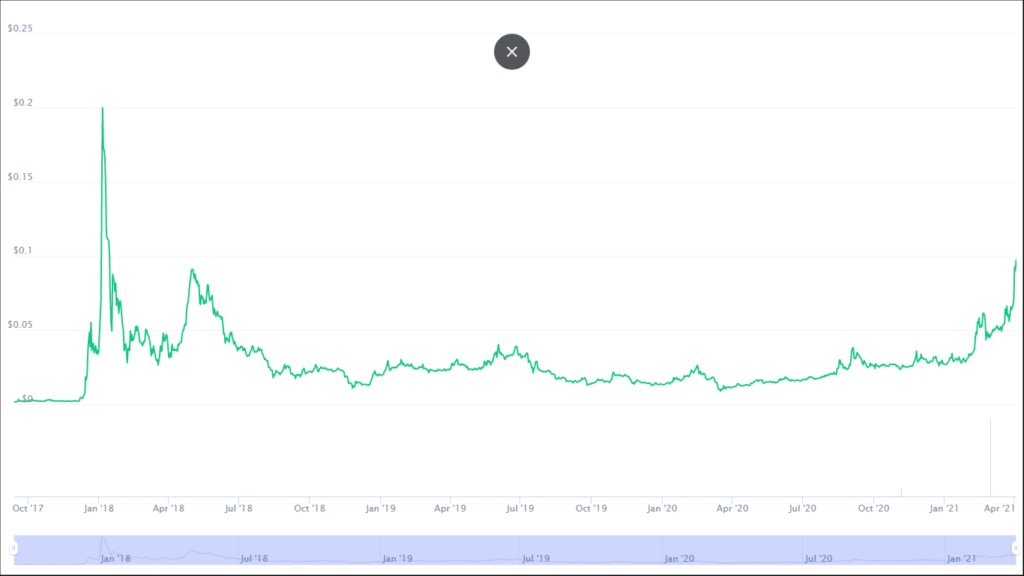 Some price prediction platforms hold that TRC might see up to $0.1 in the coming years – not financial advice. 
NFT on TRON
In support of the Tron blockchain, the founder has been actively working on launching the blockchain into the now-booming non-fungible token (NFT) market. Earlier in March, Justin Sun entered a partnership agreement with Lindsay Logan to launch contents as NFTs on the Tron blockchain. Meanwhile, TRON recently forayed into the NFT market as the founder successfully purchased Beeple's 'OCEAN FRONT' NFT. The digital art will be stored on the Tron blockchain as a TRC721 standard token.  
The development team at Tron is actively ready to modify the network to support current trends in the cryptocurrency space, as many TRON Reddit communities would love to see.
TRON roadmap – a 10-year plan
Tron doesn't follow a yearly development schedule. However, it has a set of developmental phases that is scheduled to be completed within a period of ten years (from 2017 to 2027).
Exodus: Exodus is its earliest development phase of Tron meant to enable a free platform for peer-to-peer storage of content. Although this did not use blockchain technology, it used a web-based file system. It ended in December 2018.
Odyssey: After Exodus, the test net version Odyssey -v1.0, which used blockchain technology, was launched. It was followed closely by the main net version, Odyssey v2.0. The TRON virtual machine allowed Ethereum smart contracts, the TVM was part of the Odyssey v3.0. Tron soon gained public prominence and launched Odyssey v3.2 for accessing TRON public data.
A version of Odyssey v3.5 was launched to manage account authentication and support multi-signature access on the blockchain. The Odyssey series ran through to June 2020.
Great Voyage: This is likely to be the current development phase. It began in July 2020 and is expected to run through July 2021. Among other things, Great Voyage focuses on the ICO capabilities of the network.
Apollo: This phase will run from August 2021 till March 2023. This will enable content creators on the network to issue their personal Tron 20 tokens.
Startrek: Startrek is all about enabling online and decentralized gaming platforms. It's scheduled to begin from April 2023 to September 2025.
Eternity: This will be the last phase. It will allow developers on the network to set up and crowdfund their game development without hassles. This will begin from April 2025 to September 2027.
Summary
Tron (TRX) is one of the popular digital currencies that has a large ecosystem and communities in different media platforms. The discussions on the above-listed Tron Reddit communities are impactful and will help new TRX investors learn more about the cryptocurrency and the future of the blockchain network.