Irrespective of whether you are a beginner or professional trader in the NFT market, it's advisable that you join one or more NFT communities either on Discord, Facebook, or Reddit. It has proven over time as a key strategy that can fast-track growth and profitability and also enhance your knowledge of the wild NFT and general crypto market.
What is an NFT Community
An NFT community is a group of cryptocurrency traders bonded by a common interest in buying, selling, sharing ideas, and discussing trends and major events happening in the NFT space. Presently, some NFT communities operate more like decentralized autonomous organizations (DAOs). Most active and best NFT communities can be found on Discord, Twitter, and Reddit.
Some of these communities are open to the public, while some are exclusively available to selected people or holders of a particular NFT. Of course, the latter provides more leads, signals, and important market updates to the members, compared to the publicly-open communities.
However, you stand to gain the following benefits by joining NFT communities of any kind:
NFT community members receive scoops and updates about new project launches in the market.
It can improve your chances of winning in the market, especially for beginners interested in NFTs.
The community moderators also provide members with signals on when to buy and sell.
Members are also provided with red flag alerts on potential project rugs, scams, and project hacks.
You can win NFTs and cryptocurrencies by participating in giveaways and games conducted in the group.
Joining a community can help you network and make new friends bonded with a common interest.
An NFT community can save you the stress of hustling for whitelists, as it's easier for the moderators to directly request project collabs and secure some WL spots for the members.
Also read: How to receive free NFTs.
Best NFT Communities in 2022
Below are the 10 best NFT communities on discord you can join in 2022.
1. Bored Ape Yacht Club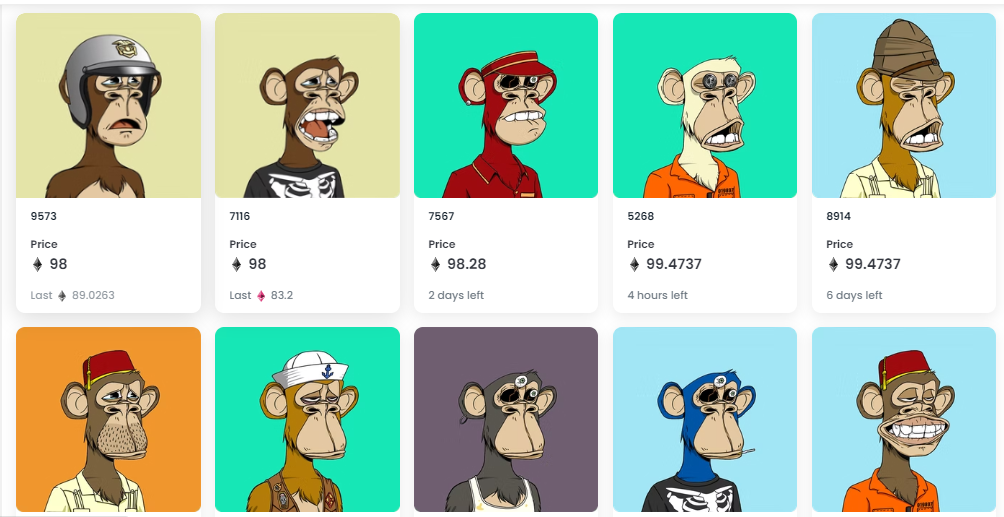 BAYC or Bored Ape Yacht Club is unarguably the biggest NFT community and probably the most active and lucrative too.
The community began in 2021 by launching 10,000 unique digital bored ape collections created by Yuga Labs. BAYC is the most expensive NFT in the market. The floor price is roughly $110,000 at the current market price of Ethereum (ETH).
Besides BAYC, Yuga Labs has released several other successful projects, including Mutant Apes, Otherdeed for Otherside, and Apecoin token. The successful launch of these projects has greatly enriched most community members, which is why many people are pushing to join.
It might also interest you that the BAYC community is home to many popular figures from diverse industries, especially music and sports.
Members: 170,613.
Floor price: The floor price is currently around 92.85 ETH.
2. VeeFriends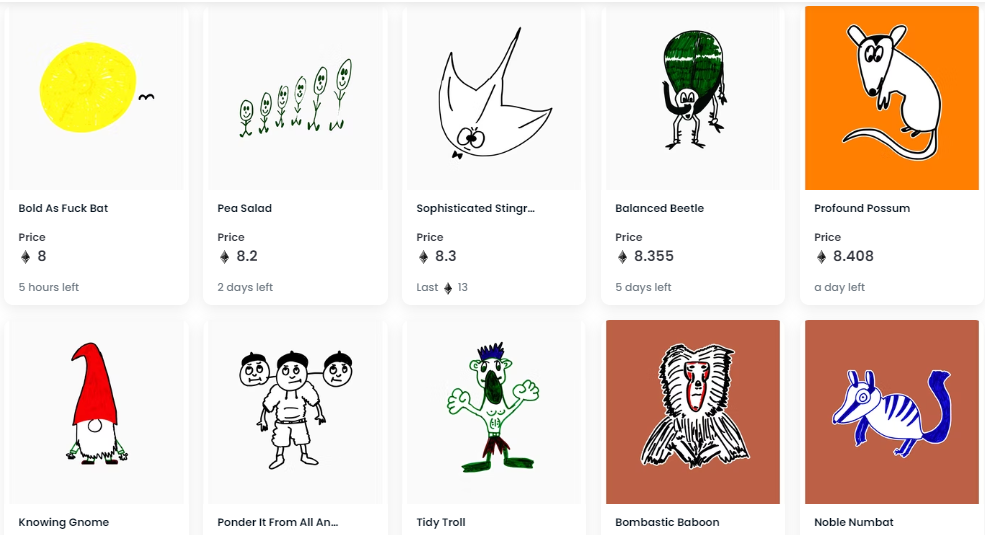 VeeFriends is a 10,255 unique NFT collection by Gary Vaynerchuk, a digital marketing and social media personality. VeeFriends also began in 2021, and it's considered one of the vibrant and successful NFT communities to join.
The community now has two collections released on the Ethereum blockchain – VeeFriends and VeeFriends Series 2. You can become a part of the VeeFriends NFT community by owning any of the NFTs.
Members: 364,809.
Floor price: The first collection currently has a floor price of 8.69 ETH, while the second collection has a 0.529 ETH floor price, according to data from Coinmarketcap.
3. Cryptopunks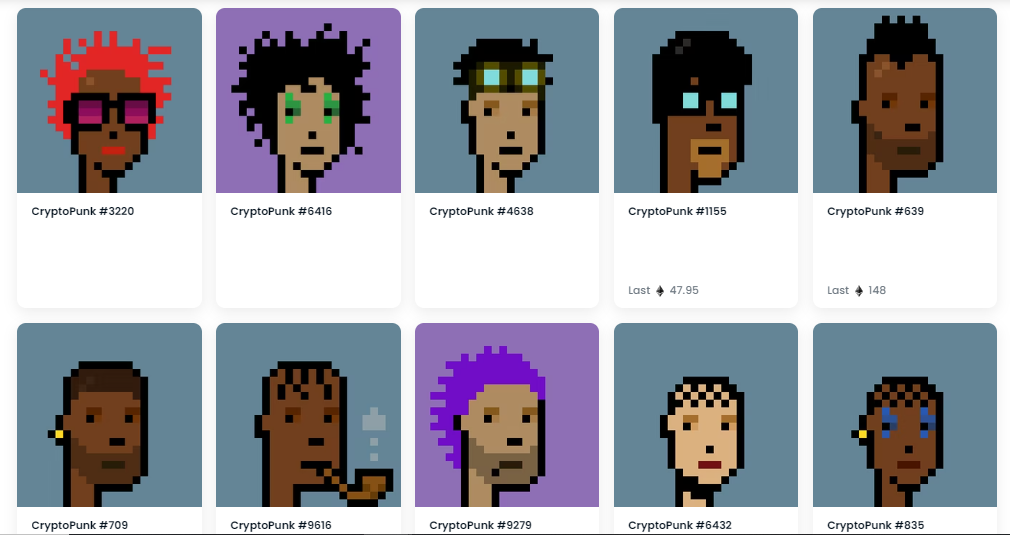 As many would say, Cryptopunks is the OG or pioneering NFT community for the non-fungible-tokens. The project was headed by Larva Labs. It's now held by 10,000 cryptocurrency investors and NFT collectors globally. The art was inspired by the London punk scene, cyberpunk films, and novels.
The Cryptopunk community isn't the strongest, but recent reports suggest that they could be planning something huge for the future. As recently as June 19th, Christie's head of sales Noah Davis quit his position with the British auction house to work with CryptoPunks.
Members: 68,397.
Floor price: The floor price for Cryptopunks NFT is around 66.95 ETH.
4. World of Women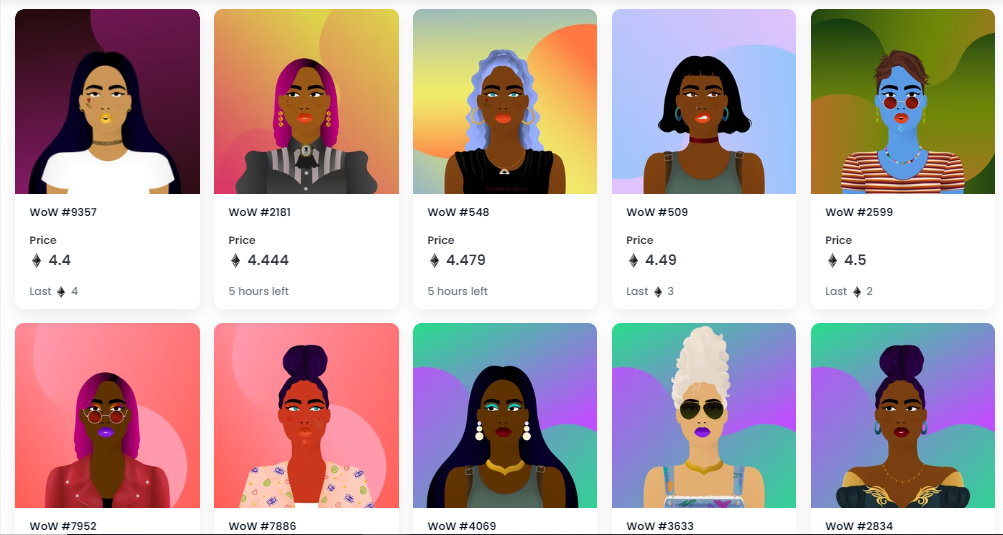 Of all NFT communities, World of Women (WoW) targets mainly women, as the project name suggests.
WoW is a collection of 10,000 randomly generated unique, cool, and diverse women NFTs based on the Ethereum blockchain. Over the past 21 months, female artists accounted for just 5% of all NFT art sales. The goal of the World of Women community is to increase representation, inclusivity, and equal opportunities for all.
Members: 64,086.
Floor price: The floor price of World of Women NFTs is around 4.19 ETH.
5. Cool Cats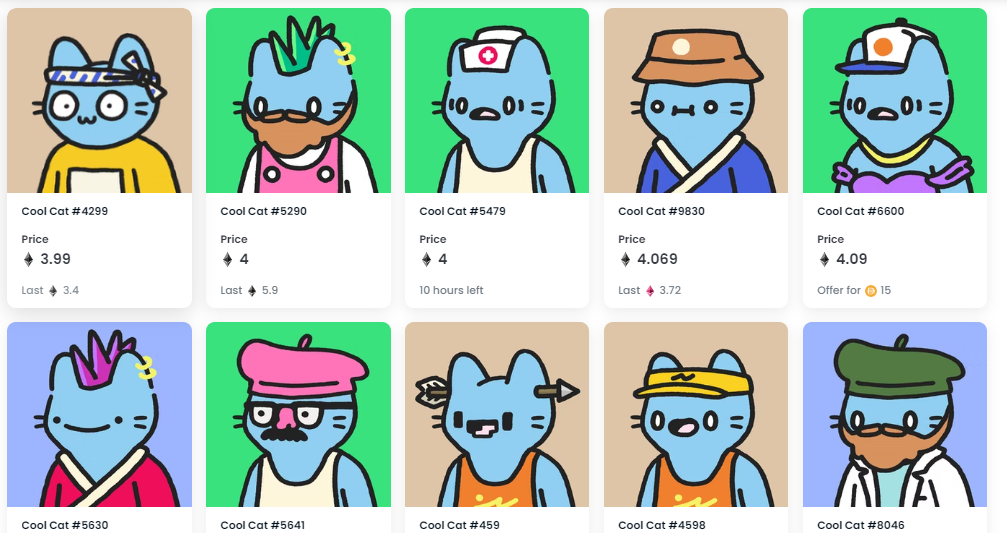 The Cool Cats NFT community started with the release of the Cool Cats collection in July 2021.
Cool Cats is a collection of 9,999 randomly generated and stylistically NFTs based on the Ethereum blockchain. The collection was one of the hottest projects on the Ethereum NFT ecosystem last year and is currently one of the biggest collections in the NFT market. Cool Cats' market valuation is estimated at around $250 million.
In February 2022, the creators of Cool Cats launched another collection dubbed Cool Pets.
Members: 99,542.
Floor price: Cool Pets' floor price is 0.29 ETH, while Cool Cats has a floor price of 3.98 ETH at the time of writing.
6. OpenSea
OpenSea is the biggest NFT marketplace on Ethereum blockchain and the entire NFT space, and its NFT community on discord is one place you would want to join.
The discord community has more than 170k members. There are several sub-channel in the discord community where the members can interact, share alpha calls, and discuss relevant trends happening in the market. However, you are more likely to see Ethereum users in the community since OpenSea is mainly focused on Ethereum.
It recently began supporting other blockchains like Solana and Polygon.
Members: 237,309.
7. Deadfellaz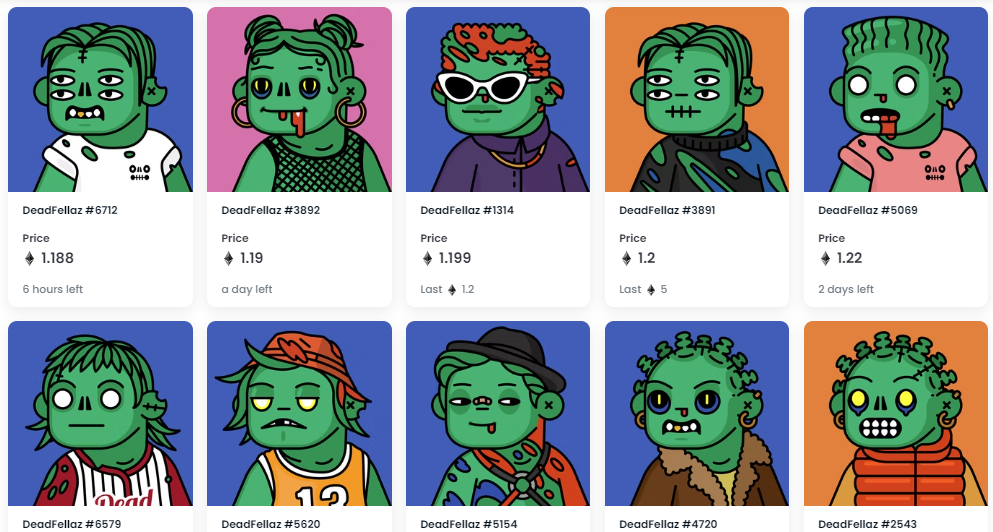 Ignore the name; Deadfellaz is one of the lively and best NFT communities on Discord.
The community started with the launch of the Deadfellaz collection back in August 2021. The collection consists of 10,000 unique digital arts based on the Ethereum blockchain. Deadfellaz was founded by Betty, a co-director of a creative production agency, and Psych, the lead artist of the collection. Deadfellaz has another collection called Deadfrenz.
Members: 21,335.
Floor price: The floor price of Deadfellaz NFTs is 1.12 ETH.
8. Moonbirds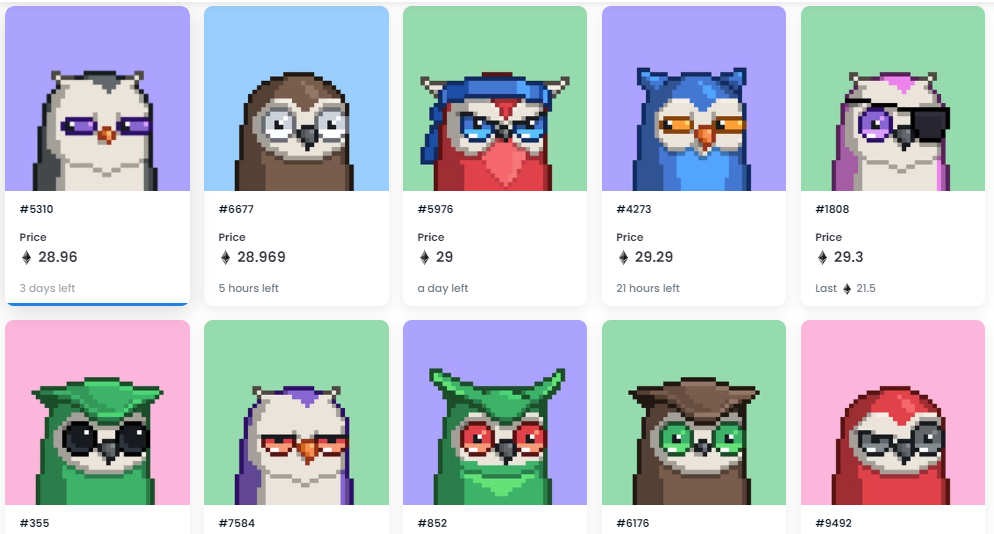 The Discord community that Moonbirds has built is worth rating as among the best NFT communities.
The Moonbirds NFTs are among the top or largest collections on the Ethereum ecosystem by market value. The collection is made of 10,000 unique digital arts, which account for roughly $383 million in market valuation, according to CoinGecko.
Owning a Moonbird NFT grants you access to a gated community known as Proof Collective, where members are provided with exclusive information, project whitelist, and market scoops. This member-only community was originally made up of 1,000 NFT collectors who managed the NFT collection.
Members: 20,086.
Floor price: The floor price of Moonbirds is 28.5 ETH.
9. Azuki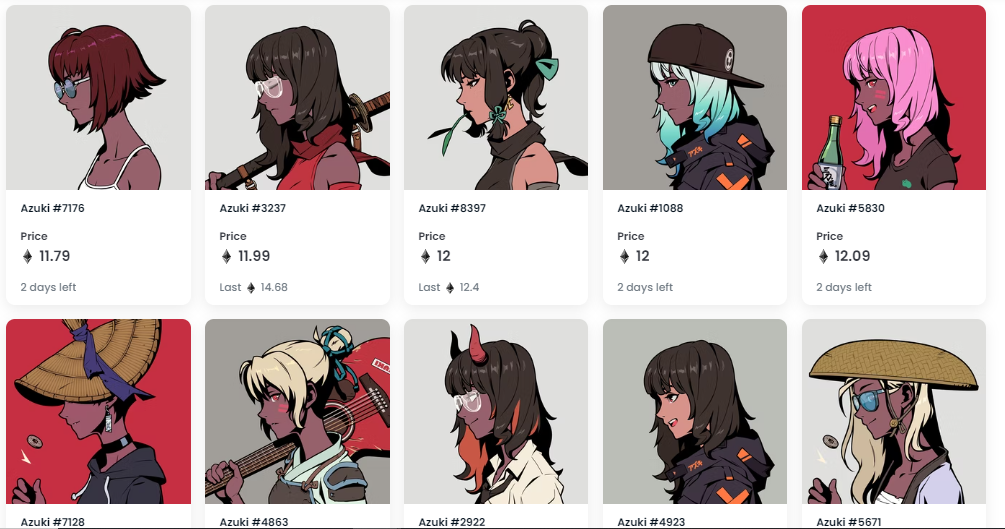 Azuki is one of the vibrant NFT communities on discord you should know. The project was created by a group of digital artists based in Los Angeles.
The Azuki collection is made of up 10,000 avatars based on the Ethereum blockchain. The collection became very popular after it launched in January 2022; it has amassed a decent market value since its release.
Members: 107,329.
Floor price: Azuki has a floor price of 11.68 ETH, according to CoinGecko.
10. Doodles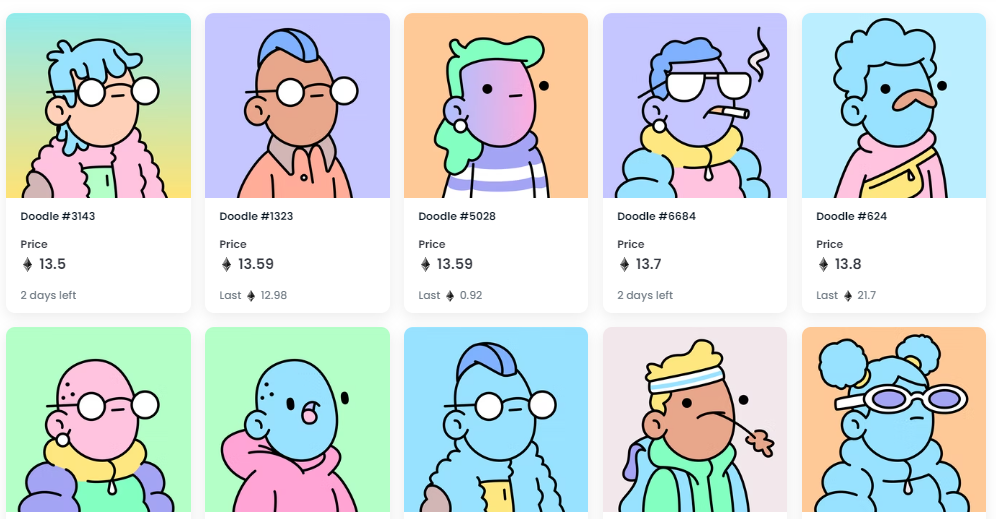 Again, Doodles has one of the best NFT communities you can find on Discord. The community started with the release of the collection in October 2021, and it attracted many hypes on Twitter during the launch.
The Doodles collection has a total of 10,000 generative NFTs. The collection was reportedly created by Evan Keast, Scott Martin, and Jordan Castro. Currently, Doodles boosts over $170 million in market valuation.
Members: 68,730.
Floor price: The floor price of Doodle is 12.5 ETH.
Best NFT Communities on Reddit
Below are the best NFT Communities on Reddit you can join for free.
NFT – 200k members.
NFTsMarketplace – 80k members.
OpenSea – 50k members.
CryptoArt – 11k members.
Decentraland – 72k members.
NFTstocks – 5.2k members.
Axie Infinity – 94k members.
NFTmarket – 9k members.
Rarible – 9.9k members.
NiftyGateway – 4.3k members.
Best NFT Communities on Telegram
Below are the best NFT Communities on Telegram you can join for free.
Downsides of Joining NFT Communities on Discord
There are quite a few downsides or potential risks when you join NFT communities on Discord. These can be any of the following:
Not every prediction, call, or project shilled on NFT communities is guaranteed wins. You have to do more research.
Don't trust anyone in the Discord server 100% cause there are also scammers posing as members in NFT communities.
A discord server can be hacked, and you might lose your NFTs by clicking on malicious links shared by hackers in the channel.
Bottom Line
As an NFT trader or collector, you can gain more knowledge and lead about the space by joining NFT communities either on Discord, Facebook, or Reddit. New entrants in the market now find it more challenging to get whitelists from upcoming NFT projects. However, an NFT community can make things much easier.
As a community member, you stand to receive scoops and updates about new projects, which can improve your chances of winning in the market. However, the downside is that not all the information or calls are 100% correct. Although the chances are slim, you can also lose your NFTs to scammers or hackers in the group.
What is a good NFT community?
VeeFriends, Moonbirds, BAYC, World of Women, and CryptoPunks are some of the best NFT communities you can join. A good NFT community has a proven record of growth and value.
Are NFTs even worth it?
Not every NFT is worth investing in, although there are some with good value. Just like art and collectibles, the potential or value of an NFT is tied to the community, its utility, and what it represents. The creators and value proposition of NFTs can determine whether they are worth it or not.
Are NFTs a good investment?
Not all NFTs can make a good investment. People consider several factors before investing in NFTs. These include value, utility, the community, creators, etc. On a general note, however, investing in NFTs is risky, as the market is unpredictable. Prices can skyrocket today and collapse tomorrow.
Can you lose your money from NFTs?
NFTs are risky. You can lose your money from NFTs if a project rug pulls. Also, the floor price of an NFT can crash, leaving you with literally worthless digital images. This is why investing only what you can afford to lose is advisable.
Why do NFTs have so much value?
Several factors can influence or drive value to an NFT. These include the community hypes, the creators, market sentiments, the value proposition of the project, and many others.
How do you make money with NFTs?
You can make money from NFTs by creating, selling, or auctioning an NFT on a marketplace like OpenSea. You can also make money from NFTs when you mint from a collection at low prices and sell at higher prices. Some NFT projects allow holders to stake their NFTs to generate passive rewards.