Cryptocurrency, as one of the elements of blockchain, has been a major useful tool that cannot be neglected in a product or solution that fosters decentralization through the power of the emerging technology (blockchain).
Over the years, blockchain has been used, as a tool, to disrupt different sectors and industries. It creates a new way that these sectors operate by giving back power to the ecosystem's users.
Blockchain has disrupted the financial sector; thus, we have DeFi (decentralized finance). It is a disruptive technology and has been applied to the IoT (internet of things through a blockchain-based project known as "Helium."
But in this case, it creates more utility and incentives for everyone rather than just crypto users — as it allows anyone to solve a problem and at the same time earn units of the network token (HNT). However, some of the existing active users of the Helium network were asking a question like: "can I buy a car with Helium cryptocurrency."
In this article, I'll give an appropriate answer to the question, but before then, you may be seeing Helium for the first time or, probably, you don't know much about the project. Thus, I'll be letting you know the necessary information about the Helium network, those who use it, and what Helium cryptocurrency is.
What Is Helium Network?
As mentioned earlier, Helium is an idea to integrate blockchain technology into the IoT (internet of things) by providing connectivity to wireless devices.
Internet of Things is physical objects implanted with sensors and other software built to collect and share data through the internet. They serve as automated devices to replicate human actions.
Helium network was created to provide peer-to-peer wireless network coverage through blockchain technology.
The network consists of Hotspot devices that are used for data transmission between IoT devices, providing them with internet connectivity at a very low cost compared to traditional networks — Wi-Fi and cellular.
They are long-range devices — which means they can transmit data over a long distance, compared to a conventional Wi-Fi hotspot, through radio frequency by utilizing LongFi — a combination of LoRaWAN and Helium networks.
The hotspot devices are called "Miners" in the Helium network — meaning they also participate in maintaining the network. Meanwhile, with the power of cryptocurrency, they are rewarded with the native token (HNT) for providing network coverage to IoT (Internet of Things) devices.
Who can use the Helium Network?
Anyone from any part of the world can make use of the Helium network — as it's a decentralized wireless network. It can be used by businesses, individuals, etc.
While companies can use Helium networks to enhance their performance and transmit data from one device to another to communicate efficiently at a low-cost fee, an individual can own a Helium hotspot that will provide wireless coverage to IoT-compatible devices.
The hotspot earns a reward for data sharing, and the more it provides connectivity to the devices in the Helium network, the more it gets rewarded with the native coin (HNT).
To prove that miners (the Helium hotspots) are providing this network coverage and also confirming the actual location it claims to be located for the service, Helium uses a consensus mechanism that's similar to Proof of work (POW) but with an energy-efficient processing algorithm. It uses proof-of-coverage (POS) to maintain the network.
HNT is burnt to produce data credit — which is required for any devices using the Helium network to access it.
With the proof of coverage algorithm, it allows hotspot owners to earn the native token (HNT) on the network aside from providing wireless network and data sharing but also earn from being a witness or challenger in the network maintenance process.
Due to the decentralization feature of the Helium network, the same Helium miner (hotspot) can establish a challenge for other hotspots around to prove that they are providing connectivity and data-sharing service to IoT devices that are connected to the Helium network accurately and in the right location, it claimed.
When this challenge has been initiated, the challenger (a hotspot that was challenged to prove its authenticity and quality of its service) it's required to provide accurate data and information to the network. While any other hotspot that is nearby would serve as a "witness" to scrutinize and verify the information presented if it's true or false.
What is Helium cryptocurrency?
Helium cryptocurrency, HNT, is the native coin of the Helium network, and it serves as a utility in the ecosystem. It's used as an incentive in the protocol; miners (hotspot) earn the token for participating in the network, either as a wireless network provider or participating in the validation of the network data.
Since its launch, it doesn't go through a pre-mining event, and only hotspot devices that provide the wireless connection to IoT-compatible devices in the network can mine the crypto coin.
Recently, the Helium network has launched another currency called "Data Credit," used to pay for or use any service in the network. Data Credit can only be obtained by burning HNT, thus enhancing the scarcity of HNT coins to combat inflation.
However, the currency "Data Credits" cannot be exchanged for real cash (not exchangeable).
The price of the HNT coin, at the time of this writing, is $8.18, and it's ranked #52 with a market capitalization of $1,012,654,133 (according to Coinmarketcap data) among thousands of crypto assets in the market. Since its launch, it has increased exponentially by over 2000%, reaching an ATH (All-Time-High) of $55 in November 2021 from its ATL (All-Time-Low) price of $0.25.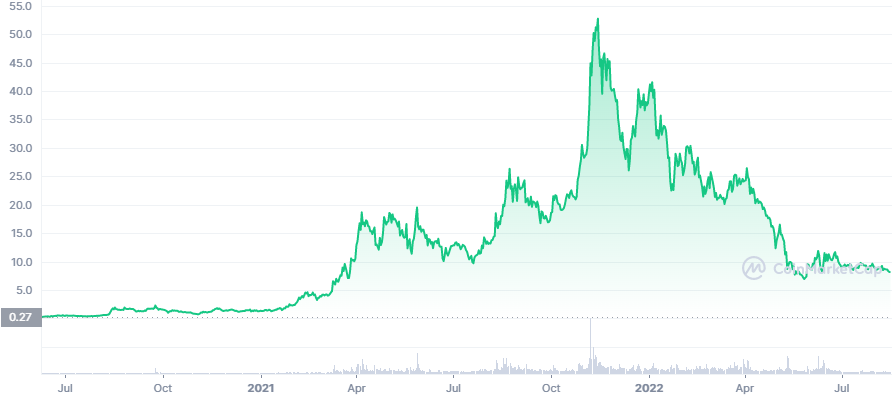 It has a total supply of 223,000,000 HNT; it's projected to be the maximum supply of the Helium cryptocurrency, thus, a need to create a burning mechanism to ensure it doesn't exceed that amount.
Owing to its wider range of use across different regions, there has been a supply of 123,859,693 HNT in circulation since its inception.
Can I buy a car with Helium cryptocurrency?
Helium network provides a variety of ways to earn the native coin — HNT in the network and has accommodated a network of individuals and companies that are utilizing the use cases of the ecosystem. Many people have been developing an interest in using the HNT cryptocurrency to buy different items or products, including cars.
Buying a car with Helium cryptocurrency can seem to be difficult. However, recently, DIMO just partnered with Helium network to build a user-owned digital ecosystem in the network.
DIMO is a project initiated to integrate crypto into mobility using web 3.0 technology. DIMO aims are similar to the Helium network goal. Hence, in the partnership, DIMO aims to create a decentralized and automated ecosystem for car owners by enabling them to maximize the use of IoT devices in their cars.
Like Helium network, it also aims to launch an incentive model to enable car owners to connect their vehicles and share data anonymously — which is believed that it will create an avenue for developers to build mobile apps on the DIMO platform that can be useful for enterprises and consumers.
Hence, DIMO found a reason to secure a partnership with Helium network because it would require a wireless network provider like Helium hotspot — which is also aligning with the decentralization nature of the DIMO ecosystem.
DIMO will also have Data Miners built into the ecosystem, allowing drivers or car owners to earn rewards for sending rich data while ensuring maximum security. In partnership with the Helium network, DIMO will enable cars that are using the technology to verify coverage and drive usage on the Helium network.
The FreedomFi gateway with the Data Miner in the DIMO ecosystem will allow sharing of vehicle data over the recently released "Helium 5G".
With that being said, this strategic partnership could foster a way for HNT miners to buy cars through the DIMO ecosystem using the Helium cryptocurrency — HNT.
Final Thought
According to a statistic report, the IoT industry is growing rapidly, and it's expected to reach more than 1 trillion dollars by 2030. The thriving adoption of the "Internet Of Things" has made many devices in the world connected to the internet to enhance efficient work in companies and also provide a more automated way of life to individuals.
However, these devices require wireless network coverage to operate effectively, and some conventional network coverage such as Wi-Fi and cellular data are costly, along with short-range connectivity to IoT-compatible devices.
Helium might gain massive global adoption in the coming years or probably replace these conventional wireless networks, Wi-Fi and Cellular.
The network has amassed numbers of enterprises, individuals, developers, etc., that are using or contributing to the network because it facilitates a mining process in the blockchain that does not require a high computational power (which is not energy-intensive) but a radio wave technology. The incentive model in the network is also one of the factors that is driving much demand for the hot spots all over the world.
It's believed to be adopted by more companies and individuals due to its security and low-cost fee for sharing data while ensuring long-range connectivity to IoT devices through the integration of LoRaWAN wireless network with the Helium blockchain.