Many crypto projects are getting updates, like the Ethereum Merge and Cardano's Vasil Hard Fork. Well-known meme coins like Dogecoin and Shiba Inu are also moving forward to make themselves better for the future.
Dogechain, the 'Layer 2' of Dogecoin, is here to pave the way for DeFi, NFT, and MMORPGs.
Dogechain is a link between Dogecoin (DOGE) and the world of DeFi services, as well as the possibility of future NFT markets and many decentralized apps, which may one day, include gaming apps.
The price of DOGE soared today, going up 15% in the last 24 hours! Dogechain, labeled as "layer-2 for Dogecoin," is now driving most of the buzz around DOGE and its price.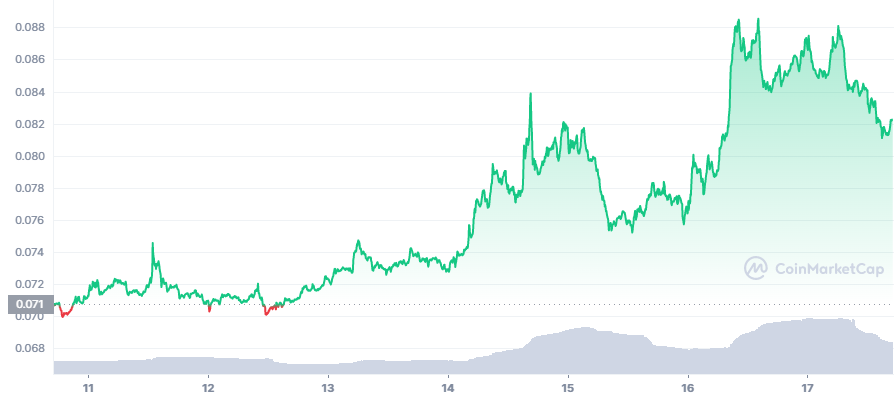 What exactly is Dogechain?
Contrary to popular belief, Dogechain is not a true layer-2 network of Dogecoin. What this implies is that Dogechain is not a layer on Dogecoin.
Dogechain is more of a separate network that runs on Polygon Edge. Polygon Edge is a custom blockchain software made by Polygon and is one of the most popular sidechains for Ethereum.
The fact that Polygon Edge is compatible with the Ethereum Virtual Machine is by far the most intriguing aspect of this technology. With Polygon Edge's help, you'll be able to play games, and use applications developed for Ethereum.
Based on data collected by market intelligence platform DEX Screener, $21 million worth of tokens have transacted on Dogechain in the last 24 hours. DogeSwap dominated these exchanges by a wide margin, with $16 million in total trade volume. Doge Eat Doge (OMNOM), DogeShrek, Bourbon, and PinkyDoge were among the most valuable tokens that contributed to the total worth of $21 million (PINKY).
The Dogechain team claims that since the network launched five days ago, users have created more than 58,000 wallets. That's a lot of wallets and over 480,000 trades.
Every day, fresh developments occur in the crypto space. After the launch of Dogechain, it's intriguing to observe that another Ethereum-based currency, Shiba Inu (SHIB), based on the same dog as the original Doge meme, is also preparing to launch its own layer-2 scaling network. The network is Shibarium.