The native cryptocurrency of the EOS blockchain looks more like a promising cryptocurrency with lots of potentials to make a good investment. For the record, the EOS blockchain runs with greater scalability, making it an attractive blockchain platform for developers to build applications and projects. In this EOS price prediction piece, we will briefly highlight the EOS blockchain and if the EOS cryptocurrency can make a good investment in the coming, as per predictions.
EOS – a more scalable blockchain network
EOS is a blockchain protocol focused on offering super-fast and cheap transactions, and it is based on the cryptocurrency EOS. It was released about four years ago by a software company dubbed Block.one, which is headed by Dan Larimer. Developers of this platform claim that EOS can process thousands of transactions in a second.
When compared with Ethereum's 30 transactions per second, this claim could sound like a big feat. In fact, EOS was designed to achieve more scalability than the Bitcoin and Ethereum blockchain, although the native cryptocurrency of EOS was initially launched on Ethereuem. The EOS cryptocurrency was moved to its native blockchain, and now both houses and support decentralized apps and smart contracts.
EOS price history
Before looking at EOS price prediction for coming years, it's also relevant to consider the cryptocurrency's price history since its launch. This would give a nice background to the coin's price movements and also show some repeating patterns, which should complement the predictions for EOS.
Back in 2017, during the initial coin offering (ICO) boom, EOS had one of the most successful ICOs. The offering reportedly ran for nearly a year, generating about $4 billion. The EOS cryptocurrency began trading on exchanges in July 2017, at just over 1 dollar per EOS. A few months later, EOS was able to hit the $10 mark and soared even higher in the following year.
The EOS coin's all-time high was recorded about three years ago when it traded for $21.27 per coin. Unfortunately, the coin did not sustain its momentum and quickly fell to trading around a dollar by the end of the year. Last year, EOS was mostly in between 2 to 3 dollars.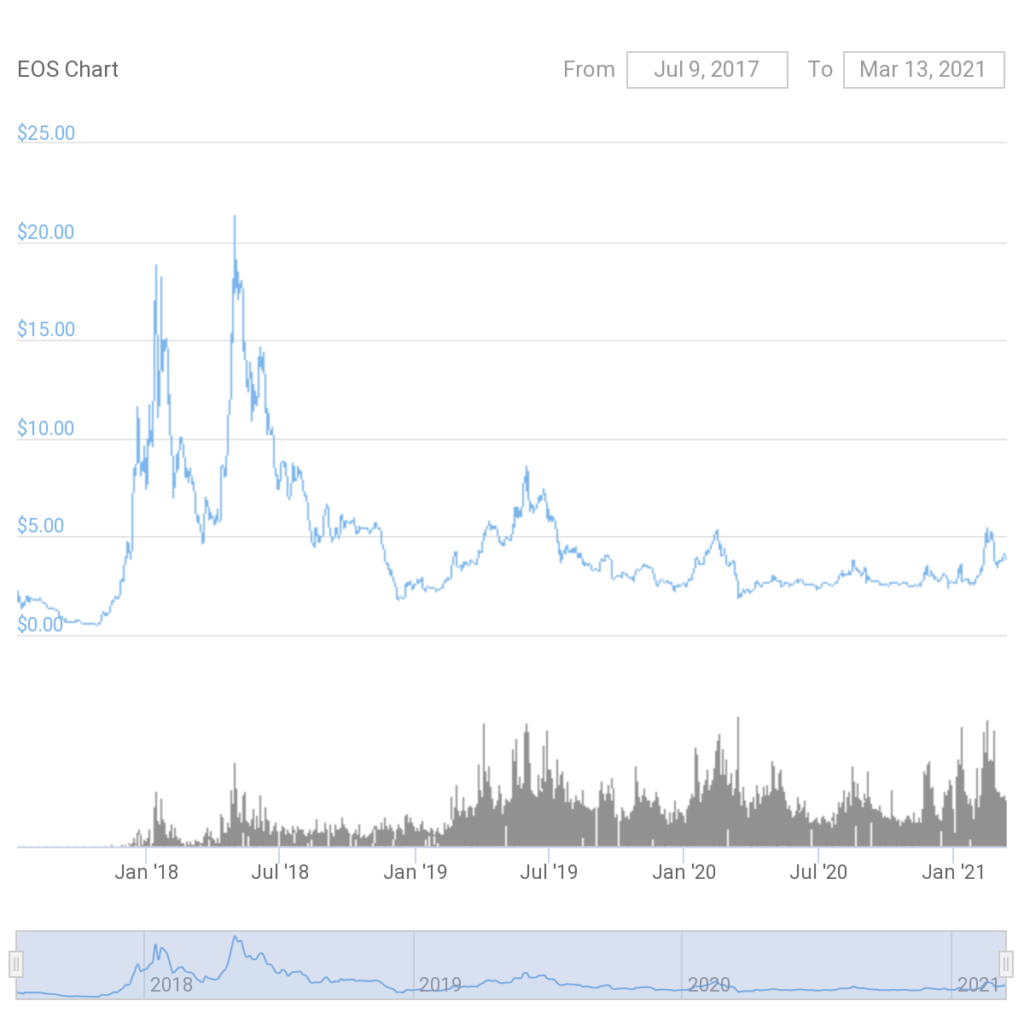 During press time, EOS was trading at the market value of $3.7 on Coingecko. From a circulating supply of 953,722,754 EOS, the entire cryptocurrency made up a market capitalization of $3.6 billion.
Also read: Dent price prediction for 2021 and beyond
EOS price prediction for 2021
Before we look into the EOS price predictions for 2021 by several analytics platforms, it's worth noting that just like many altcoins, the EOS cryptocurrency is likely to see an uptick in the market value of Bitcoin, the largest digital currency, goes up. Oftentimes, the leading cryptocurrency drags other coins along with every increase in makes.
TradingBeasts EOS prediction for 2021
In the coming month, TradingBeasts EOS price prediction reads that the cryptocurrency will reach a maximum price of $3.99 but will trade at an average price of $3.1. As per TradingBeasts, EOS will be trading on that average until August, where it predicts that the average price will increase to $3.2. By December, TradingBeasts forecasted that EOS will reach a maximum price of $4.0573 but will trade at $3.24588 on average.
WalletInvestor EOS price prediction for 2021
Judging the prediction by WalletInvestor, the EOS cryptocurrency should make a good investment by this year. The platform predicts that EOS will reach a maximum of $10 this year around May. However, it expects the cryptocurrency to drop afterward, around $6 in December 2021.
Also read: ABYSS token price prediction for 2021
EOS price prediction for 2022
WalletInvestor EOS price prediction for 2022
Following the 2022 EOS price prediction by WalletInvestor, EOS might not be a better year than 2021. The platform expects the cryptocurrency to drop further after it reaches the maximum price of $10 in May 2021. WalletInvestor expects the cryptocurrency to reach a maximum price of $5.4 in December 2022.
TradingBeasts EOS prediction for 2022
TradingBeasts made a slightly different prediction for EOS from what WalletInvestor forecasted. The platform expects EOS to see as high as $5.24244 as the maximum price in 2022. However, the coin will mostly trade at the average value of $4.1.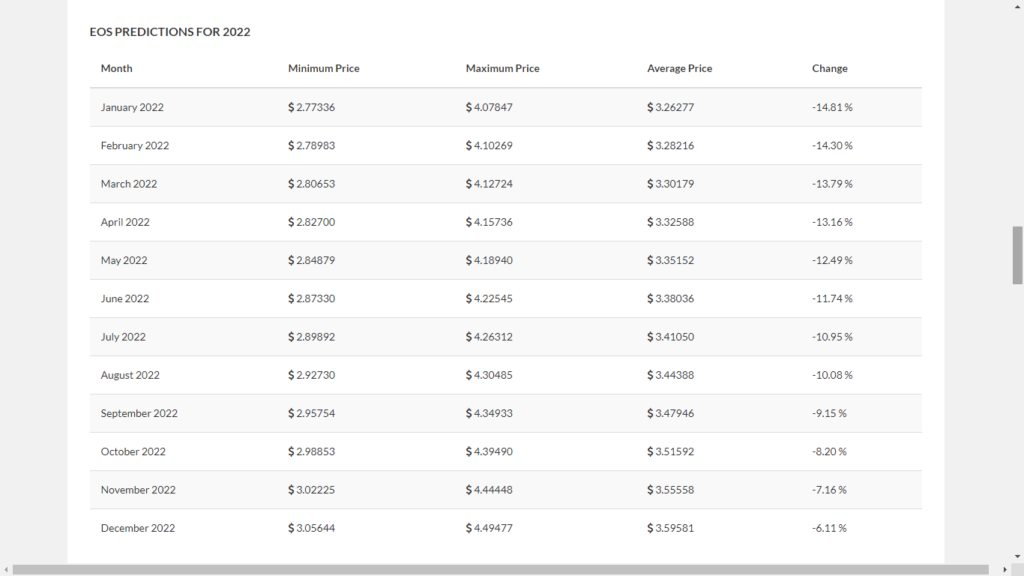 EOS Price Prediction for 2025
CoinSwitch predicts that EOS would continue to remain largely bullish over the next four years. This bull run is likely to bring the coin to $100, according to the platform. This is dependent on the fact that EOS remains a relevant cryptocurrency in the financial world.
However, a price of more than a hundred dollars could be a high target for the EOS cryptocurrency, although it's not impossible. Given the current trend of EOS, it might just settle for a price around $50. Both WalletInvestor and Cryptoground predict that the value of the coin would go up in the future, although not as high as CoinSwitch's prediction.
EOS roadmap for 2021 and beyond
Last year, EOSIO launched the second version of its blockchain, which focuses on making the development of applications on the blockchain easier. The EOS team says that developers will now be able to build and maintain large-scale applications on the blockchain.
The new version would also favor blockchain administrators, as it would allow them fully utilize their storage, and handle data more effectively. EOS has a broad road map in terms 'EOS Strategic Vision. This plan outlines what the blockchain hopes to achieve, a tool that could help in your EOS price prediction.
Apart from offering horizontal and vertical scalability for Apps, EOS plans to use advanced database technologies to make it more flexible. The blockchain is also considering branching out to enterprises and would address issues like privacy and copyright in the near future.
To encourage developers, EOS would be improving a Graphical User Interface(GUI). Smart contract debuggers and more functionality are sure to boost the use of this network.
Conclusion
It is important to note that these predictions are not absolute, as EOS can either exceed them or not reach them. This coin seems to have a future, as it is more focused on facilitating speedy payment – a highly-demanded feature in today's world – as it runs the Delegate Proof of Stake (DPos) protocol.
DPoS makes it faster and more energy-saving than most blockchains, roles that could make it endure the test of time. Remember to do your research on the coin. With these EOS price predictions, you should have solid information about the coin's future.