SpaceGrime believes that memes are one of the elements that enable people around the world to connect and concisely understand certain information. Hence, they aim to make their project meme inclined due to the intrinsic value of memes used to unite all civilizations.
According to their roadmap, they aim to build an NFTs marketplace, decentralized swap platform, etc.
Due to a little word about SpaceGrime, you may be interested and eager to know the GRIMEX crypto price prediction.
Some ask questions like, "Is Space Grime Legit" you will get to know about everything about SpaceGrime GRIMEX crypto price prediction, the price overview, and if it's legit or not.
GRIMEX crypto price overview
The Space Grime utility token – GRIMEX token has been down by almost 6% over the past 24 hrs. Its current price (at the time of this writing) is $0.000000001, and its market capitalization is not known (according to data derived from Coinmarketcap).
Per Coinmarketcap, the SpaceGrime token is ranked #6354 among other crypto assets trading in the market.
Grime Coin's final diluted market capitalization is $636,008 at the time of this writing and a maximum supply of 696,969,696,969,697,000, its trading volume in the last 24 hrs is $1,224.

What is SpaceGrime?
SpaceGrime is a blockchain project inspired by other successful meme cryptocurrencies in the crypto sphere, including Dogecoin and Shiba.
The details in the whitepaper made it clear that the value meme and crypto cultures that have risen from the internet are best exemplified by the idea of spontaneous community building, citing Dogecoin, which was the original meme coin that has turned a more demanding crypto asset began as a joke.
Hence, Space Grime was inspired by the success of Dogecoin and its community and aimed to build on what Dogecoin started to unlock the true potential of community-driven memes to drive monetary value.
SpaceGrime was launched as a Decentralized Autonomous Organization to create a community that fosters a decentralized financial technology ecosystem that aims to derive value from NFTs and Video games.
One of the ideas of SpaceGrime is also to build a space program that will onboard people and partner with various space technology firms. Space Grime conjoins art, NFT, Music, and humor together while having its utility token as Grime Coin.
According to the website, the team expects the project to be multi-planetary and interplanetary — as a blockchain project backed by the intrinsic value of memes. The team aims to achieve this by setting up nodes validating transactions on CubeSats orbiting Earth, the Moon, Mars, Venus, and other bodies throughout the solar system, as well as on planet and moon surfaces where practical.
From information obtained on the website, the nodes will be powered by solar panels in the inner solar system and radioisotopes in the outer solar system. They will communicate blockchain data with laser beams and be highly redundant for reliability. The Space Grime team believes that it will enable the existence of a financial market and commerce throughout the Solar System and beyond, without the need for any intermediaries, governments, banks, or other third parties.
The project founding team are people that have gained much experience while working for different companies and organizations, including technologists, PHDs, and space researcher technologists. They come together to build a crypto project to foster transactions and create a civilization on other planets.
SpaceGrime (GRIMEX) coin
SpaceGrime (GRIMEX) is the native and utility token of the SpaceGrime ecosystem. It was minted on the Binance Smart chain with over 600 quadrillion GRIMEX supply.
The SpaceGrime team aims to make the token available on future blockchain networks, including Solana, Cosmos, Algorand, Fantom, Cardano, etc.
According to the whitepaper, 42% of the GRIMEX token total supply was sent to a burn address at its initial stage, and 57% was used for the airdrop event to create the project awareness. In comparison, 0.5% of the token supply will be used for community building expenses.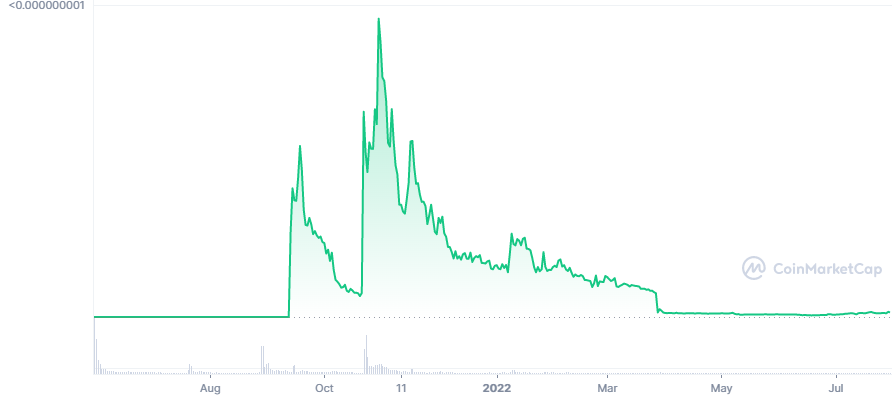 It's also essential to know that the initial liquidity the team added on Pancakeswap was only 15 BNB.
The details on the website cited SpaceGrime as an experimental interplanetary virtual currency, tradeable on 3 different blockchains – MATIC (Polygon), Avalanche C-Chain (AVAX), and Binance Smart chain (BSC). It is inspired by memes, music, technology, and digital art. Those items will be the cultural artifacts that transcend space and time and are destined to spread virally throughout the galaxy. SpaceGrime seeks to bring together a rapidly growing community of Earthlings who want to go to the Moon, Mars, and beyond.
Also read: Tectonic price prediction
Grimes crypto price predictions
Since there's not been a significant move in the GRIMEX crypto token price since it started trading on Pancakeswap, it's quite hard to give a GRIMEX crypto price prediction.
According to Coinmarketcap, there's no accurate price history for the GRIMEX token, the market capitalization is untracked, and the circulation supply data is not trackable by Coinmarketcap. This signifies an inaccurate crypto asset; thus, the GRIMEX crypto price prediction cannot be discovered.
SpaceGrime NFT marketplace
SpaceGrime roadmap includes an NFT marketplace to give meme creators or lovers access and enjoy the attribute of Non-fungible tokens.
Because memes are something that can be shared anywhere without copyright restriction, the major meme creators are not always given credit for their creation.
The major idea of Space Grime to launch an NFT product that brings memes to the blockchain is to enable meme creators to tokenize their meme on blockchain to have proof of ownership— whereas the original creator can be verified.
To mint NFT on the Space Grime NFT marketplace, creators must have a GRIMEX token as a fee to pay, while the GRIMEX token deducted will be burned.
When an NFT is sold, 80% of the original price will be credited to the creator, and the remaining 20% will be given to all GRIMEX token holders.
Also read: Polygon price prediction
Is SpaceGrime GRIMEX dead?
Based on research conducted and data provided by a reputable coin market data aggregator, we will say Space Grime isn't legit. Some red flags discovered in the project are:
Low Liquidity & Trading Volume
The liquidity of a crypto asset is one of the most important factors to consider when buying into any crypto project. It is about how fast you can trade that particular asset. When there's low liquidity, a crypto token becomes useless.
SpaceGrime is not a good investment because the utility token GRIMEX has very low liquidity, which signals a red flag to avoid the project. Likewise, the trading volume is quite low, indicating it is an abandoned project.
It's quite funny that the team was preaching holding of the token, citing:
"Going to the Moon and other planets is not safe, there is always turbulence along the way and some may not make it to the destination if they jump ship too soon, but we embrace risk as astral travelers and that's what makes the SpaceGrime community different. We are going to the furthest reaches of the universe to spread the timeless meme and reap the rewards. HODL on and see where GRIMEX can take you!"
Thus, this statement on the website is good proof that the project has no good intentions.
Anonymous
When you want to invest in any crypto asset or participate in a particular crypto project, the priority is to confirm the credibility of the team behind the project.
When the team is giving a little information about them, or they don't give their details at all, it's advisable to not buy into that project.
This is why Space Grime Is considered a project that's not legit because the team is claiming to remain anonymous.
Fake promises
Based on our research, we discovered that the project team just aims at intriguing and innovative products, but they have no true intention to make these products come to life, or perhaps they didn't have the expertise required to build them.
In the project whitepaper, it was written that they would be launching a metaverse platform and an NFT marketplace that'll bring memes to the blockchain and let meme creators be credited for their work.
Unfortunately, the team isn't keeping up with their roadmap, which signifies a fake project.
Final thought
Before investment decisions can be made in any crypto asset, it's important to check the team's experience to justify their ability to deliver what they promised in the whitepaper. Also, the team must show their identity – as you'd not want to deal with a project with an anonymous team that can easily pull the rug on you.
However, the information provided in the article is based on personal research and shouldn't influence your investment decision; thus, it's crucial to further do your due diligence.
Disclaimer: All the information on this website is published for general information purposes only. They are not financial advice and do not represent the opinions of Coindictate to buy or sell any asset. Please do your own research before taking any action.