Jasmy's token, JASMY, is trading in the reds. The token's value has been dipping since 2021, according to data from TradingView. But, early this year, the project's team confirmed a series of partnerships, including NEXSTGO, a Japanese football club Sagan Tosu, and Mystiko Network.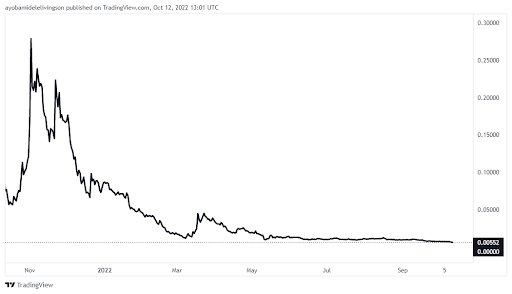 This news release has caused a bit of excitement among JasmyCoin's fans about the prospect of a comeback from JASMY. Yet, many people are uncertain about the token's future due to past market trends.
That's why we've gone ahead to do our analysis about JasmyCoin. We've compiled the findings of our research in this article.
In this article, you'll get insights into what the Jasmy blockchain project is all about. We'll also provide the price and technical analysis of the JASMY token. Also, we'll be sharing with you some short- and long-term JasmyCoin price predictions.
By the end of this article, you'll have a sufficient answer as to whether JasmyCoin might be a good investment for you or not.
Let's get started with a quick overview of JasmyCoin.
Quick Overview of JasmyCoin
| | |
| --- | --- |
| Coin Name | JasmyCoin |
| Stock Symbol | JASMY |
| Current Price | $0.0056 |
| Max Supply | 50,000,000,000 |
| Market Cap | $26,647,147 |
| Circulating Supply | 4.75B JASMY |
| 24h Volume | $38,778,317 |
| Official Website | https://www.jasmy.co.jp/en.html |
According to data obtained from CoinMarketCap
Before we go further, we must establish the difference between Jasmy and JasmyCoin. Jasmy is the project, while JasmyCoin or JASMY is the token utilized in the project. So, what's the blockchain project all about?
What is Jasmy?
Jasmy is a Japan-based Internet of Things (IoT) platform developed by former Sony executives, including Hiroshi Harada, Kunitake Ando, Kazumasa Sato, Masanobu Yoshida, and Tadashi Morita.
The platform aims to solve organizations' infrastructural issues of using data safely and securely. It integrates blockchain and internet of things (IoT) technologies to deliver a solution that helps businesses gain control over their data.
What is Jasmy Used for?
According to Jasmy's Whitepaper, the platform will provide the following solutions to organizations:
Provide double-layered data-sharing security: Jasmy's IoT solution leverages the protection synonymous with blockchain technology. Yet, it promises extra security through data encryption based on machine type from the hardware level.
Allows easy use of data: Besides the security it provides, the platform aims to help organizations use their data differently. It lets users maintain permanent control over essential data such as IDs, application logs, and IoT device data.
Building an environment that creates value: The platform intends to produce value by creating a democratic decision-making environment in decentralized society, as opposed to being decided by a central authority.
Contributing to innovation: Jasmy aims to create a setting where all sizes of businesses, organizations, and people can use the platform's data to inspire innovation and produce new value for the future.
What is JasmyCoin?
JasmyCoin (JASMY) is an ERC-20 token created on the Ethereum network. The purpose of this token is to serve as a means of exchange for the network's transactions. It is, therefore, a token, not a coin, despite its name.
JasmyCoin's Tokenomics
Jasmy's whitepaper claims that the protocol issued 50 billion JASMY in its initial offering. Individual users received rewards totaling 30% of the issuance for enabling third parties to use their data.
The remaining allocation looked like this:
13% airdropped to foreign companies and institutional investors
18% earmarked for developer programs
14% allocated for commission fees, legal and tax consulting fees, return on investor relations, and business operating funds.
20% allocated for business financing, including credit repayment, service charges, and paying commissions.
5% allocated for incentives
JasmyCoin Price Today
As of this writing, the current price of JasmyCoin is $0.0056, and its 24-hour trading volume is $38,778,317. The overall value of the token has decreased by 11.27% in the last 24 hours.
JASMY token ranks #519 on CoinMarketCap with a live market cap of $26,647,147. It has a maximum supply of 50,000,000,000 JASMY coins and a circulation of 4,754,930,780 JASMY coins.
Jasmy Coin Price History
Insights into the price history of a coin or token can help us with the much-needed context required in either developing our price predictions or analyzing ones that already exist.
From the start, JASMY's price behavior has been quite erratic. The price of the JASMY token increased by approximately 300%, from $1.29 on February 12 to an all-time high of $4.99 on February 16.
However, it couldn't keep up its momentum and dropped to $1.77 from its peak in a week by more than 64%. In the weeks that followed, there was a lot of volatility in the token's trading. By July 12, 2021, it had fallen to $0.011 as the bears took control.
The token experienced a brief rise in the fourth quarter of 2021 as its price increased by over 1,000% to reach $0.27 by November 2, 2021, assisted by its placement on the global cryptocurrency exchange Coinbase.
Since the beginning of the year in 2022, JASMY has remained below the $0.09 threshold. According to Coinbase data, JASMY saw monthly losses in five of the first six months of 2022.
The price of JASMY fell to an all-time low of $0.008124 on June 18, 2022, as cryptocurrency values crashed. After that, the token made some progress toward recovery, peaking at $0.01219 on August 17 before declining again. On September 16, it was worth approximately $0.0083. Currently, it's worth $0.0056.
Latest News and Updates About JasmyCoin
Jasmy created a high-security PC for Transcomos, Japan's most extensive customer service facility. Twenty-one thousand phone operators could efficiently operate from home during COVID-19 thanks to the call service application software built on blockchain and Jasmy's SKC service.
Banks and other financial institutions will utilize computers with solid security created in collaboration between Jasmy and Sony VAIO in banks and other financial institutions.
Jasmy collaborated with the automaker Toyota and the travel agency Witz to develop a platform for storing visitor information for Japan's local autonomous area of Hokkaido. According to Jasmy's whitepaper, users will more widely know the venue in this area to facilitate the first commercial driverless vehicle pilot in Japan and related infrastructure.
In December 2021, Jasmy announced a partnership with MetaVisa, an Ethereum-based protocol focused on the metaverse, to create a bridge to encourage interoperability between blockchain ecosystems using non-fungible currencies (NFT).
In January 2022, Jasmy intends to expand its operations outside Japan and build a global footprint in North America and Asia. To work with businesses in the blockchain and AI technology sectors and to advertise the JASMY Coin, Jasmy claims that it will set up a base in the US and Asia.
In March 2022, Jasmy announced cooperation with Hong Kong-based PC producer NEXSTGO to work together on creating and developing models featuring the Jasmy Secure PC idea.
In April 2022, Jasmy teamed with Mystiko.Network, a multi-chain privacy SDK, enables user and device authentication without exchanging sensitive information with communication network intermediaries.
In July 2022, Jasmy introduced a fan token for Sagan Tosu, a Japanese football team.
Jasmy Coin Price Prediction: What Famous Crypto Prediction Websites Have to Say About JasmyCoin
WalletInvestor
JasmyCoin's price forecast from WalletInvestor shows the coin will end the year with an estimated price of $0.014. According to their prediction, the coin's value will have tripled in the next five months.
Overall, WalletInvestor considers JASMY to be an excellent long-term investment.
DigitalCoinPrice
DigitalCoinPrice is also rooting for JASMY's long-term performance. The website predicts the coin might peak at $0.047 by 2025 because the market isn't expanding quickly. Also, it projects that JASMY will be trading at around $0.30 in 2030.
However, the platform stated that this expansion would only be feasible if JASMY's market cap increases drastically and the token's total supply is kept low.
PricePrediction.net
PriciPrediction.net is taking a conservative stand as to its prediction for JasmyCoin. While the website predicts the token will rise to $0.047, it also anticipates a drop in price down to $0.038 in 2025.
However, the platform still has a positive long-term outlook for JasmyCoin and thinks it might reach a price of $0.30 by 2030.
TradingBeasts
On the other hand, TradingBeasts is optimistic about the prospect of the Jasmy project and believes JasmyCoin would eventually prove to be a successful investment vehicle. Their forecast shows that JasmyCoin might trade at an average price of $0.0373987 by the end of this year.
They also expect the token to do well long-term. TradingBeasts' long-term projections for JASMY are an average price of $0.0422545 in 2023, $0.0485058 in 2024, and a 326.79% increase in value by 2025.
Our JasmyCoin Price Prediction
JASMY Price Prediction 2022
We remain optimistic about JasmyCoin's prospects this year. We expect the token's price might peak at $0.014. Also, by the end of 2022, we predict JasmyCoin will finish with a minimum price of $0.012 and an average price of $0.013.
JASMY Price Prediction 2023
We're predicting that 2023 will be a breakout year for JasmyCoin due to the recent collaborations the project team announced. By 2023, we project that JASMY will be trading with a maximum price of $0.022 and an average price of $0.020. The projected minimum price for JASMY in 2023 is $0.019
JASMY Price Prediction 2024
We expect 2024 to continue the reign of success JasmyCoin would experience in 2023. Our projections for JasmyCoin in 2024 are a maximum price of $0.031 and an average price of $0.028.
JASMY Price Prediction 2025
Our JasmyCoin forecast for 2025 is a maximum price of $0.047 and an average price of $0.040 in 2025. The expected minimum price is $0.038.
JASMY Price Prediction 2026
We believe there is much room for growth for the token over the coming several years. By the end of 2026, we project that JasmyCoin will be trading between a high of $0.065 and a low of $0.055. The expected average price of JamsyCoin by the end of 2026 is $0.58.
JASMY Price Prediction 2027
By 2027, we expect JASMY to finish strong with a maximum price of $0.095. Its average price will be $0.080, and the projected minimum price is around $0.077.
JASMY Price Prediction 2028
We anticipate JasmyCoin would trade for a high of $0.14 and an average of $0.12 in 2028. The expected minimum price is $0.12.
JASMY Price Prediction 2029
Our JasmyCoin price forecast for 2029 indicates that the price of JASMY will reach a maximum price level of $0.20 and an average price of $0.18. The anticipated minimum price is $0.17.
JASMY Price Prediction 2030
By 2030, we expect JasmyCoin to end the year with a maximum of $0.30 and an average price of $0.26. The anticipated minimum price is $0.25.
Is Jasmy Coin a Good Investment?
We don't recommend JasmyCoin in the immediate term. However, we share the optimistic view of most crypto prediction websites about the token in the long run. Don't take this as investment advice; ensure to do your research before investing in JasmyCoin.
Does JasmyCoin have a future?
It's hard to predict the future, especially in the cryptocurrency world. Some prediction websites like DigitalCoinPrice are optimistic about the token's prospects, while others like Gov.Capital think the token will fail. There are also speculations that the coin might be a case of a pump and dump token.
The best thing you can do is to research the token to see if it is a good fit for your investment portfolio. Additionally, never invest money that you cannot afford to lose.
What will JasmyCoin be worth in 2030?
Based on our JASMY price prediction, we expect the coin to reach $0.03 by 2030.
What is JasmyCoin used for?
Users can use JasmyCoin to exchange tokens between devices and pay for network services.
Is JasmyCoin a pump and dump?
No. JasmyCoin stands out from other shitcoins thanks to its robust community and utility. But because the token has fallen short of expectations, many short-term traders now see the initiative as a pump-and-dump coin.