The developers behind Near Protocol marketed the network to investors as "the solution" to the scalability issues limiting other blockchain solutions. This claim attracted many people to the platform, and its native token, NEAR, ranked one of the top trading cryptos in 2021.
2021 was a bullish year for NEAR. The token started the year on a good note with a unit price of $1.35. By February 13, NEAR has multiplied in value, reaching a whopping $4.8 in trade value, and the price continues to soar higher. Its token price peaked at $7.4 on March 13 before the protocol ran out of juice and the bullish trend took a U-turn.
The price of NEAR coins decreased between May and August 2021. On July 20, 2021, the coin's price reached an all-time low of $1.68. However, it wasn't long before the protocol staged a comeback and rose quickly to $6.13 on August 21, 2021.
The NEAR Protocol (NEAR) price set a new all-time high in 2021 on December 26. At that time, the coin had increased in value by more than 200% from late March. Following that, the market value of NEAR kept rising.
As of this writing, NEAR Protocol's current price is $5.97 with a market cap of $4,517,140,895 and a 24-hour trading volume of $442,916,494 on CoinMarketCap.
Following a good coin performance in 2021, new investors are increasingly pouring into the network, and many more still consider the prospects and endless possibilities this platform has to offer.
With all eyes on NEAR Protocol, there's been a lot of speculations about the future price of NEAR. This article will explore the possibilities and estimate what NEAR's price could be in 2022-2025. We've also summarized what experts have to say regarding the potential growth of this coin.
Prediction summary
By the end of 2022: We predict NEAR would reach an average minimum price of $7.744 and an average maximum price of $11.616.
By the end of 2023: We predict NEAR would reach an average minimum price of $9.526 and an average maximum price of $14.29.
By the end of 2024: We predict NEAR would reach an average minimum price of $12.194 and an average maximum price of $18.291.
By the end of 2025: NEAR would reach an average minimum price of $15.608 and an average maximum price of $23.413.
Quick overview of Near Protocol
| | |
| --- | --- |
| Coin Name | Near Protocol |
| Coin Symbol | NEAR |
| USD Price | $5.97 |
| Market Cap | $4,517,140,895 |
| 24h Volume | $442,916,494 |
| Total Supply | 1,000,000,000 |
What is NEAR?
NEAR protocol is a layer-one blockchain like Ethereum created as a platform for community-based cloud computing. The protocol is better than most blockchain solutions in its commitment to solving network problems like poor interoperability, limited throughput, and slow transaction speeds.
The protocol's dApps ecosystem is famous for its user- and developer-friendly interface. Its official NEAR wallet uses short addresses, unlike the Ethereum network, which uses lengthy numerical wallet addresses.
Aside from its unique approach to scalability, NEAR provide users with "Doomslug" as its consensus process. There's also the NEAR Collective, a NEAR community dedicated to publishing network updates, improving the NEAR Protocol, and updating the NEAR coin's original code.
Near Protocol price history: Performance & Stats
NEAR had a rosy beginning, prices were soaring high, and investors were trooping in, but things went downhill when the entire cryptocurrency market entered a slump in April 2021.
The asset dipped to a low of $1.6 at the end of July before it began to recover. NEAR price increased until it reached $3.4 in mid-August before blowing again. This time, the coin got to a trading value of $6.14 on August 22 before, as expected, starting to decline.
Early in September, the price rose again, and on September 9, Near soared to $10.37. The market correction that followed continued for almost two months. However, a fresh rise at the end of October raised the token to $12.34.
The price of the Near Protocol coin has been trending moderately upward until December 27, when it abruptly increased to $16.15. It maintained this upward trend in the same direction for a week until reaching its record high of $18.72 on January 12, 2022.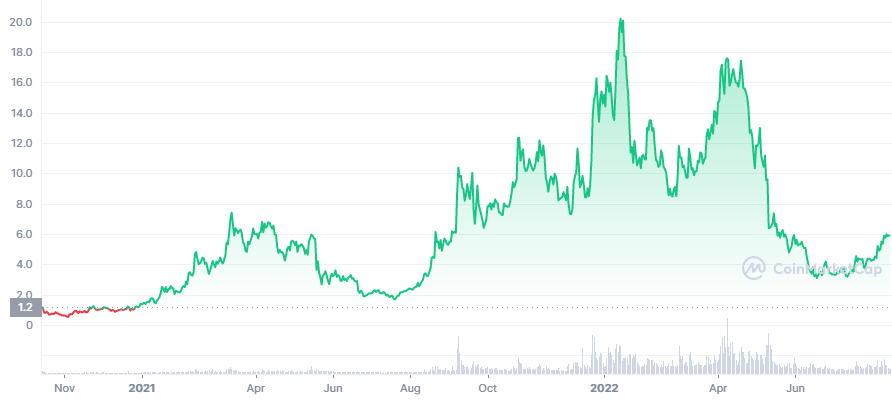 Near Protocol price prediction: Market sentiments
No crypto prediction is 100% accurate because of the market's high volatility. Here are some Near protocol price predictions from famous experts and prediction sites.
DigitalCoinPrice
Experts on DigitalCoinPrice believe the NEAR token will hit its next resistance level of $14.98 before the end of 2022. They also recommend NEAR token as an excellent long-term investment option you can add to your portfolio.
WalletInvestor
Near Price Prediction by WalletInvestor projects a long-term increase for NEAR; their 2026 price forecast for Near is an average price of $63.297. They expect the network to generate a revenue of up to +502.77% for a 5-year investment.
Gov.Capital
Banking on the upward trend NEAR has been following over the years, AI-prediction site Gov.Capital believes Near protocol has the potential to skyrocket towards a maximum price of $44.8208798 after a year.
PricePrediction.net
PricePrediction.net have a similar price prediction for Near Protocol to other crypto analytics websites we've reviewed. The website projects the token to end 2022 with an average trading price of $15.41, reaching a maximum level of $16.82 and a minimum of $14.88.
NewsCrypto
NewsCrypto also follows market sentiments on Near Protocol with a bullish long-term price prediction on NEAR. The website believes Near protocol has the potential to exceed its current all-time-high and end the year with an average price of $12.6. According to this crypto prediction site, if more investors choose NEAR as a good investment in 2022, the subsequent year can see the token reaching $20.
Near Protocol Price Prediction Reddit
Our review on the Reddit platform revealed that most crypto Redditors also follow a bullish sentiment in their pricing prediction for the NEAR protocol price. Most critics believe that the NEAR price's most significant milestone would be if it crossed $10; at that point, betting on the NEAR price would be worthwhile after five years.
Although most crypto experts on Reddit admit there's a higher chance of loss investing in Near Protocol, they're still routing it to be a reasonable long-term investment.
Near Protocol price prediction in 4 years
| | | | |
| --- | --- | --- | --- |
| Year | Minimum Price | Average Price | Maximum Price |
| 2022 | $7.744 | $9.68 | $11.616 |
| 2023 | $9.526 | $11.908 | $14.29 |
| 2024 | $12.194 | $15.242 | $18.291 |
| 2025 | $15.608 | $19.511 | $23.413 |
Near Protocol price prediction 2022
According to our forecasts, the NEAR Protocol token is positioned for an upsurge in 2022, keeping up the same bullish trend. The NEAR coin value might move parallel to the same bullish trend lines, touching in the $12–$15 region if the trending pattern holds, especially given how it trades inside a symmetrical triangle on the hourly chart.
Near Protocol price prediction 2023
The end of 2022 or 2023 may not be so fantastic for the NEAR coin value, especially with rivals catching up to the heat or the market exhibiting tremendous volatility if news of shorter and longer price trends causes investors to bail. We anticipate that NEAR prices will see a loss in 2023, offering only modest resistance and falling to the $16.52 support level.
Near Protocol price prediction 2024
We believe that NEAR Protocol will again lead the cryptocurrency kingdom with a performance price estimated at $17.92. We expect the token to drop a jaw-dropping performance in the market and ride forefront in the next crypto bull ride.
This prediction expects the token to mimic its performance in 2021, demonstrating that the NEAR coin price has the total capacity, based on the pattern, to not only endure but even expand consistently even in challenging circumstances.
Near Protocol price prediction 2025
No significant events, such as pandemics or recessions, are anticipated to disrupt the foundations of the global economies this year. Most of the harm done would require repair in all global economies as well as the cryptocurrency industry. We project that the NEAR Protocol price would surpass the average price of $17.92 this year, which might serve as the benchmark year.
According to our projections, the NEAR protocol will soon reach more significant milestones. Other cryptocurrencies may pull back as the market notices a massive influx of projects, and the NEAR price will peak.
How and where to buy Near Protocol
You can obtain Near tokens on various crypto platforms, including Binance, CoinTiger, Huobi Global, Mandala Exchange, FTX, and OKEx. Recently, we covered the easy steps on how to buy Near protocol tokens.
Is Near Protocol the best crypto to buy in 2022?
By the end of 2022, expectations for Blockchain standards will have surged in light of the preceding epidemic, predicts a recent data assessment from Moody's.
The third-largest protocol in terms of the ecosystem they have established is NEAR, and by 2023, we believe it will make considerable strides.
Based on historical data, projected pricing patterns, and our cryptocurrency price projection, the NEAR Protocol price could break the $10 threshold this year with its alliances and partners on an expansion spree.
NEAR Protocol is now available for $5.19 with a market value of $3,644,339,981. There are presently 703,648,478 NEAR in use by NEAR Protocol.
As the blockchain industry evolves, platforms that can offer reduced transaction costs and faster throughput will probably be crucial for broader adoption. NEAR's scaling solutions might interest programmers looking to construct more effective Defi devices and decentralized applications (DApps).
The NEAR roadmap includes additional sharding innovations and layer-2 cross-chain solutions to grow its blockchain further and ultimately help developers and end users.
FAQs about Near Protocol
Q: Does NEAR have a future?
According to our price estimate, NEAR Protocol is one cryptocurrency with a bright future. If it rides the crypto wave, it will rule the digital world for a long time as a means of payment.
Q: Is Near a good investment?
Most of the time, doing your homework first is a good idea. There shouldn't be any heartbreaks or unrealistic expectations if you buy or sell cautiously, take a measured risk based on your study, read the price chart for any price fluctuations, and do technical analysis for the predicted price in the cryptocurrency market.
Q: How much will Near Protocol be worth in 2030?
With the assumption that the coin would last, we project NEAR protocol will trade at an average price of $26.38 by the end of 2030.
Bottom line: Will Near Protocol reach $100?
It is challenging to say whether you should invest in Near Protocol (NEAR). It is challenging to forecast whether the current positive development will last into the future because so much depends on how the crypto market develops.
One of the exciting projects started by programmers from Google & Microsoft is NEAR Protocol. It has one of the strongest teams in the blockchain sector, and when the ecosystem grows like Solana, we think it can approach $100.
Disclaimer: All the information on this website is published for general information purposes only. They are not financial advice and do not represent the opinions of Coindictate to buy or sell any asset. Please do your own research before taking any action.