What is Vast crypto banking, and should you trust them?
The crypto finance market is evolving and has recently merged with the traditional banking industry we know. This invasion is due to an uprising of crypto banks offering customers a similar product as regular banks.
Think of any service you get from a traditional bank, such as interest-bearing accounts, term deposits, credit cards, collateralized loans, etc. You can get the same benefit from a crypto bank with the underlying assets being a cryptocurrency.
When this new wave of change started in the banking industry, Vast Bank quickly seized the chance to use technology and innovation to reduce the complexity and anxiety associated with owning cryptocurrency.
The company launched its crypto banking platform in 2021, while other banking institutions were still skeptical about supporting crypto. And ever since been working on expanding their crypto banking services.
This article will offer an in-depth review of Vast Bank's Crypto Banking services, covering its product offerings, mobile app, benefits, and fees. There's also a guide towards the end that would help you get started on your journey with Vast Crypto Banking.
What is Vast crypto banking?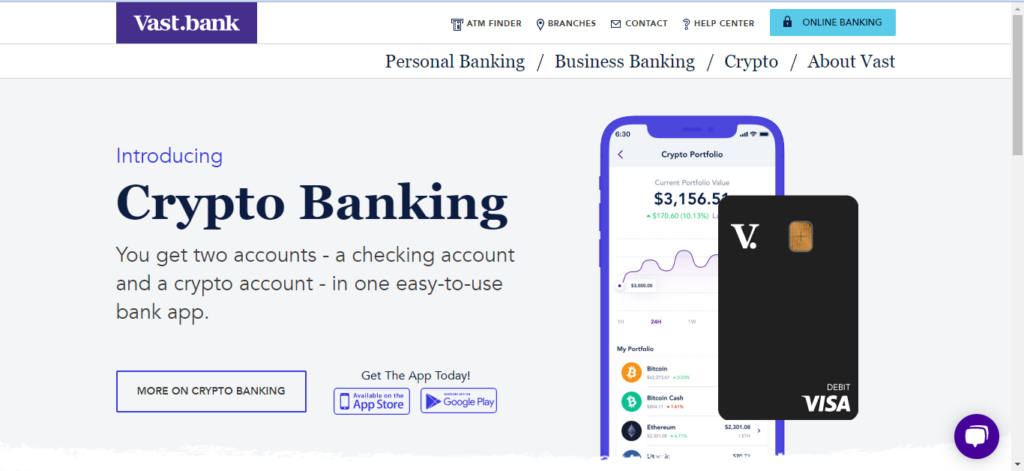 Vast Crypto Banking is a recent addition to the growing list of Vast Bank's banking services that cater to its clients' needs that want a safe and convenient platform to trade, store, and even earn returns on crypto assets.
The CEO of Vast Bank, Brad Scrivner, claims the service was designed in response to the request of their customers. Vast Crypto Banking services are delivered through a mobile app — linked to their bank account — that allows users to exchange and trade cryptocurrencies anytime, anywhere.
While Vast Bank is not the first bank to offer crypto-backed banking services, it prides itself as the first FDIC-insured bank to support cryptocurrency ownership and trading.
The Vast crypto banking app
When I reviewed the Vast crypto banking app, the first thing that caught my attention was its user-friendly interface. The bank developed the app to accommodate beginner traders in mind.
Buying and selling popular cryptos, including Orchid, Algorand, Bitcoin (BTC), Ether (EHT), Cardano (ADA), Bitcoin Cash (BCH), and Litecoin (LTC), is accessible through the app. You also get the freedom to manage your crypto portfolios on the go. 
It's also possible to earn on the platform. Users get a 0.30% annual yield (APY) on crypto assets for purchasing, holding, or depositing one of the supported coins on the Vast Bank app.
Vast Bank's strategic collaboration with SAP and Coinbase (one of the best crypto exchange platforms) is the key to the success of the Vast Crypto Banking app. 
Another feature that makes the app attractive is the benefit of the FDIC's $250,000 maximum insurance coverage Vast Bank offers to its customers. Vast Bank's insurance is feasible because its services are subject to federal regulation.
Also, Vast Crypto Banking offers one of the lowest cryptocurrency trading fees in the industry — at just 1%.
However, since Vast Crypto Banking is still new, it doesn't support a wide range of cryptocurrencies. Below are the cryptocurrencies you can expect to trade on the platform.
Supported cryptocurrencies
There are presently 12 cryptocurrencies available on the Vast Crypto Banking platform, including Bitcoin, Ethereum, Cardano, Chainlink, Cosmos, and many more. If you are a Vast Bank customer, you can buy eight cryptocurrencies straight from an FDIC-insured checking account: Bitcoin, Ethereum, Cardano, Filecoin, Litecoin, Orchid, Algorand, and Bitcoin Cash.
The company promises to add more digital assets and financial services to Vast Bank's Crypto Banking offerings in the future.
Features of Vast Bank's crypto banking app
Some of the notable advantages that Vast Bank's Crypto Banking App offers to users include:
No Lockout: A report from The New York Times on an analysis done by Chainalysis shows that over $140 billion worth of Bitcoin is lost due to the investor forgetting their digital keys or wallet passwords or owner passing away without transferring this security information to loved ones. That's roughly 20% of all Bitcoin hanging in limbo. Vast Bank offers a solution to this problem by acting as the custodian for their customers' digital assets, allowing their clients and their beneficiaries to access their cryptocurrency assets. You'll have the peace of mind that you won't be shut out from accessing your digital assets.
Crypto Account Insurance: Vast Bank is a federally licensed bank, which means they can offer FDIC insurance on their checking accounts — up to $250,000 for any losses — to cover your digital assets. In addition to that, cryptocurrency accounts at Vast Bank are secured by pooled insurance from Coinbase. Most decentralized exchanges can't offer this level of insurance.
No Transfer Delays: Depositing money from a bank account to a typical crypto exchange can take several working days for your funds to be available. For example, if you want to buy Bitcoin on Coinbase using an ACH transfer, the transaction will go through the following process. Coinbase sends a request to your bank, your bank process the request (usually takes 3-5 business days, your bank sends money to Coinbase, and Bitcoin arrives in your account. Vast Crypto Banking services help you skip the agonizing wait before having funds available for trade. Funds reflect in your account once you've successfully deposited money. These money transfers are, however, subject to the bank's funds availability policy.
Competitive 1% Crypto Trading Fee: Vast Bank provides one of the most competitive cryptocurrency trading fees at 1%.
Privacy Protection: Customers of Vast Bank never have to be concerned about their data being sold or shared, which is the protection and privacy they expect from a bank. Digital currency and personal financial data are securely held at Vast Bank.
Interest-Bearing Checking Account: Vast Bank ensures the U.S. dollar assets of the customers never go dormant by offering an interest-bearing checking account.
Debit Card with Free Nationwide ATM Use: Customers of Vast Bank can use their debit cards at ATMs all around the country for free, thanks to the bank's network partners, Transfund and Allpoint.
Is Vast crypto banking safe?
If security is a significant factor, Vast Crypto Banking is an ideal option for you. The bank is government regulated and has FDIC Insurance for up to $250,000 per customer.
Vast Crypto Banking is a nationally chartered U.S. Bank with its headquarters in Tulsa, making it a practical choice for Americans seeking security regarding securing their crypto assets.
Vast Crypto banking fees
Vast Bank charges a 1% trading fee for any buy or sells transaction that you carry out on the Vast Crypto Banking platform. Deposit fees are not applied to Vast Bank's crypto accounts; other charges apply to standard bank products.
Getting started with Vast crypto bank
Below are some things you need to know before opening a Vast Crypto Banking account.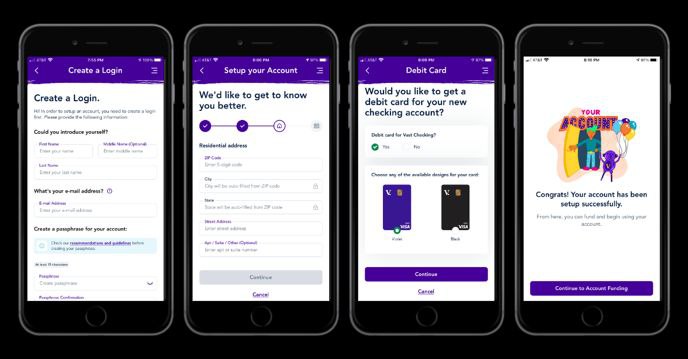 Opening a Vast crypto banking account
Creating an account with the Vast Crypto Banking app is straightforward. You'll have to submit your personal information such as name, email address, birth date, social security number (or tax I.D.), phone number, and home address for communication purposes and to confirm your identification.
After successful identity verification, you can proceed to fund your account through either a direct deposit, wire transfer, or linking to another bank account for immediate financing.
If you want a step-by-step instructions to help through the onboarding process on their app or have any issues signing up, you can contact their customer service at cryptosupport@vast.bank.
Funding your Vast crypto banking account?

There are three payment methods for depositing funds into your Vast Crypto Banking Account; wire transfer, linking to a third-party banking account, or direct deposit.
Wire transfer: You can send money or transfer money from a different bank through a wire transfer and have your funds available instantly.
Using the Plaid solution, you can easily link a third-party bank account to the Vast Crypto Bank App and transfer funds into your crypto account at no extra cost.
Finally, you can also set up direct deposit within the app if you want to use Vast Bank Checking as your primary checking account.
Once you've funded your account, you can start buying cryptocurrencies on the platform.
Vast Bank's crypto checking account
You will be given a Vast Bank checking account when you sign up for Vast Crypto Banking services.
This account has the following features:
Debit card with 56,000 accessible ATMs
No monthly maintenance fee
No required minimum balance
Options for mobile deposit and bill payment
Receiving interest at a competitive rate
The FDIC insures deposits up to $250,000
Transfers between A2A and P2P.
Benefits of using Vast Bank's checking account
You can earn an APY on Vast Bank's checking account. While there are no minimum balance requirements for this account, if you want to make interest on the account, you must have at least $.01 in the checking account. Vast Bank's APY on checking account is a variable and can be altered by the bank in the future.
FDIC insurance covers all Vast Bank's checking accounts.
Other banks impose extra charges, such as foreign exchange fees and out-of-network ATM fees, but Vast Bank offers free withdrawals with ATMs in the Allpoint or Transfund network.
Vast Bank's best alternative: Coinbase
Many crypto investors seem to believe that Vast Bank is a close competitor of Coinbase. But, if you look at the facts, you'll find out that Coinbase trumps Vast Crypto Banking in terms of security and yield generating potential on crypto investments.
In terms of yield generating potential, Vast Crypto Banking offers a pitiful 0.3% APY on Bitcoin investments compared to Coinbase's whopping 7% interest on Bitcoin and other stablecoins like USDC. Coinbase is a better platform, thus the best alternative to Vast Crypto Banking. 
Conclusion
Vast Bank didn't change from being a traditional bank to providing real-time bitcoin services to its clients without facing some challenges. The bank had to ensure its clients' funds in the bitcoin market were safe and secure when using its platform.
The company also had to guarantee that clients could engage and interact within the larger banking ecosystem from their app. Yet, Vast Bank hasn't achieved its aims in the crypto finance world. 
To enhance its capabilities going forward, Vast Bank plans to keep developing its solutions and grow its collaborations with fintech firms.
Disclaimer: All the information on this website is published for general information purposes only. They are not financial advice and do not represent the opinions of Coindictate to buy or sell any asset. Please do your own research before taking any action.