The cryptocurrency market seems to be cooling off from the soft leg-up seen earlier this week, given the majority of top assets posted marginal gains on Friday. Amidst the present market state, Ergo cryptocurrency has gained attention following a sudden spike in the price of the token today.
Ergo claims to be a zero-compromise smart contract blockchain.
Ergo outperforms BTC, ETH with 30% increase
Data from Coinmarketcap shows that Ergo crypto increased by about 30% in the past 24 hours. The price of Ergo crypto jumped from a low of $2.5 to the current price of $3.44 during the time of writing. As a result, the market cap of Ergo has grown to over $101 million. However, the daily trading volume seems to have a slight increase of 12% to around $3 million.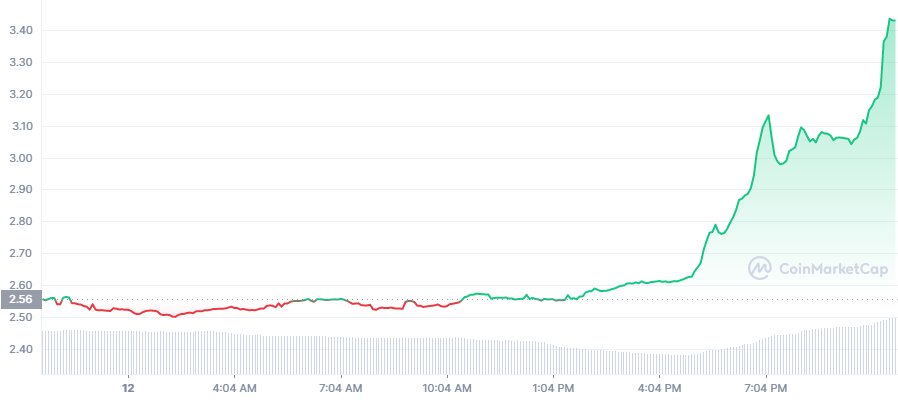 The top cryptocurrency Bitcoin (BTC) was trading at $24,198, a 0.02% increase (24hrs), while Ether (ETH) was around $1,928.7, a 1.52% increase. 
Why is Ergo crypto soaring?
There isn't any exact reason behind the sudden increases in the price of Ergo. However, some users believe that the increase in Ergo cryptocurrency comes from the recent YouTube video by Max Maher, where the token was mentioned as one of the next 100x tokens.
In the video, the YouTuber, with nearly 900k subscribers, said he suspects Ergo crypto is undervalued. Among other things, Maher said the token had no VC allocation at the beginning and that he has a strong team and good community. He added that the Ergo blockchain is above average by active address ratio but lacks mainstream adoption.
In addition to the YouTuber's claims, some of the users traced the increases in Ergo price to the recent bullish relief in the cryptocurrency market this week, including the growing adoption of the network.
Although Ergo crypto outperformed most of the top crypto in the 24hrs chart, the price of the token is still down over 93% from the all-time high of $44.06 in July 2019.