The internet currently works by sending data from large centers to devices. For example, this article is stored in a data center and is being sent to the laptop or other device on which you are reading it. Internet Computer wants to fundamentally change this by allowing individual computers and data centers to store the information, resulting in a decentralized network.
It's critical to comprehend the basics fundamental of the project to understand why ICP crypto is dropping
Internet computer (ICP) is a decentralized system that wants to make it easier for individuals to use smart contracts. Activities on the blockchain may be automated via the use of "smart contracts," which are computer programs. There are several potential applications for smart contracts, including blockchain-based games and decentralized exchanges (DEX).
ICP's ultimate goal is to establish a system that will allow programmers to bring their suggestions to life by using blockchain technology. It provides an SDK for programmers to implement their ideas and tutorials for anyone interested in learning more about blockchain technology.
The blockchain is powered by the ICP token. Its main purposes are governance as well as transaction fees. The community may have input on the future of the project by voting with their tokens on various governance ideas. When it comes to transaction fees, ICP may be used to pay the cost of deploying and storing data for smart contracts.
Why is ICP crypto dropping?
If the number of investors who need governance or transactions goes down, the price will also go down because fewer investors will need the token. This means that fewer people will buy it and more will sell it, driving the price down. Most likely, this is why ICP has been going down over the past few months.
As a result, there is less need for the token since fewer projects are being developed on the platform. The recent price decreases may also be attributable to the general decline in the cryptocurrency markets.
ICP debuted for around $365 in May 2021. After the release, its value plunged 95% in days. It has dropped consistently since then, and it is now trading at roughly $8. After the original launch, many people had doubts about the Internet Computer developers since they couldn't find or sell their ICP tokens.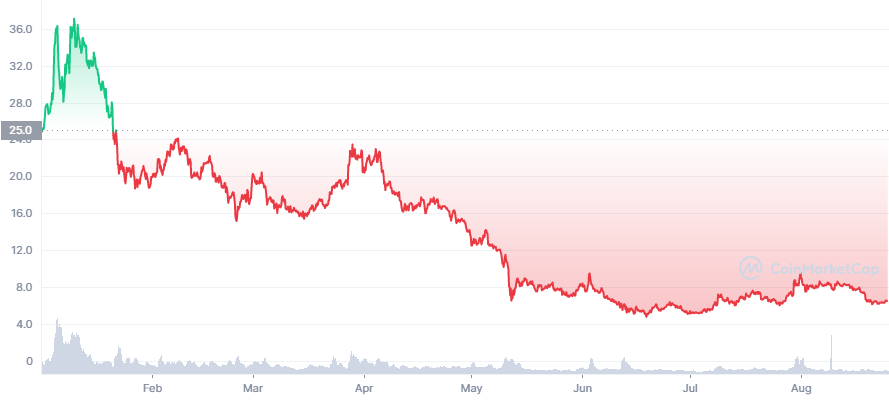 After further investigation, some started to suspect that the project's leaders had sold off their tokens for a large profit, leaving small investors to lose almost all of their investment. Because of this, a class action lawsuit has been filed against Internet Computer.
Should you invest in ICP?
In my experience, the majority of altcoins virtually completely lose their value in a bad market. Although the price has dropped by more than 90 percent, it is feasible that it might drop another 95 percent with alts. This is a possible thing to happen. During the bear market of 2018, we saw the same thing happen with most alts coins. However, I'd also want to stress that ICP is an excellent solid coin. The price may increase in the long run as more companies join the ICP ecosystem. ICP has the potential to be a profitable long-term investment if the market displays some strong signs. At the moment, it is BEARISH.
What will be the ICP price in the next 10 years?
This is, of course, totally unpredictable. How ICP blockchain performs from here on out will determine a lot. By the year 2030, the price of ICP might reach 300 USD if they are successful in accomplishing their aims in accordance with their strategy and growing a whole ecosystem. This is merely a forecast, and for it to materialize, BTC and the cryptocurrency as a whole must expand by more than 10 times which is not impossible.