Many people are already familiar with buying Ripple (XRP) from cryptocurrency exchanges or trading platforms as the commonest method to hold the cryptocurrency. While this is completely a normal way to go, there are also several ways you can possibly earn yourself a free portion of the digital currency. Aside from using interest-earning platforms, you can legitimately earn from XRP cryptocurrencies in 2022 using XRP faucets.
First thing first, here is a brief summary of the market history of XRP before we explore the many high-paying XRP faucets in 2022.
Ripple's XRP Cryptocurrency
The cryptocurrency XRP is the native digital currency of Ripple, a blockchain payment company based in San Francisco. The cryptocurrency was launched in 2012, and it's currently ranked as the fourth-largest digital currency in the globe, according to data from Coingecko. From a circulating supply of 45,404,028,640 XRP, the market valuation of the cryptocurrency is about $20.6 billion.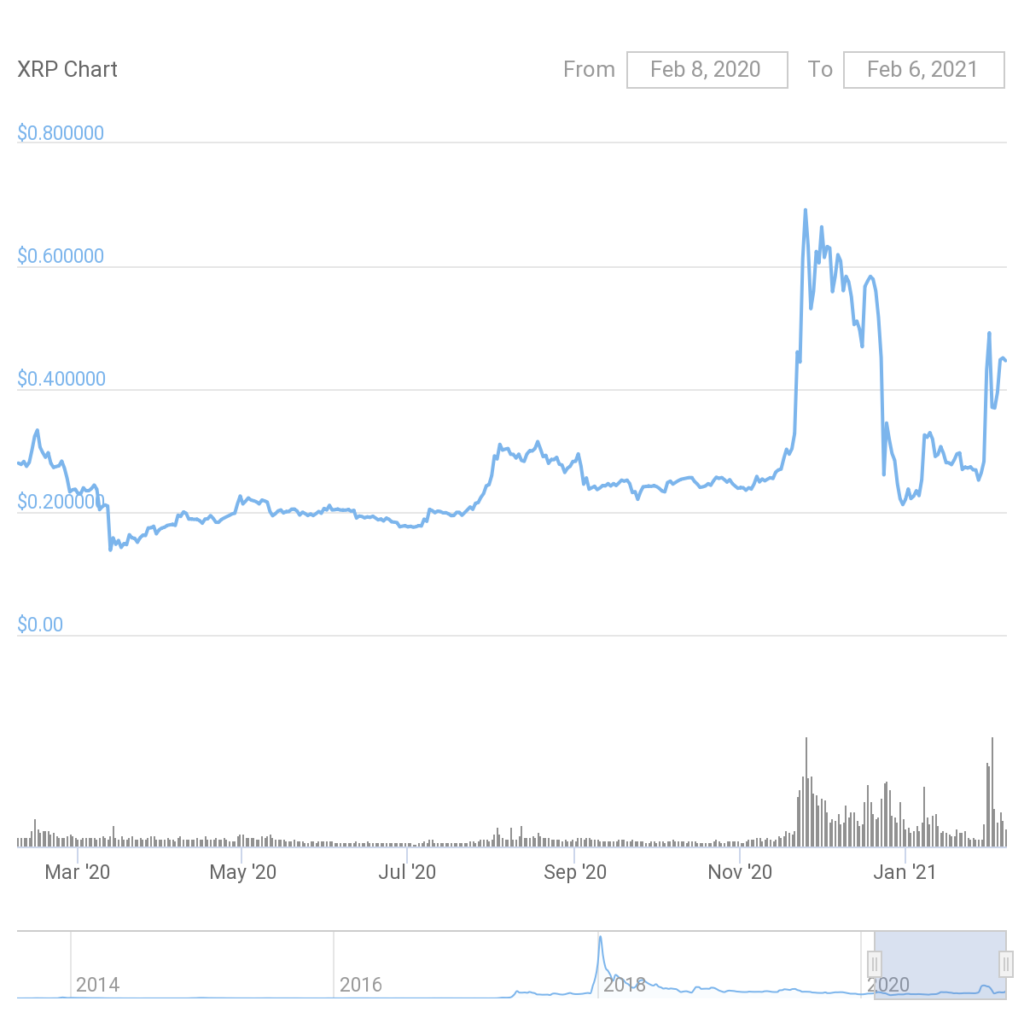 The market price of XRP dropped from as high as $0.6 recently, following the announcement of the US SEC charges against Ripple, the company behind it. The regulator argued that the crypto is a security and was issued with registration with them. The development caused some exchanges to delist the crypto, which is gradually regaining momentum. Notwithstanding, XRP cryptocurrency is still available on popular exchanges like Binance and still worth holding, as many people believe.
Are there free ways to earn XRP?
Yes. Apart from buying XRP from exchanges or trading XRP, you can earn more XRP cryptocurrency through one simple method: XRP faucets. This is suitable for those who want to start crypto investments but lack the money to do so. XRP faucets are also a good option for those who do not want to risk their money in crypto or want extra money. Bear in mind that these faucets would not make you rich in a week, as you can only win a high amount of XRP by rare chances, per se.
It's also important to note that you are required to perform certain activities on the XRP faucets before you are rewarded with the cryptocurrency, which usually comes in a small amount. Sometimes, XRP won from these faucets can be around 0.0005 XRP per activity, which isn't quite attractive. With the price of XRP at $0.4207, it means you would be making like $0.00021035, which isn't huge but can be worth a thing when accumulated steadily.
What are XRP faucets?
Simply put, XRP faucets are websites or applications specifically designed to reward users with a certain amount of XRP for completely any task or to perform certain activities. These platforms are not restricted to XRP cryptocurrency alone. There are also faucets for cryptocurrency like Bitcoin (BTC), Ethereum (ETH), and so on.
Apart from gaining traffic, these crypto faucets also make money from showing you advertisements, so it is a win-win situation for everyone. They are free to join and just require you to have an account with them, and of course, a crypto wallet address.
Here are five (5) XRP faucets you should check out
1. CoinFaucet.io
If you are looking for a very popular and trusted XRP faucet, then CoinFaucet.io is just the faucet for you. It is very popular in the crypto community as being the number 1 freeway anyone can earn XRP on the internet.
It has an impressive 500,000 users on its platform, showing how trusted it is. Here, you can earn Ripple every hour when you participate in numerous games and surveys. You can also earn by referring people to CoinFacuet.io. You get half of what your referral earns for life. The minimum withdrawal for this website is 1 XRP.
2. XRPfaucet.io
This is another dedicated XRP faucet where you can earn free XRP every hour too. A user might win around 0.0007 XRP every hour by performing a variety of activities such as game reviews and answering survey questions.
When making your withdrawals, ensure you use a destination tag, or you might just lose all your XRP! XRPfaucet.io closes inactive accounts every 30 days, so it is important for you to claim your XRP, no matter how small, every three weeks.
3. Allcoins.pw
Allcoins.pw is another good place you can get XRP, although it does not give XRP alone. It is a multi-coin faucet that gives BCH, XMR, LTC, DASH, and ETH airdrops in addition to XRP.
On this site, you stand the chance of winning XRP every 5 minutes, making it a good site for those who have a lot of time in their hands. You also earn a quarter of whatever your referral earns forever. Withdrawal from Allcoins.pw must reach at least 2 XRP before they are transferred to the site or a micro wallet. Many users also say the site pays fast, and withdrawals go through easily.
4. EarnCrypto.com
This is an XRP faucet that allows users to earn XRP by watching short videos, answering survey questions, and referring other people to the site. Although it is still a new website, it has gained popularity faster among airdrop seekers, as it supports other digital currencies aside from XRP.
After signing up, all you have to do is carry out as many activities as you can to earn up to 3 XRP. Once you do that, you can now withdraw into your wallet.
5. Xcolander
On Xcolander, you are expected to create an account to start earning free XRP. After that, you can choose XRP as your primary currency, as it is also a multi-coin faucet.
When this is done, you participate in a roll every 15 minutes to get your XRP. There are no charges for withdrawing your money from your Xcolander wallet.
How do I store XRP?
After earning your free XRP from the faucets, there are chances that you, as a beginner in the crypto space, might get confused on how to store the cryptocurrency. Most of these sites provide you with their own micro wallets where you can keep your XRP temporarily. Microwallets are crypto wallets specially made for hodling very small amounts of crypto, the type you win at these faucets.
From these wallets, you can then transfer your XRP to exchange or another wallet of your choice. Generally, you can access micro wallets as soon as you log in to your account. Keep in mind that different sites have different minimal withdrawals, so you cannot send your XRP to another wallet if you do not reach the minimum.
Conclusion
XRP faucets are a good way to earn XRP if you have the time and patience for this method. As stated before, the XRP you get while participating in games and surveys on these various sites might be very small, so do not expect to become an XRP whale overnight.
Faucets are great for beginners, as they do not require much technical know-how and are almost risk-free. However, make sure you do not fall for phony sites posing as faucets, as they can harm your wallet or your device. Now that you know what faucets to use, you can go out there and start earning free XRP!