Before we look into the XYO crypto price prediction, it's crucial to consider the token debut.
The XYO crypto is up by almost 70% in the last 24 hours; the XYO started trading in the crypto market at an opening price of $0.00552 after its public sale was concluded. When the XYO crypto presale started, the structure was 100,000 XYO per Ether – of which any token left from the quantity of token allocated to the public sale was burnt.
According to Coinmarketcap, it's ranked 155th among many other cryptocurrencies available in the market. It has a total supply of 13,960,974,963 XYO, while 12,844,821,266 XYO are already in circulation.
The token has plummeted drastically to $0.00009607 due to the overall market condition during covid-19. Fast forward to the mid-end of 2021, XYO crypto increased exponentially by over 200% and was seated at the price of $0.04636 following the Coinbase exchanges listing rumor. The token price was ranked 100th among other crypto tokens when it reached the $0.08203 price.
Without further ado, let's quickly hop on the XYO crypto price prediction by evaluating the XYO forecasts by expert analysts. But before then, let's have a glimpse into the XYO crypto price overview and also get to know where to buy XYO crypto.
Also read: Is Tectonic crypto worth investing?
XYO crypto price overview
The price of XYO crypto is $0.011 at the time of this writing. The token has increased by 70% in the last 24 hours.
Over the past seven days, XYO crypto has reached a low price of $0.006301, which has risen to $0.01199. In the last 30 days, the lowest price of XYO crypto was $0.00674, while the highest price was $0.00119.
Today, the market capitalization of XYO crypto is $143,342,632.38, with a circulating supply of 12,844,821,266 XYO, making it rank #155 among thousands of cryptocurrencies available in the market (according to Coinmarketcap data).
Based on data provided by Coinmarketcap, its fully diluted market capitalization is $155,798,423.37, and a total supply of 13,960,974,963 XYO, while the maximum supply is unknown. The token trading volume in the last 24 hours is $28,933,506.24, which signifies a 2652% increase over the past 24 hrs.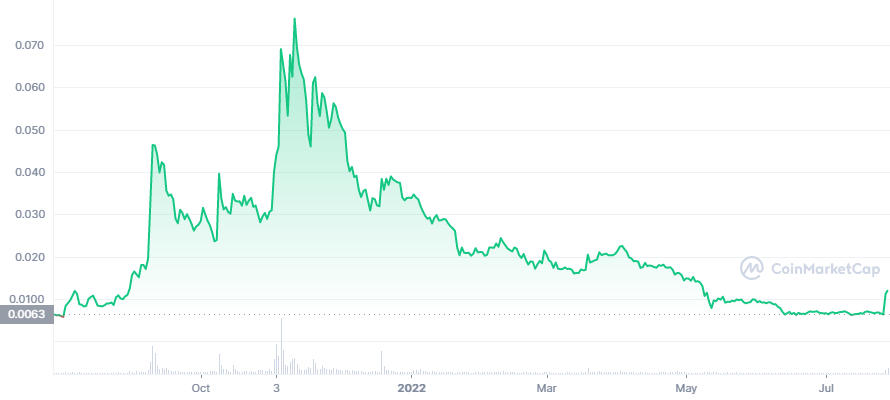 What is XYO crypto?
XYO crypto is an ERC-20 token that powers the XYO (XY Oracle) Network. It is the utility token of the ecosystem which is used to reward participants in the network. XYO crypto token is a major token used as a gas fee for interacting with the XYO real-world data.
The XYO token gives privileges to miners and users at the same time. The token model works in a way that miners would be rewarded when they provide only when it's necessary, while users will also be rewarded for performing transactions when there's low liquidity in the network.
What is the XYO network?
The XYO Network is a system of geographical data that is utilized to respond to queries related to an object or location through a consensus mechanism called "proof of origin."
It is considered a network of devices that collects and validates data, usually called an "Oracle" in the blockchain sphere. The Oracle in the blockchain is regarded as a technology that sends real-world data verified to a blockchain protocol.
As was mentioned earlier, the XYO network protocol achieves this with a "proof of origin" consensus mechanism. In the whitepaper, it was stated that; while utilizing this mechanism, the blockchain will be able to confirm a location through the collection, confirmation, and storage based on "bound witness" interactions.
The bound witness interaction fosters a means of making two devices detect each other and be able to report that they observe each other while proving to be in the same place without being connected or related.
Scheper, Arie Trouw, and Markus Levin co-founded the XYO network in 2017 during the development stage of products for XY Labs (a geolocation startup) while they developed products for the XYO network alongside its applications and technologies.
XYO Foundation was established in 2020 as a non-profit organization that maintains the XYO network to foster continuous development, research, and education of XYO protocol. Since then, XYO foundation has established partnerships with blockchain protocols, including Chainlink, Mobi, Deon Digital, and Microsoft.
At the end of 2018, LayerOne was acquired by the XYO foundation to access the project protocol called 'Quadhash," that's used for storing location data.
However, XYO Network was live and launched in December 2018 in tandem when the XYO foundation secured a partnership with "Spaceflight" — as the project's major plan was to utilize the technology use cases of XYO network to communicate the position of satellites.
Moreover, there's an announcement of an XYO 2.0 upgrade from the XYO co-founder, which is a version upgrade of the network that was outlined in the project roadmap.
Also read: VVS finance crypto prediction.
XYO crypto price prediction
When conducting a price prediction on a crypto asset, the first thing is to consider past price performance, which is regarded as "Technical Analysis," and then look into the fundamental factors that might influence the token's price.
Without further ado, let's look into the XYO crypto price prediction conducted by expert analysts.
XYO crypto price prediction 2022
At the end of 2022, XYO price predictions are more optimistic. It was predicted to go up as high to a maximum price of $0.012 and an average price of $0.01, while the average price is to be $0.01 as well (according to price prediction.net).
In 2022, Technewsleader predicts XYO crypto to be bullish by expecting the price to reach a minimum and maximum price of $0.013. The prediction was so bullied that it was said that if there were any bearish moves in the entire crypto market, the XYO crypto token would be at an average of $0.012.
Moreover, XYO crypto price prediction for the year 2022 is not so bullish according to Digitalcoinprice prediction. It's expected to be at $0.0078 as the minimum price, while its maximum price could be $0.00906. The prediction also signifies a slight bullish move, predicting the token's price to be at an average price of $0.00833 in 2022.
XYO crypto price prediction 2025
The XYO crypto token can reach the maximum price of $0.040 in 2025 (according to pricediction.net forecast); it's expected to fall to a price level of $0.034 while increasing back to a $0.033 price level.
There's a good chance for the XYO crypto token to increase in price and be at $0.035. At the same time, it's predicted to reach a maximum price of $0.040 if there's a more bullish fundamental (according to the Technewsleader XYO price prediction).
Digitalcoinprice prediction for XYO token in 2025 is not so optimistic as it was predicted to reach a minimum price of $0.011 in 2025, and the highest price it can go is 0.0136, while it's also possible to not reach the predicted high price, making the average price it can reach to be $0.0128.
XYO crypto price prediction 2030
Speaking of long-term XYO Crypto Price Prediction for 2030, the price of XYO is expected to reach a minimum price of $0.21 and a $0.22 price on average (according to price prediction.net). It's expected to increase to a maximum price of $0.26.
According to Technewsleader's prediction for XYO crypto token in 2030, it might reach a minimum price of $0.23 while increasing further to a maximum price of $0.27. The token might decline afterward and close at an average price of $0.27.
The XYO crypto token price prediction for the year 2030 is also bullish but not massively (according to Digitalcoinprice), the high maximum price that the token might go is $0.0302, which might further to a price of $0.0281 at a minimum. According to the prediction, the estimated average price is expected to be $0.0295.
Is XYO crypto a good buy?
We need to look into the project's utility to know whether a particular crypto token is a good buy. In the case of the XYO network, the major use case is to enable individuals to store real-world data without the risk of duplication or theft attempts through the power of blockchain technology.
Hence, the XYO crypto token might be a good buy because of the protocol's intriguing services in this fast-growing technology.
Where to buy XYO crypto
The XYO crypto is listed in various crypto exchanges, and you can easily buy XYO crypto tokens on these platforms. Some of the exchanges it's listed on are:
Huobi Global
Kucoin
Mexc, etc.
Final thought
XYO Network has garnered much traction and has been securing different partnerships with top projects in the blockchain space because of its intriguing services to blockchain users. The protocol aims to make the blockchain safe for everyday users who want their data stored on the blockchain.
The XYO price predictions provided in this article are forecasts conducted using technical past price performance to justify the future price; it might not be accurate, thus, a reason to do your due diligence.
Disclaimer: All the information on this website is published for general information purposes only. They are not financial advice and do not represent the opinions of Coindictate to buy or sell any asset. Please do your own research before taking any action.