AMP was created in September of 2020 by Flexa Network, and it has so many use cases and contributions to the crypto space and beyond.
In a time where digital assets are becoming widely accepted, there are a lot of factors that make transactions slower and a little bit expensive.
AMP is focused on making transactions safer, faster, reducing risk, and more decentralized through the ways we would uncover below.
In this article, we will look into the in-depth details about the Amp network and AMP crypto price predictions.
Amp crypto price overview
Amp's current price is $0.00927, and it ranks #100 in the entire crypto market. According to Coinmarketcap, AMP token market capitalization is $391,605,606, with a fully diluted market cap of $858,255,887.
In the last 24 hours, the Amp crypto has increased by up to 3.4%, with a trading volume of $7,445,044. As of yesterday, its open price was $0.008924, and it closed at the $0.008914 price level while its trading volume was $6,876,456.
Over the last 7 days, the Amp crypto token price reached a minimum price of $0.008143 and $0.00935 at a maximum.
Since it started trading in the crypto market, the token all-time-low price was $0.00079, reaching a high maximum price of $0.1211.
When the token was created, it had a total supply of 99,213,408,535 AMP and 92,547,638,199 AMP as its maximum supply. Currently, 42,227,702,186 AMP are in circulation.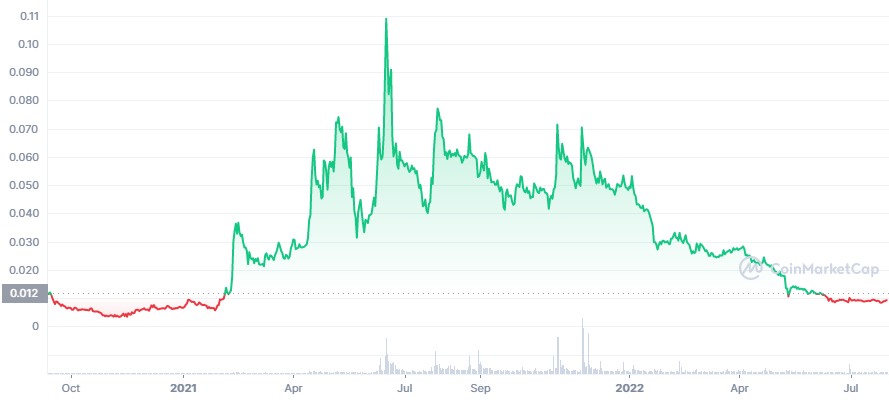 What is AMP crypto?
AMP is an ERC20 token built on the Flexa Network, which serves as collateral in transactions and is formerly known as Flexacoin.
The Flexa Network was built on the Ethereum blockchain, and it is a merchant payment network that allows universal acceptance of digital assets. The only accepted collateral on the network is the AMP token.
AMP has a max supply of 92,550,000,000 tokens and a circulating supply of 42,230,000,000 tokens.
How does AMP work?
An equivalent amount of AMP tokens are staked for any transaction on the Flexa network or outside the network using AMP as collateral. This implies that the Staking of AMP tokens ensures that transfers are guaranteed and resolved instantly.
AMP tokens can be staked for rewards by anyone. The rewards are generated as fees on the network, then distributed automatically to all stakers.
AMP uses smart contracts for transactions, and the AMP tokens staked are liquidated if, by any chance, the criteria for payment are not processed.
To ensure safety, the AMP tokens are locked by what is called a decentralized collateral manager and released to collateralize another transaction as soon as the transaction is successful.
All tokens locked in the collateral manager are recoverable. A smart contract keeps the tokens locked for a while and is released after some time of inactivity. 
Also read: Shiba Inu price prediction
Amp crypto price prediction explained
There's been much news around AMP protocol lately, owing to its secured partnerships with different blockchain projects, this has made many crypto enthusiasts concerned about the AMP token price, and you may be willing to know the AMP crypto price predictions.
Below are the yearly price forecasts for AMP tokens by different expert analysts:
AMP crypto price prediction 2022
At the mid-year of 2022, AMP crypto price predictions are mostly bullish, as Coinpriceforecast is predicting the token to reach a price of $0.0103 while it might increase by 30% at the end of 2022 by closing in the $0.0114 price range.
As per Priceprediction.net, the price of the AMP crypto token is expected to cross the $0.015 price level, making the predicted maximum price $0.016, and it might close at a minimum price of $0.014.
In addition, DiticalCoinPrice is expecting the price to close at the end of the year at a $0.0123 maximum price, and it might reach a minimum price of $0.0108 before the year-end.
AMP crypto price prediction 2023
According to Priceprediction.net, AMP crypto price is predicted to increase to $0.025 at a maximum in 2023, making AMP token ideal as an investment option.
Digitalcoinprice predicts the price to reach a maximum price of $0.0142 and $0.0116 at a minimum.
Likewise, Coinpriceforecast agrees that the price might increase to $0.0165. The AMP crypto price prediction is expecting the price of the AMP token to break through the $0.0195 price level at the end of 2023.
AMP crypto price prediction 2024
The experts are bullish in their AMP crypto price predictions for 2024 — most of the experts are expecting AMP token prices to increase by the end of 2024.
PricePrediction.net expects the price to increase to $0.030 in 2024. According to Digitalcoinprice, it is likely for the AMP token to reach a price of $0.0150 while seeing a minimum price of $0.0108.
Coinpriceforecast prediction for AMP token is also positive. According to the site's AMP crypto price prediction for 2024, the token will likely trade at around $0.0254. Most prediction platforms are bullish about the AMP token price in 2024 and expect it to close the year at a minimum price of $0.02.
AMP crypto price prediction 2025
Based on research conducted, the price of AMP crypto token isn't much bullish as the price prediction for 2025 is expected to be at a minimum price of $0.0151 (as per Digitalcoinprice). If there's a slight bullish move, the price will reach the $0.0188 price level while $0.0172 on average.
At the end of the year 2025, Coinpriceforecast expects AMP token to increase by over 230%, which makes the predicted price $0.0290 at maximum. It might reach a minimum price of $0.0257 at the mid-end of 2025
As per Priceprediction.net, there would be a massive bullish move on the price of AMP token, predicting it to increase to $0.051 price level while it's forecasting the minimum price to be $0.042.
AMP crypto price prediction 2030
AMP crypto price prediction in the long-term is bullish. Coinpriceforecast presents two probable prices of AMP token for the year 2030, and the price might increase further and reach a new ATH of $0.0328 in the mid-end of 2030, while it might close the year at a maximum price of $0.0345.
There would be a massive uptrend on the AMP token (according to Digitalcoinprice) as the price is predicted to be at the $0.0402 level. If there is any rejection from that price level, the minimum price is expected to be at $0.0392, while $0.0402 is on average.
Likewise, PricePrediction.net is also optimistic about the token price in 2030, and the prediction conveys a massive hike in the token's price, estimating the minimum price it could reach at the end of 2030 to be $0.28. The prediction also aligns with other experts' predictions as the price is expected to be at an average price of $0.28 throughout the year, while the highest price it could reach is $0.32.
Also read: Tectonic price prediction
How to stake AMP token
Amp protocol allows you to stake the Amp token and earn a reward. Below is a quick step on how to stake the AMP token.
On your browser, visit FlexaNetwork and connect your wallet. You can connect a metamask wallet.
Select from the staking options available.
The amount of AMP tokens staked will appear and confirm the transaction.
What is AMP token used for?
The basic use-case for AMP is to secure merchant to merchant payments on the Flexa network.
Another widely recognized use of the token is collateralization. The digital asset was created solely for this. The ERC-20 token serves as an insurance policy and notifies merchants, customers, and traders that cryptocurrency transactions are currently in progress. Funds are secured during the time of processing and authorization, and this ensures confidence for merchants.
Other use cases for AMP include:
The lending of assets (digital, physical, or fiats).
Exchanges (decentralized exchanges which are called dexes).
Is Amp a good investment?
AMP is a low volatility token that majorly serves as collateral, and because of its utility, it continues to appreciate.
AMP token is one of the most popular cryptocurrencies right now and gained a lot of interest due to its Ethereum smart contract solution.
Amp is still undergoing a lot of developments that aim at making up to 1,000,000 tps (transactions per second).
Final thought
AMO protocol use cases are one of the very important aspects of the blockchain. Thus, it has been gaining enough traction since its launch.
Before investing in the AMP protocol, do your due diligence by researching the protocol further and ensuring you understand how it operates.
The AMP price predictions presented in this article are of experts' opinion only.
Disclaimer: All the information on this website is published for general information purposes only. They are not financial advice and do not represent the opinions of Coindictate to buy or sell any asset. Please do your own research before taking any action.