PancakeSwap is one of the most popular decentralized crypto exchanges today. It has become a haven for those who want to trade or swap coins without going through the stress of registration. Its native cryptocurrency CAKE, as funny as it sounds, has delivered some delicious returns to investors in recent months just by HODLing and staking.
You're probably reading this article because you want to get yourself some CAKE, or you want to know if the market value of CAKE can ever reach as high as $50. In this article, we would look at PancakeSwap price prediction from different sources and answer the question 'Is CAKE worth it?'
What is PancakeSwap and CAKE token?
Before we look at PancakeSwap price prediction for the next few months or years, we have to understand the concept behind it. You simply can't invest in something you don't know about.
As mentioned earlier, CAKE is the native token of one of the biggest decentralized exchanges today on the Binance Smart Chain (BSC) network, PancakeSwap. The decentralized exchange is similar to the popular Uniswap. However, the difference lies in their root blockchain network. While the former is based on BSC, the latter runs on the Ethereum network.
Due to the network properties of BSC, Pancakeswap boosts a cheaper and faster transaction compared to Uniswap. It offers instant swapping of tokens with low transaction fees and allows users to connect to the protocol via their decentralized wallets like MetaMaksk. This essentially eliminates the need for any decentralized exchange to store user coins.
Also Read: Where to Buy Solana in 2021
What is CAKE used for?
PancakeSwap users can stake their CAKE tokens in liquidity pools. These pools are called SYRUP pools. The pancake-themed exchange allows its users to earn high interest rates on their CAKE tokens.
Users also earn from staking and yield farming on Pancakeswap. Plus, it allows users to vote on issues concerning the decentralized exchange because it is a governance token. Like any other coin, it can be traded on different exchanges or held for a profit.
Price history of CAKE
A good look at the price history of CAKE can help get a clue on PancakeSwap price prediction for the coming months and years. During the time of writing, the CAKE token was ranked the 28th largest digital currency on CoinMarketCap, with a market capitalization of over $5.2 billion.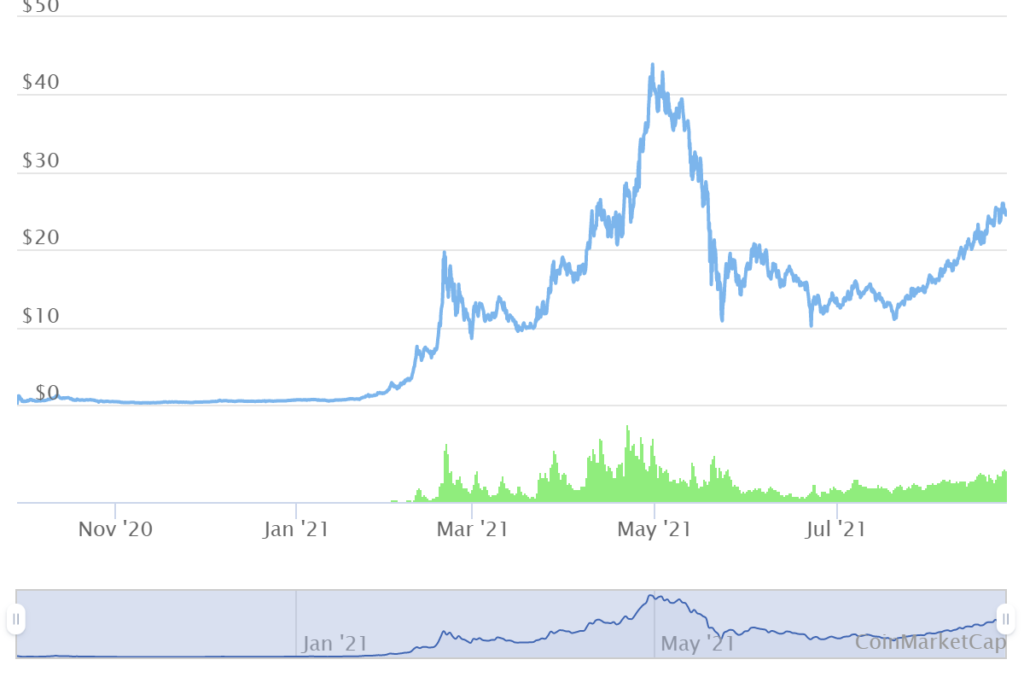 PancakeSwap was only launched in September 2020, when the world was still recovering from the COVID-19 pandemic. As of October 2020, CAKE was worth less than a dollar, hovering around $0.4. According to CoinMarketCap, the bunny coin reached an all-time high of $44 on April 2021. That's almost 10,000% in about five months!
However, with the crypto market crash later in May, the coin reached a low of $10.8, which is a reminder of how volatility CAKE and cryptocurrencies, in general, can be. Meanwhile, CAKE has been on a steady increase since mid-July and is now trading above $22 at the time of writing.
PancakeSwap Price Prediction for 2021
As for this year, Wallet Investor believes that the CAKE token will hit $31-$32 by December 2021, although it could reach a maximum of $40 if things go well for the exchange. On the downside, it might just remain at $22, its current price.
What's PancakeSwap's price prediction by The Economy Forecast Agency for 2021? Well, it foresees that the token will be around $21-26 by December.
Digital Coin Price predicts that the price of CAKE would be $27, which is close to its current price. According to the website, the coin is expected to close at $32 by the end of the year.
PancakeSwap Price Prediction for 2022
Wallet Investor says CAKE is expected to reach $40 by April 2022 and $50 in July 2022. So, if your target for this token is $50, next summer would be a good time to closely observe its price action. The token is bullish at the time of writing and has the potential to almost double in the next year. By the end of next year, CAKE is expected to cross the $60 mark. Now, this might be a bit slow for those who want quick profit.
However, The Economy Forecast Agency does not believe 2022 is the year CAKE will hit $50. Instead, it believes the coin will start 2022 with a price between $22-$28 and finish the year with $33-$47.
Next year, Digital Coin Price's PancakeSwap price prediction is a bit bleak as well. The website estimates that CAKE would be around $40, after which it would steadily drop to $32 before it starts to recover again. The token is expected to end in 2022 with a price range of 31-36 dollars.
PancakeSwap Price Prediction for 2025
According to Wallet Investor, PancakeSwap's coin would be around $110 in January 2025. That's more than double the $50 target. The token is expected to close the year with an extra $30 to finish at $140.
As for The Economy Forecast Agency, the website has a lower PancakeSwap price prediction for 2025. The agency predicts that by July 2025, CAKE will be worth $52-$62 and worth $80 by the end of the year.
Digital Coin Price predicts the price of CAKE would be $64-$66, peaking around $66 in the entire 2025, with normal market corrections affecting its price for some months. In the months of April and June, we could see PancakeSwap's price reach a high of $70.
Conclusion
According to different PancakeSwap price predictions we have looked at, CAKE is unlikely to reach $50 soon. However, this doesn't mean it will never get to $50, as it is expected to meet the price target next year. But, the crypto market is unpredictable, so you should not take any of the information in this article as financial advice.
The coin looks like a good long-term investment since it is a utility token with a lot of use cases. However, you should still make your research before you get yourself a slice of CAKE. This article only serves as a guide to CAKE's price over the next few years.
Also Read: Best Exchanges Where you can Buy Cardano (ADA) in 2021 Instantly