This article reviews the best Siacoin wallets to use on Android and desktops. 
Choosing the best Siacoin wallets for storing your Siacoins can be confusing for some reasons that include security. This is why we made this informational content today to help you select a suitable wallet – either desktop or mobile – for the cryptocurrency. The Sia blockchain project looks very promising, as it comes at a time when people are increasingly seeking decentralized alternatives to many services running on centralized platforms. Judging by this, it's probably worth keeping tabs on the Siacoin. 
Everything About Sia and Siacoin (SC)
Sia is basically a blockchain-based marketplace that facilitates the leasing of unused computer storage spaces in a decentralized manner. Simply put, people can go to the Sia platform to advertise their available computer storage space to anyone looking for more storage systems to keep their documents, more like a peer-to-peer transaction. The Sia platform was officially launched in 2015 by David Vorick.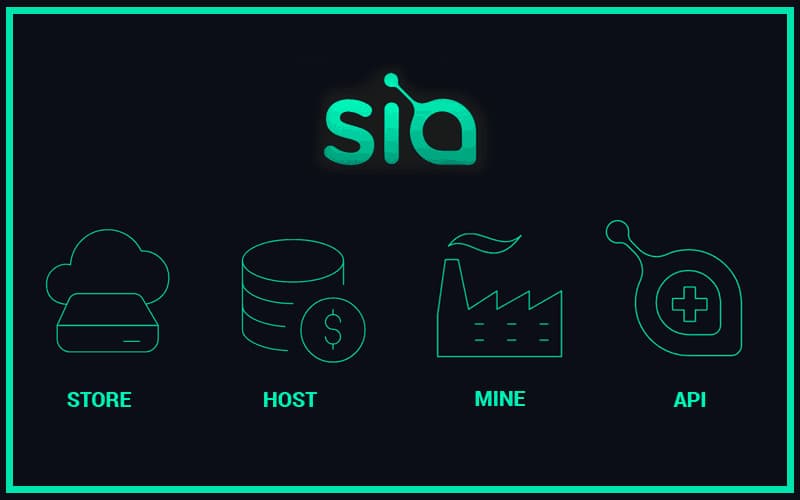 The goal was to make Sia the "backbone storage layer of the internet," as it competes with other popular cloud storage platforms like DropBox, Google, Microsoft, and Apple. All the transactions made on the platform are encrypted, and the documents/files uploaded on the platform are usually split and distributed across the world in about 30 segments. This stands to assure the users that the data uploaded on the platform is secured and can be quickly restored, even if 20 hosts went down.
The transactions on Sia are paid for, which is where the use case of the Siacoin (SC) mostly lies. Siacoin is the native cryptocurrency of the project used to settle payments in the cloud storage marketplace. 
Best Siacoin Wallets for Desktop, Android, and iOS
A Siacoin wallet is any device, service, or platform that allows you to store your Siacoins and also retrieve them anytime. You can choose to store your Siacoins on cryptocurrency exchanges like Binance. However, there are other dedicated Siacoin wallets you can use to keep your coins safe on desktop, android, and iOS devices. They include:
Ledger Nano S wallet
Sia Central Lite Wallet
Sia-UI
Sia platform
Sia Cold Storage
Sia Atomic wallet
Hebe wallet
CoinSpot
Sia Ledger Nano S wallet
Ledger is one of the top wallet providers in the cryptocurrency industry. They provide secure hardware wallets for storing cryptocurrencies with seed phrases, which serve as an extra layer of security for your cryptocurrencies. As one of the top wallet providers, Ledger supports more than 100 digital currencies, including popularly-traded ones like Bitcoin and Ether. Ledger can serve as a Siacoin wallet.
The Sia development team has announced that precisely, the Ledger Nano S wallet can be Integrated for storing Siacoins.
Sia Central Lite Wallet
The Sia Central Lite Wallet is an official Siacoin wallet that was introduced in January 2020 to enable the cryptocurrency holders to easily send and receive Siacoins in a convenient manner. The Sia Central Lite Wallet allows users to boycott syncing with the Sia blockchain, which takes a lot of time, according to users' feedback. Additionally, this Siacoin wallet removes the need for users to trust an unknown service. 
Interestingly, the Sia Central Lite Wallet is the first Siacoin wallet that is compatible with the Ledger Nano S wallet. It's available on android, iOS, and desktop browsers.
Sia-UI
Sia-UI is official, and it's considered the best Siacoin wallet to use. It was designed by the development team behind the Sia platform known as Nebulous. This Siacoin wallet is more like a comprehensive UI client. It allows the cryptocurrency holders to safe-keep their Sia coins, send and receive the cryptocurrency, check their Siacoin balance, as well as track/review their previous Siacoin transaction history.
The Sia-UI wallet can be accessed on either Windows, Mac, or Linux operating systems.
Sia platform
The Android client of the blockchain platform, Sia, can also serve a Siacoin wallet itself. As earlier explained, the Sia platform is a peer-to-peer cloud storage marketplace that allows people to rent unused computer storage spaces which are paid for. Sia allows transactions in the Siacoin; hence, the users of the decentralized cloud storage platform are able to send and receive Siacoin on the application. So, the platform can still be used as a Siacoin wallet. It's available for Android users.
Sia Cold Storage
This Siacoin wallet option isn't official; however, it helps in creating 'cold wallets' for the cryptocurrencies. It functions more like an 'air gapping,' allowing users to generate seeds and many addresses for the Sia coin without being connected to the network. Sia Cold Storage is reviewed as the best Siacoin wallet option for storing the cryptocurrencies for the long term. It's useful in keeping Sia coins safe from unauthorized people.
Sia Atomic Wallet
Atomic wallet is another popular cryptocurrency wallet service that will soon enable Siacoin wallet support. Atomic wallet is a non-custodial decentralized wallet that supports over 300 digital currencies. The wallet said it could support Siacoin and other cryptocurrencies. However, it hasn't rolled out this support yet. Siacoin hasn't been included in the list of cryptocurrencies supported by Atomic wallet, but the blog post reads "coming soon."
Hence, it's worth keeping tabs on Atomic wallet as a potential Siacoin wallet.
Hebe Wallet
Hebe wallet is a multi-chain decentralized wallet that can allow users securely receive, send, and store Siacoin. According to the website, users' account information is not stored on the server, which is a privacy and safety measure.
The wallet is available on iOS and Google Play for Android users. However, using Hebe as a Siacoin wallet can be risky, given the wallet itself is not popular and it does not have any reputable rating yet.
CoinSpot
CoinSpot is one of Australia's leading cryptocurrency exchange and wallet providers. The company supports multi cryptocurrencies, including Bitcoin, Ether, Solana, etc. CoinSpot also supports Siacoin on the exchange, but it's unclear if the support extends to the wallet service.
Notwithstanding, the exchange provides users with the usual online wallet to store Siacoin, just like other cryptos.
Siacoin Market Overview
According to the data provided by Coinmarketcap, a cryptocurrency tracking platform, the Siacoin (SC) is the 139th largest digital currency in the market. There are over 52 billion Siacoins currently in circulation. The cryptocurrency also has a market capitalization of $195 million. After making an all-time high of $0.1117 in January 2018, the cryptocurrency began decreasing in value and traded below $0.01 throughout the past year.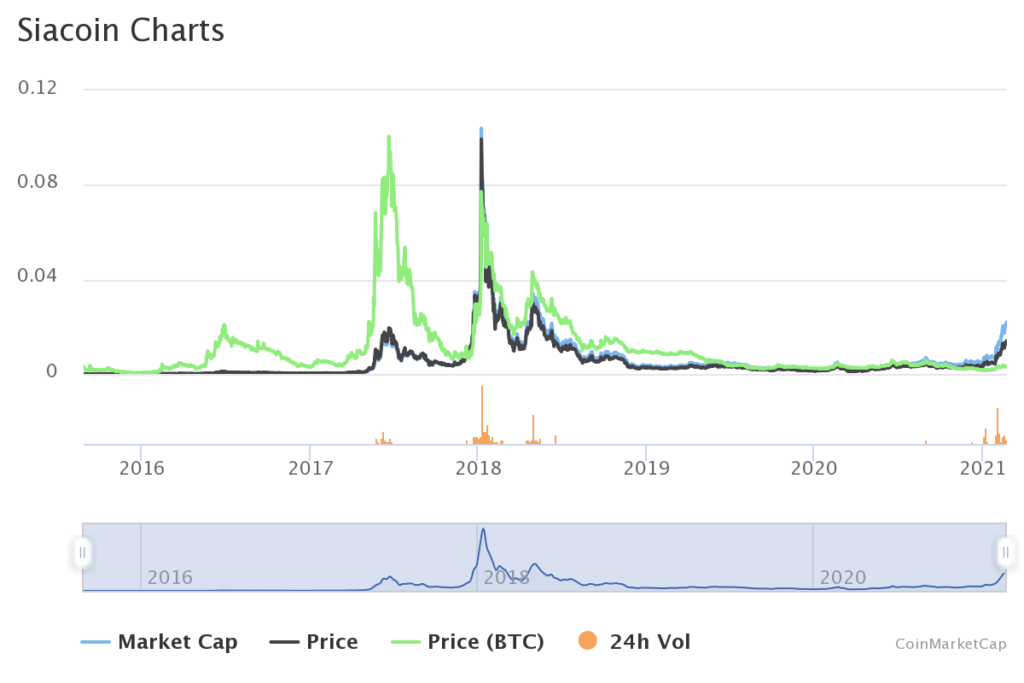 However, it began seeing an uptick since the start of 2021. Many people and prediction platforms expert the Sia coin to push even further this year. However, the question remains, is Siacoin a good investment?
Siacoin Price Prediction: Is Siacoin a Good Investment?
What you must know about Siacoin is this! The Siacoin belongs to an ecosystem, given that it is the cryptocurrency powering the activities on the Sia cloud storage marketplace, and so, it has a use case. The cryptocurrency is likely to gain momentum in value if the Sia marketplace gains more adoption. This is because more activities and users on Sia will create more demand for the coin, and cryptocurrencies with good demand mostly do well in value. This is not financial advice, however. 
SiaCoin Price Predictions for 2021
Wallet Investor
This is a cryptocurrency, stock, and forex platform that makes price predictions via machine learning. Wallet investors forecasted that Siacoin price would reach a maximum of $0.0157 in March and $0.0227 towards the end of December 2021.
Crypto Ground
As of February 2021, Crypto Ground had a bearish prediction for the Sia coin. The platform predicts that the cryptocurrency might see a drop in value to as low as $0.0027 in 2021.
Digital Coin Price
Digital Coin Price is one of the prediction platforms that expects the Siacoin price to increase with every proceeding year. The platform predicted that the Sia coin would be worth about $0.01994221 in 2021.
Trading Beast
Trading Beast is a popular price prediction platform for cryptocurrencies. In March 2021, Trading Beast forecasts that the Siacoin price would increase to $0.0167159. In December 2021, they expect the Sia coin to see a high of $0.0210383.
SiaCoin Price Predictions for 2022
Wallet Investor
Wallet investors also predict that Siacoin price will reach a maximum point of $0.0238 at the beginning of 2022. The platform also predicted that the Sia coin would be worth about $0.0241 in December 2022.
Crypto Ground
Crypto Ground forecasted that Siacoin would reach about $0.025 in 2022. They expect the value to maintain that increase for years. For instance, Crypto Ground added that Siacoin might be worth about $0.0476 in the next five years.
Digital Coin Price
Similar to Crypto Ground, the Digital Coin Price platform forecasted that the Siacoin price would increase to the $0.02 level, precisely $0.02321006, by the end of 2022.
Trading Beasts
In January 2022, Trading Beast predicted Siacoin would have an average value of $0.0168027 and $0.0166481 in December 2022. Judging by this, the Trading Beasts system is forecasting that there could be lots of consolidation for the Sia coin in 2022.
5 Best Exchanges to Buy Siacoin (SC)
Below are the five best exchanges where you can buy Siacoin (SC) with good liquidity ratings.
Binance
Binance comes first as the best exchange for buying and selling Siacoin. As the largest cryptocurrency exchange by trading volume, Binance supports multi coins like bitcoin and Siacoin. You can buy Siacoin from Binance with BUSD, USDT, and ETH.
Kraken
Kraken is based in the United States and supports Siacoin, among other coins. You can buy Siacoin from the platform with USD, EUR, ETH, and XBT.
Bittrex
Bittrex also supports Siacoin. The exchange is based in the United States and allows users to buy Siacoins with USD, USDT, BTC, and ETH.
Huobi
Huobi is a reputable exchange based in Seychelles. It supports Siacoin and more than 100 cryptocurrencies. Users can buy Siacoin from Huobi using USD and BTC.
Bybit
Users can buy Siacoin from the fast-growing Bybit crypto exchange with USDT only. However, the exchange support tons of other digital currencies.
3 Benefits of the Sia Network
1. Affordability
It's expensive to run several connected servers. As a result, cloud-based storage providers are raising fees to cover these expenses. Price increases are inevitable due to inflation; unfortunately, businesses are often left with no other option. For example, 1 terabyte of storage on Microsoft Azure costs $18 per month.
Whereas the Sia network offers the same service for less than $4.50, the comparison is obvious. This is a sizable discount, and it may be important for businesses that need significant cloud storage.
The growth of cloud storage is likely to accelerate in the future due to the secular trends that drive it. Without a doubt, the epidemic hastened cloud adoption. Despite this, the future of cloud-storage companies is bright, and investors have every reason to be optimistic.
In this context, the Sia network's present cost advantage may be seen favorably. Some believe that the value of Siacoin will rise in line with its popularity on the network.
2. P2P storage solutions
The best peer-to-peer cloud storage system available today for crypto users is the Sia network. This blockchain-based service provides an open solution for everyone.
In the world of cryptocurrency, decentralization is the key. However, most of the attention in this space is now focused on decentralized transactions. Peer-to-peer solutions, like cloud storage, provide additional benefits from being decentralized.
Among the many things that make the Sia network so appealing is its security. However, how this network works is fascinating.
There is a minimum quantity of Siacoin that must be put into a contract before a cloud storage provider may join the Sia network. The blockchain uses cryptography to enforce these contracts, making the process easier for users and making sure that both sides will be happy with the deal.
The renter (user) and host each deposit Siacoin in the contract. If the host fails to do its job or loses client data, the user gets paid in Siacoin. Also, since the user pays up front, the host knows for sure that they will get their money. Everybody wins.
3. Security
Those considering the Sia network, which acts as a middleman for cloud storage, should be particularly concerned with its security protocols. In this case, the Sia network's decision to put security first is a good one.
The Sia network includes certain additional security features that make it preferable to use compared to other conventional cloud storage services. The Sia ecosystem is decentralized, which is maybe the most striking feature. A hacker would need to launch multiple attacks on different servers at the same time in order to severely disrupt the system since there is no central server that can be attacked. That's a big plus for people who are worried about hackers getting into their cloud servers.
Not only are the hosts concealed, but the encryption and security measures for data transmission look to be state-of-the-art as well. Your privacy is 100% protected. Since only the file owners have private keys, no one else can access the files.
Siacoin Mining
Sia's developers were the very first set of people to mine the cryptocurrency's first 100 blocks. The reward for completing the first Sis block was three hundred thousand Siacoin. For every subsequent block, the reward decreases by 1 SC. There is a minimum block reward of 30,000 Siacoin.
You may mine Sia now using an Nvidia or AMD graphics processor, but the profitability of doing so has dropped significantly. Ethereum, as well as Sia dual mining using Claymore Dual Miner, is also popular. SiaMining is the most popular, and there's a tutorial on it.
A few years ago, the company released Obelisk, its own Siacoin ASIC miner, which is a hundred times more powerful and effective than GPU mining. That was the end of GPU mining.
Latest Siacoin news
A short time ago, Siacoin was included in the list of the top 50 cryptocurrencies. However, its slow adoption of it has caused it to fall farther down the list.
Currently, the network can store 6.7 PB of data. Even if 2411 TB is what is really being utilized, this means that the vast majority of available storage is sitting idle. There are now 632 service providers online offering storage space. Downloading the desktop program allows storage servers and clients to communicate with the Sia network. The app has 1.2 million downloads.
Conclusion
There isn't any straight wallet support for Siacoin; however, the above-listed Siacoin wallet can be helpful in storing cryptocurrency. Do well by analyzing these wallets to know what best works for you. Holding Siacoin might be worth it when judging by the predictions. However, there is no guarantee that these predictions will play out 100 percent. Siacoin might also not be a good investment. Hence, you need to do your research before investing in it.