Dogecoin (DOGE) is one cryptocurrency whose recent surge caught many people unaware. Interest in the coin recently shot up amid recent developments that include the GameStop saga. Many people are showing interest in holding DOGE today. This article will inform you where to buy Dogecoin easily, in case you are looking to include the meme cryptocurrency in the crypto portfolio.
What's With Dogecoin (DOGE)
For the most part, the cryptocurrency came to the limelight following the recent Reddit/Gamestop development some weeks ago. During the time, a group of traders on Reddit coordinated to buy as many Dogecoin as possible, which got the price reacting positively. The development brought the cryptocurrency to the mainstream, as many people also joined the train.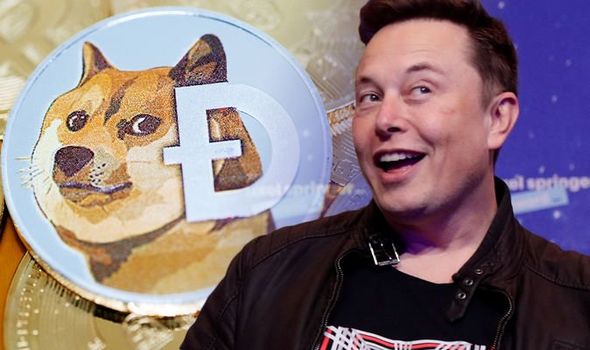 Dogecoin also caught the attention of Elon Musk, the CEO of Tesla and SpaceX, whose series of tweets on Dogecoin also ignited more buying momentum for the cryptocurrency. Since that event, many people began seeing the cryptocurrency as a good investment. Recently, Elon Musk announced he purchased some DOGE for his 9-month old son, X Æ A-Xii, making him the youngest DOGE HODLer. Other celebrities like the Rock musician, Gene Simmons, had also announced he owns some Dogecoin. 
Before we look at the best exchanges where to buy Dogecoin, it's worth knowing a brief history of it and whether Dogecoin will make a good investment in the future.
What is Dogecoin? A Brief History of DOGE
Dogecoin is an open-source cryptocurrency that was developed by Billy Markers and Jackson Palmer in 2013. The cryptocurrency was named after the Shiba Inu dog and was basically designed to enable a faster and more fun payment system. However, it was mostly perceived by many people as meme cryptocurrency. As of February 24, the cryptocurrency was ranked as the 14 largest digital currency by market capitalization on Coingecko.
There are more than 128.5 billion Dogecoin in circulation today, all of which represent a market capitalization of over $7 billion. The highest price level ever attained by Dogecoin is $0.08495 on February 8.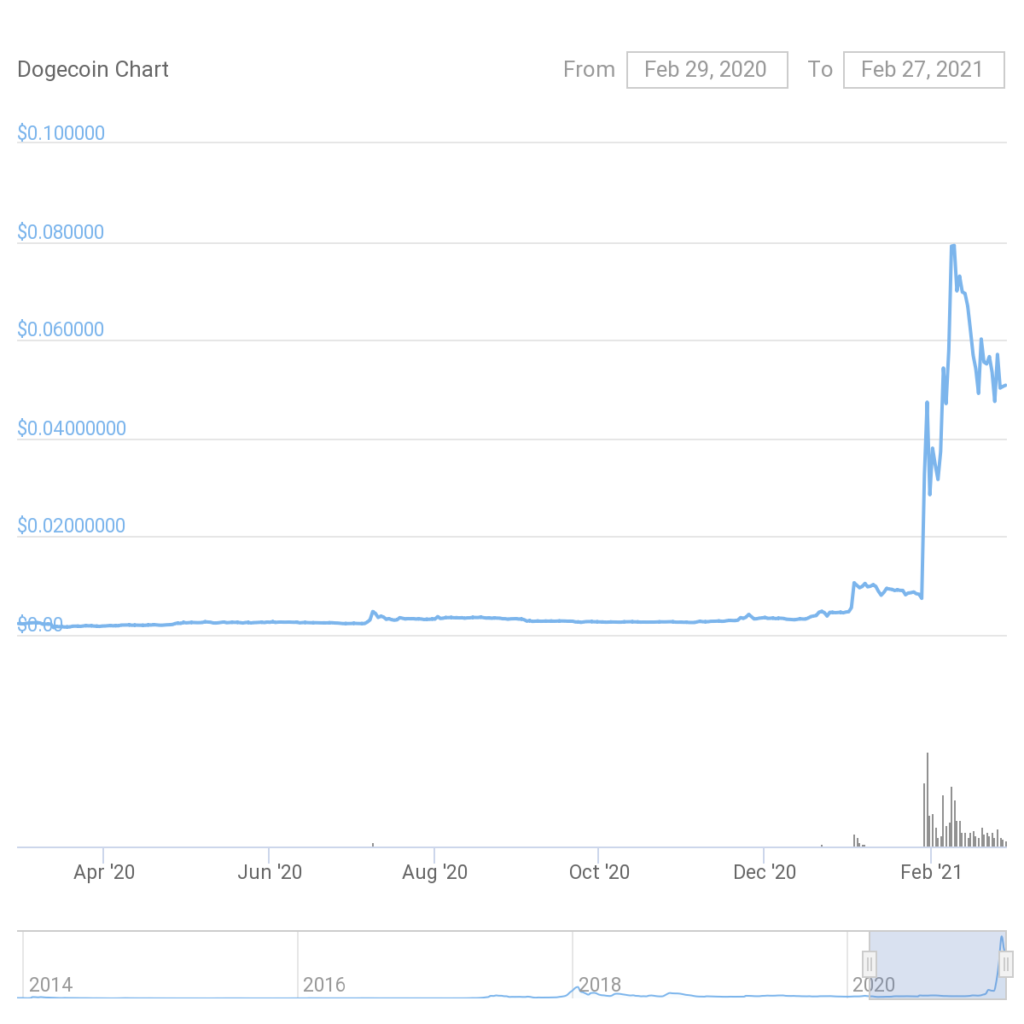 Should I buy Dogecoin? Is DOGE a Good Investment?
On several occasions, public figures especially, Elon Musk, have been able to influence Dogecoin price through his tweets. This is indicative that the cryptocurrency can easily be pumped and dumped by random statements, especially when they are made by prominent figures. In a simpler term, the cryptocurrency's price is driven by sentiments and activities on media platforms. Also, Dogecoin doesn't power an ecosystem or service that can drive massive demand for it, other than the fact that it can be used as a payment option.
However, Dogecoin may be worth holding as a long-term investment. According to Dogecoin price predictions from different platforms, including Wallet Investor, the cryptocurrency may be worth holding for at least six years. Note that this is not financial advice, as there is no guarantee that predictions are 100 percent real. Of course, it's advisable to only invest the amount you can afford to lose, as Dogecoin and cryptocurrencies, in general, are very volatile.
That said, here's the list of the best exchanges where to buy Dogecoin (DOGE) in 2021 instantly.
Where to buy Dogecoin in 2021
The top exchanges where you can buy Dogecoin in 2021 includes:
Kraken
OKEx
Binance
Bittrex
Also read: The best exchanges to buy Cardano (ADA) instantly in 2021.
1. Kraken
Kraken is one of the United States cryptocurrency exchanges you should consider if you are searching for where to buy Dogecoin. Apart from their competitive crypto trading fees, Kraken features a user-friendly interface for easy navigation. To use the exchange, however, you have to register your information to open an account with them.
Buying Dogecoin from Kraken is also easy. First, you have to fund your wallet with either US Dollars or Euros. You can do this by either depositing directly with your debit/credit card or by making a bank transfer. Once this is done, you can either buy Litecoin (LTC), DASH, or Bitcoin (denoted as XBT on Kraken), which can be traded for the Dogecoin (denoted as XDG on the exchange). The trading pairs include XDG/LTC, XDG/XBT, and XDG/DASH.
If you find this a bit confusing and would like to buy Dogecoin directly with USD, you will need to complete additional verification on Kraken.
2. OKEx
The Malta-based cryptocurrency exchange OKEx is another platform where to buy Dogecoin in 2021 easily. It's one of the reputable exchanges in the crypto space, and you can conveniently purchase and trade Dogecoin on their Android and iOS mobile applications. Dogecoin was listed on the exchange's spot market back in 2019.
In order to buy from the exchange, you have to register, and fund your account through Visa or MasterCard, according to the exchange's official website. After funding your account, you will need to purchase the USDT stablecoin first, as OKEx doesn't currently support instant buying and selling of Dogecoin on the platform, at least for the moment. After purchasing USDT, you can then trade the stablecoin for Dogecoin on the spot trading market. This is because the coin is only traded as DOGE/USDT on OKEx.
3. Binance
If you are looking for variety and flexibility, then Binance is one of the top exchanges where to buy Dogecoin. Binance is the biggest cryptocurrency exchange in the industry, and it's also considered the most liquid cryptocurrency trading platform. This means that buying and selling of cryptocurrencies on the exchange executes instantly. Binance is where to buy Dogecoin and a ton of other cryptocurrencies that are not yet listed on other exchanges.
You can Dogecoin on Binance through your fiat deposit – it could be Pound Sterling, Euros, or even the Australian dollar. All you should do is, deposit the fiat currency to your Binance account and purchase Dogecoin with the balance. Interestingly, Binance accepts Debit/Credit card payments for buying Dogecoin.
Aside from using your fiat balance to DOGE from Binance, you can also purchase the cryptocurrency by using the available trading pairs in the spot market. They include DOGE/BTC, DOGE/USDT, and DOGE/BUSD.
4. Bittrex
Bittrex is the fourth digital currency platform on our list of where to buy Dogecoin easily; this year. Bittrex was launched in 2013 by three cybersecurity experts, and it's considered one of the oldest digital currency exchanges in the industry. Besides, it claims to be a trusted exchange in the crypto industry.
Buying DOGE from Bittrex requires you to set up an account with them. Some personal information about yourself will be needed during KYC verification.
You have to buy Bitcoin first in this exchange before you can buy DOGE, as it is only listed as a DOGE/BTC trading pair. When you purchase Bitcoin or transfer some from another wallet, you can then trade it for Dogecoin.
This can be seen when you click on the BTC markets tab on your device. When your BTC has been successfully sold for DOGE, you would see it in your wallet. To view it, click the 'Holdings' tab, and your DOGE would be seen.
The exchange has over 200 cryptocurrencies listed, making it a great choice for those who would want to buy other coins as well.
Conclusion
Dogecoin is a cryptocurrency that might be able to bring you some profits in the long run. Keep in mind that cryptocurrency cannot make you rich overnight, especially a coin like DOGE that does not have a limited supply.
Kraken, OKEx, Binance, and Bittrex made it to our list of exchanges where to buy Dogecoin in 2021, based on reputation, security, and market liquidity. Note that there are other cryptocurrency exchanges where you can purchase Dogecoin. Of course, you should know that these exchanges will charge you some fees for buying, selling, or transferring it to another wallet. We hope you enjoyed this article and are ready to buy DOGE!