If you reside in New York, buying Dogecoin (DOGE) or new cryptocurrencies can be a little more complicated since there are a few crypto trading platforms operating in the state for regulatory reasons. However, it's not completely impossible to purchase the meme cryptocurrency in the US state.
The difficult part is probably finding a reputable cryptocurrency exchange to buy and sell Dogecoin in New York. Aside from this, the process is certainly much easier than understanding how to mine Dogecoin. Before exploring this guide on how to buy Dogecoin in New York securely, it's worth recalling the history of Dogecoin and why people are talking about it.
How Dogecoin Grew to $22 Billion Valuation
Dogecoin is a peer-to-peer digital currency that enables you to send money online easily. Think of it as "the internet currency." It initially began as a meme cryptocurrency back in 2013, but things got real with cryptocurrency in January 2021 as the community waxed stronger, attracting investments and attentions of celebrities and notable investors like Elon Musk, the founder of Tesla and SpaceX.
Ironically, the meme cryptocurrency is a "Grateful Dead" as it does not have a leader. The two founders of Dogecoin, Billy Markus and Jackson Palmer abandoned it some years after development. At the moment, DOGE is being managed and developed by the community. Anyone can step forward and be "the face" of Dogecoin.
Dogecoin has a market capitalization of over $22 billion, ranking as the 12th biggest cryptocurrency global, and the largest in the meme token category. In May 2021, Dogecoin reached a new all-time high of $0.7376. However, the price has been sliding downwards since hitting that level.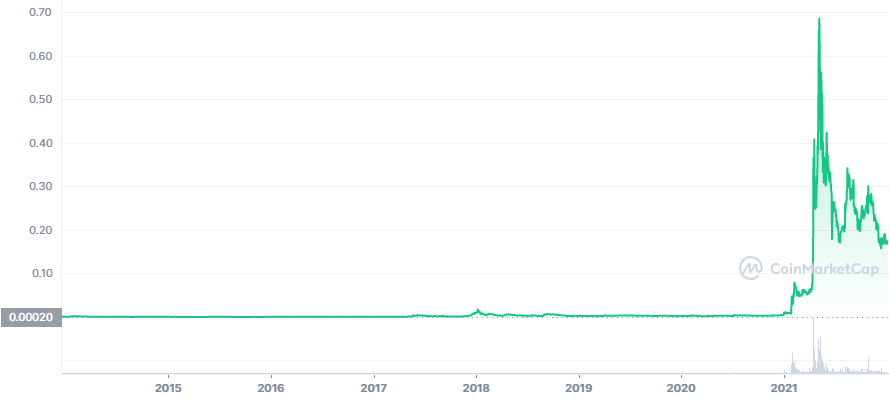 How to Buy Dogecoin in New York
For anyone wondering how to buy dogecoin in New York this year, know that there are quite a few ways to go about it, but the easiest option is buying through a cryptocurrency exchange. There are only about three trading platforms recognized or licensed to operate in the states. This is the sole reason investors find it difficult to easily trade digital currencies within the jurisdiction. Notwithstanding, the three available exchanges are reputable ones, namely Coinbase, Coinbase Pro, and Gemini.
Coinbase
Coinbase is one of the leading and largest cryptocurrency exchanges, with more than 1.6 million users. The San Francisco-headquartered exchange provides an easy option for users to buy and sell cryptocurrency, and it's licensed to provide its service for residents in New York. Coinbase began supporting Dogecoin in June 2021, enabling New Yorkers and other users the option to buy, sell, convert, send, receive, or store the meme cryptocurrency.
DOGE/USD is the supported trading pair on Coinbase.com, meaning users can buy DOGE on the platform using US dollars.
Coinbase Pro
Coinbase Pro is the professionally trading platform of Coinbase Inc. The platform allows users more opportunities to trade cryptocurrencies against fiat and digital currencies. Coinbase Pro supports the following trading pairs, in case you are wondering how to buy Dogecoin in New York with your coins.
DOGE-USD
DOGE-BTC
DOGE-EUR
DOGE-GBP
DOGE-USDT
Gemini
Gemini is a popular cryptocurrency exchange operated by the Winklevoss brothers. It's arguably one of the secure and reputable options available for crypto trading within and outside New York. The exchange is licensed to operate its digital asset exchange and custodian service in New York as well. Gemini supports the following DOGE trading pairs for New York customers.
How to Buy Dogecoin in New York From Coinbase & Gemini
The process of buying Dogecoin is quite the same for Coinbase and Gemini. First of all, you need to register with any of the aforementioned cryptocurrency exchanges if you don't have an account with them already.
The next step is funding your wallet. You have to deposit the supported fiat currency or cryptocurrency using the available payment methods. For instance, Coinbase allows US customers to fund their accounts through Bank Accounts (ACH), Debit Cards, PayPal, Apple Pay, Google Pay, and so on.
Once funded, the next step is buying Dogecoin using the US dollar or swapping your cryptocurrency for DOGE. An equivalent amount of Dogecoin will be deposited into your in-exchange wallet.
It's always safe and advisable to transfer the Dogecoins to your personal wallet if you have any, but not mandatory.
Other Alternatives to Buy Dogecoin in New York
If, for some reason, you are not comforted with transacting on a cryptocurrency exchange, below are other alternatives on how to buy Dogecoin in New York without using a centralized exchange like Coinbase and Gemini.
Find a Vendor
Using a cryptocurrency vendor service is another way you can buy Dogecoin within New York. In such a service, you have to transfer US dollars or cryptocurrency to the vendor while you receive an equivalent amount of DOGE in return to your designated crypto wallet. Although this method is still practiced, it can be risky. You can be easily defrauded, needless to mention that the service can be expensive.
Use a DEX
Using decentralized exchanges (DEX) is another viable option for buying Dogecoin. DEX is exchanges like PancakeSwap, Uniswap, etc., which are assumed to be out-of-reach for regulators. Hence, DEXes is accessible to New York traders and anyone around the world to use. The process of buying coins from DEX is quite the same as using exchanges like Coinbase.
Final Word
The steps listed in this article inform how to buy Dogecoin in New York, although the options are limited due to regulation. Dogecoin has seen quite a huge drop since hitting the all-time high in May. However, many people speculate that it might be worth holding for the long-term, following the ongoing developments to the token contract as well as the growing support of the community, especially from Elon Musk.