A report from Crypto.com has revealed that the world's cryptocurrency user is 106 million. This is a staggering difference from the previously estimated number of 66 million and 100 million in May 2020 and January 2021 respectively.
Huge Crypto Growth Parameters
The former figures and particularly this recent estimation was done by Crypto.com. It used on-chain data analysis from various exchanges to monitor the growth and development of bitcoin and ethereum. It also used other complex parameters to track the cryptocurrencies development. The data gotten from the above processes was instrumental in determining user growth trends around the globe.
Massive growth of users were recorded in specific times of the years and it coincided with bitcoin price hikes. The huge user rate was recorded in June 2020, August 2020 and January 2021.
Bitcoin began to rise as more financial institutions like MicroStrategy, PayPal and Grayscale began to buy billions worth of Bitcoin.  This in addition with deFi adoptions and popularity in August 2020 led to the increase in world users. 
Price As a Determinant In Cryptocurrency World Users
According to the research, the price of the world's leading cryptocurrency Bitcoin and Ethereum is responsible for the increase in world users. As the prices start to rise it experienced more influx of people who would buy to hold or sell almost instantly.
In January 2021 alone, over 31% added to the Bitcoin world users totalling it to 71 million. In the same vein more than 13% was added to the Ethereum world users rounding the sum up to a total of 14 million. This is regarded as still the highest rise in the history of the Cryptocurrency.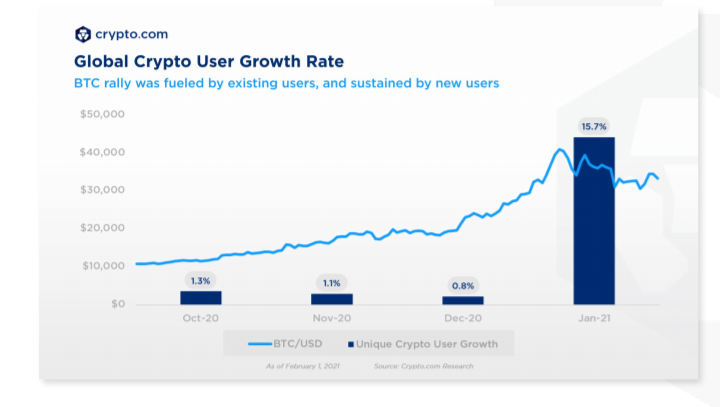 Source: Crypto.com blog
World Crypto Users May Be More
The research shows that only the data from Bitcoin and Ethereum were used in determining this outcome. With other parameters like OTC desk users, off-chain settlements and others not included, there is a cause to believe the figures may be more than this.
Crypto user growth has increased geometrically over the last 6 months and this is not strange. This increase is happening at a time when Bitcoin is hitting an ATH.