This article – Tectonic crypto news – is a recap of recent events and price performance of Tectonic (TONIC) cryptocurrency and project.
The general cryptocurrency market is starting to gain a bit of relief from the recent bear pressure, which pushed prices down to disturbing levels. Over the last seven days, the crypto market cap reclaimed $1 trillion, with leading assets like Bitcoin and Ethereum gaining 7.2% and 11.6%, respectively.
Tectonic's cryptocurrency (TONIC) isn't left of this rebound. In fact, data from Coinmarketcap indicates that TONIC surged by 45.7% in the last seven days, as the price went from $0.0000001306 to $0.0000001904. This represents a higher return than Bitcoin and Ethereum's performance within the same period.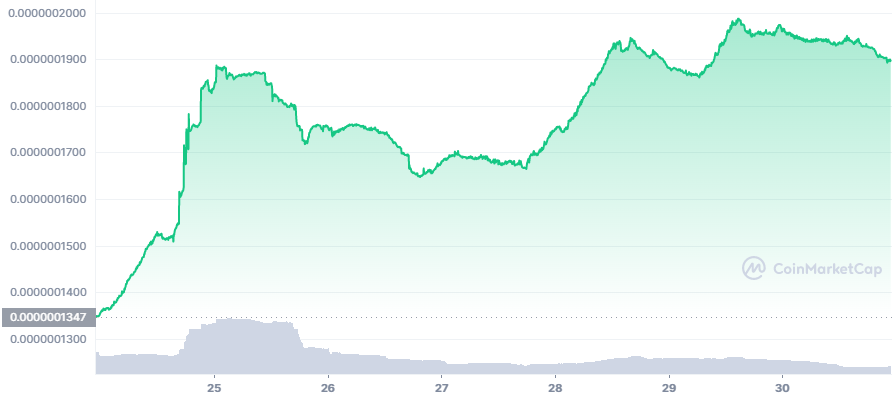 This somewhat indicates that TONIC trades along the market condition – i.e., the price is somehow influenced by general investors' sentiment. Thus, TONIC could increase in the coming weeks in line with the state of the crypto market.
Also read: Tectonic price prediction for 2022, 2025, 2030.
In case you missed the recent Tectonic crypto news, the protocol's team has made changes to improve users' experience with the TONIC staking module.
Changes to Tectonic staking module
Tectonic announced on July 29th that it updated TONIC's staking feature to include an option to enable holders to maximize rewards on their holdings. The new feature will reportedly allow users to stake more tokens after claiming the staked rewards. "This is definitely a recommended update for everyone," Tectonic wrote on Twitter.
Before that, the team announced that the users can now view cumulative staking rewards in the staking module. The staking page reads, "cumulative staking rewards are calculated under the assumption that no xTONIC was transferred from or your wallet."
TectonicFi warns about fake TONIC airdrop
Tectonic warned about a fake airdrop campaign on July 22th, perpetrated using the brand's name. It refuted having any association with the airdrop nor the campaign host, thereby warning users to abstain from participating in any airdrop. "We are also not hosting any airdrop campaigns at the moment. Stay safe fam."
Tectonic mainnet roadmap update unveiled
The Tectonic mainnet was launched in December 2021 but has grown to garner over $265 million in the total value of digital assets locked on the network. Lately, the team unveiled the mainnet's development roadmap for Q3 and Q4 2022. This is probably the most inciting Tectonic crypto news for users this month.
Within those periods, Tectonic will focus on creating community-oriented products while also improving its security to strengthen the product portfolio. Among other things, Tectonic plans to enhance the use case of TONIC in Phase 3 of the mainnet's roadmap.
WalletConnect integrates Tectonic
On July 13th, WalletConnect integrated with Tectonic, enabling TONIC users more wallet options to explore for sending and receiving their tokens.
WalletConnect is a decentralized wallet for Web3 applications. In March, the firm raised about $11 million in Series A to foster its mission of establishing a communication protocol for web3 as a wallet.