It's no news that NFTs have been a trending topic since 2021. The total sales in the market increased exponentially to over $18 billion, according to the stats from NonFungible. That's such a great indication of interest and catalyst for the NFTs. Looking at the ongoing developments and discussions around metaverse, it's no doubt that the market might equally print high numbers for 2022 and the coming years.
However, you may have wanted to dive into the NFTs space but couldn't afford some NFTs that are selling for thousands of dollars. In this article, I will be showing you the cheap NFTs to buy in 2022 that might give you a huge return on investment – ROI.
But before then, it's crucial to know what NFTs mean and where to buy NFTs seamlessly, I will be discussing the different best NFTs marketplace for buying and selling of NFTs down the line.
What are NFTs?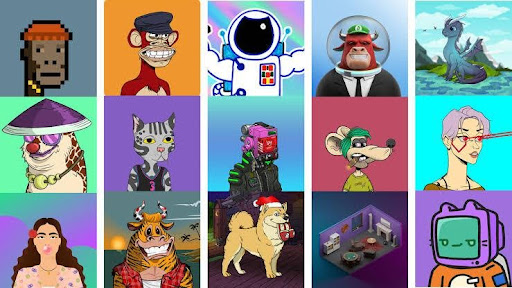 NFTs is an acronym for non-fungible tokens. As we know, fungible tokens/assets are interchangeable, meaning one asset can be replaced with another similar asset while giving the same value. A good example of fungible assets is fiat currencies like the US dollar (USD), including Bitcoin (BTC).
On the other hand, non-fungible tokens/assets are unique and not interchangeable. They cannot be exchanged for another similar asset. Every NFT available today has its unique value or property, and that's the distinguishing factor. The concept of NFTs in blockchain technology is simply to tokenize the ownership of an asset.
As we previously explained, the owner of a particular NFT is verified on the blockchain to avoid duplication of a digital asset, thanks to the permissionless and distributed feature of blockchain technology.
Cheap NFTs to buy for profit in 2022
From the research conducted, below are cheap NFTs you can buy in 2022, with the potential of being sold for profit in the future.
Neon District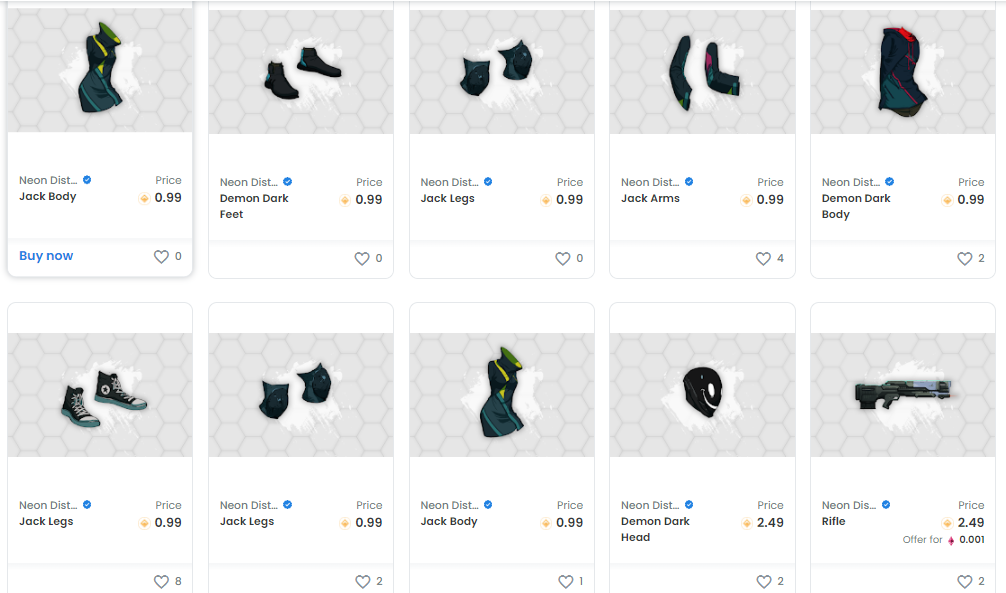 Neon District is a free-to-play cyberpunk role-playing game. It lets gamers collect characters and gear, craft and level up teams, and battle against other players through competitive multiplayer and turn-based combat.
It has a floor price of 0.001 ETH.
Labo NFT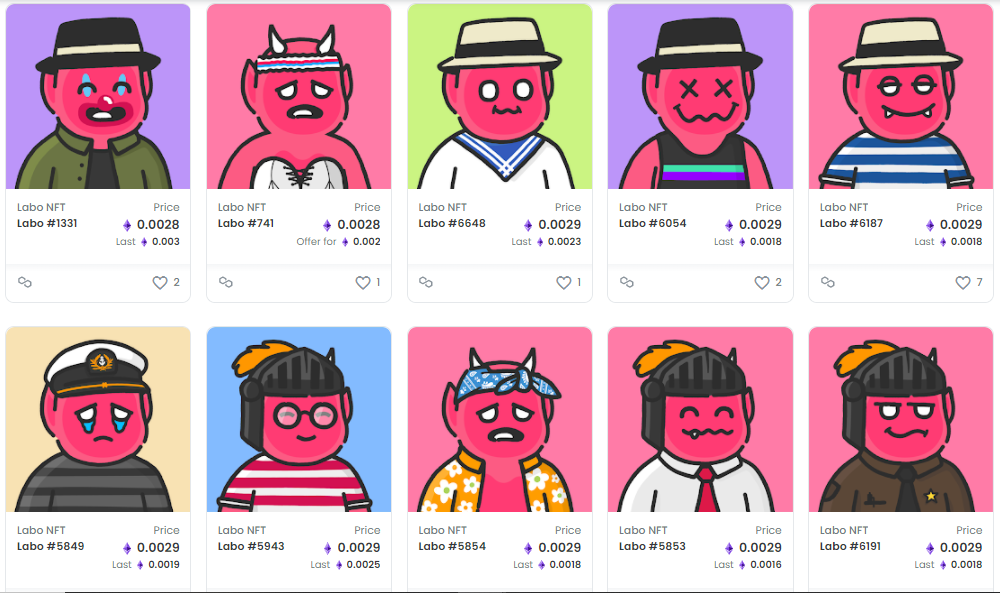 Labo is a collection of 6,666 randomly generated NFTs. Labo's are assembled from over 200+ digital hand-drawn total traits, with 66 per trait-like face, clothes, and head.
Some will argue that Labo is a child of the devil, others will say that Labo is a little monster, or maybe an ape?
Labo NFT has a floor price of 0.003 ETH
Key To The Metaverse NFT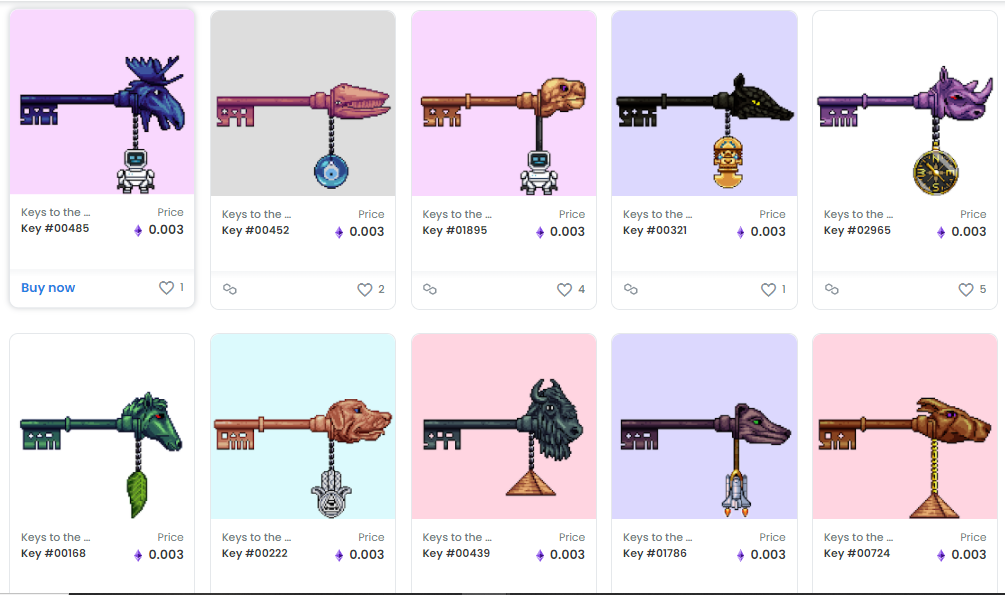 Key To The Metaverse NFT is a unique set of keys created by a custom generative algorithm, then registered on the blockchain.
Keys To The Metaverse is the intersection where advanced Science -meets- Ancient hidden knowledge. Where the known boundaries of science end, start a mystic bridge leading to spirituality. Each Key is one such bridge. It is for those who are heading towards the future.
The project aims to: make each Key (NFT) programmable, i.e., the 'Keys to the Metaverse' will have a secure and sophisticated API layer and SDK, with complete documentation on GitHub. Using any application, game, etc. can integrate the Keys however they want. So, what will be the benefit of these programmable NFTs?
The dev team of Key To The Metaverse envision a near future where the 'Keys' will become an integral part of every application, game, etc. in the Metaverse.
Key To The Metaverse NFT also has a floor price of 0.003 ETH.
OxUniverse NFT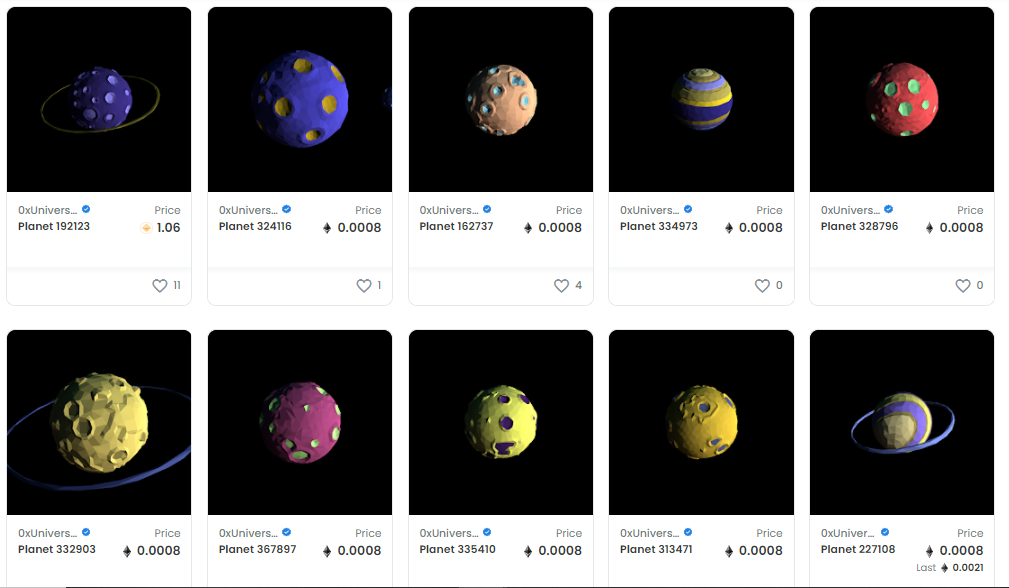 0xUniverse is a revolutionary blockchain-based game. You can become an explorer in a galaxy of unique, collectible planets.
Colonize them to extract resources and build spacecraft. Keep expanding your fleet until you've uncovered the final mysteries of the universe!
0.001 ETH is the floor price of OxUniverse NFT
Read also: How to receive free NFTs
Where To Buy NFTs
If you've been searching for where to buy NFTs, I will be showing and discussing with you different marketplace for buying and selling non-fungible tokens. You can choose any of the marketplace based on your personal preference.
OpenSea
OpenSea claims to be the first and largest marketplace for non-fungible tokens – NFT and crypto collectible. It allows buying, selling, and discovering of limited digital items/assets.
OpenSea also allows users to open a custom marketplace, users can open a beautiful and customized marketplace in the user domain which can be fully integrated into user projects. On the customized marketplace, users can also set a fee on every secondary sale of user items on OpenSea. So, any user that owns the customized marketplace earns a commission whenever another user makes a sale.
Rarible
Rarible is an NFT marketplace on Ethereum blockchain and issuance platform that also enables a user to mint, buy and sell NFT.
It allows users to create NFT easily for any sort of unique digital items ranging from a game item, artworks, etc. Rarible platforms have a smooth and perfect user experience as the marketplace is sorted and filtered by using different categories.
The Rarible marketplace has the native utility token- RARI that is used to empower active users who interact with the protocol.
Rarible also has an inbuilt messenger that allows users to directly connect with creators, artists, and collectors on the Rarible platform.
SuperRare
SuperRare is a marketplace to collect and trade unique, single-edition digital artworks. Each artwork is authentically created by an artist in the network and tokenized as a crypto-collectible digital item that you can own and trade.
SuperRare has paved a new way to interact with art, culture, and collecting on the internet!
The platform was developed and created as a peer-to-peer marketplace for single-edition digital artwork purchases and sales. It was created with UX and Ui that make NFT, listing price, sale prices, and timed auctions shown in a tile of windows, similar to an Instagram profile. We could say they extracted the idea of Instagram features.
Also, the platform appearance can be in the form of an online magazine that also has features as follows:
An active social feed,
A calendar of upcoming shows, and
A high-touch editorial page with profiles and artist statements.
Ethereum native token – Ether is used in every transaction on the SuperRare platform
Axie Marketplace
Axie marketplace is an NFT trading platform developed for Axie Infinity, the No.1 gaming platform on Ethereum, that has onboarded 14,000 monthly on-chain users and over 11,000 off-chain users daily.
In Axie Infinity, players can build up a collection of Axies and use them across an ever-expanding universe of games! The Axie Infinity launched their marketplace that allows minting, buying, and selling of NFTs while providing a market for the Axie infinity game players with over $140M trading volume.
The NFTs on the Axie marketplace are often recognized as Axies. Axies are fierce creatures that love to battle, build, and hunt for treasure!
How to buy cheap NFTs on OpenSea
Among the NFTs marketplace listed above, I will be using OpenSea for the step-by-step guide to buying cheap NFTs.
Your first step to getting started on OpenSea for buying and selling NFTs, is getting your digital wallet. You can download and create a wallet account with Metamask. Register with any well-known cryptocurrency exchange like Binance and buy Ether (ETH).
After that, withdraw your Ether from the exchange to your Metamask wallet (copy the metamask Ethereum wallet address and paste it in the recipient box on the cryptocurrency exchange that you're using).
After a couple of confirmations in the Ethereum blockchain, the Ether will reflect in your metamask wallet.
The next step is to navigate to the browser section in the Metamask wallet and type OpenSea.io in the box.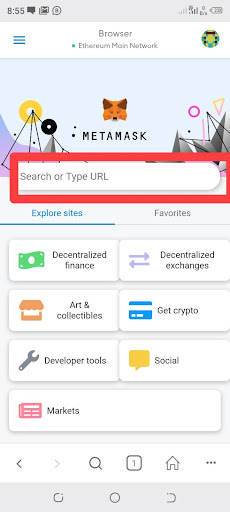 You can then connect your wallet with the OpenSea platform and navigate to your preferred collection or NFT you wish to buy. Or you can rather paste the collection custom link to go directly to the collection page.
Heads up!
This article is for informational purposes only; it should not be considered a recommendation to use any sort of NFTs marketplace Or investment advice to buy a particular NFT.