The Metaverse has garnered the interest of higher institutions and tech giants, following the Facebook rebranding to "Meta" and spending over $10 billion on the project and other big companies like Adidas and NIKE reportedly diving into the new revolutionary technology. Even Samsung recently partnered with Decentraland to launch a Metaverse store.
It's no doubt that this has the potential to be a bomb, and it will eventually gain massive adoption. One of the best ways to tap from the wealth that Metaverse will create is to invest in a metaverse projects' utility currency, which brought up the topic "best metaverse crypto coin to invest in 2022."
As we know, Metaverse is going mainstream and trending currently. Hence, there will always be some group of developers that will want to take advantage of the trend by launching a cryptocurrency and giving a fake promise that they want to build the best Metaverse project, which they might not be capable of fulfilling. However, an investor intrigued by the Metaverse and wants to make an early investment in the space as much as possible may be lured to invest in the fake metaverse promise token, which might be an unsuitable investment made in the long run.
In this article, we will also walk you through a brief explanation of the Metaverse and what metaverse coin is before we discuss the best metaverse crypto coin to invest in 2022.
So, What is Metaverse?
Metaverse is a virtual world with which the physical world was ported into and merged with, by combining augmented, virtual, and extended reality to procure the virtual world that resembles the physical world with a new structure which is:
3D Avatars – A new dimension of individual appearance in the virtual world and,
NFTs – A virtual asset representing or similar to the physical assets with proof of ownership and interoperability feature through blockchain technology.
What is Metaverse Coin?
Since the concept of the Metaverse cannot be achieved without the need for blockchain technology, it has to be associated or linked with the blockchain currency popularly known as cryptocurrency.
A metaverse coin can be any cryptocurrency that is used as a utility currency in a particular metaverse project. It is the native and utility currency that is used to buy in-game items, and it's used for any sort of transactions in the metaverse platform.
Best Metaverse Crypto Coin to Invest in 2022
It is essential to make an ideal investment in the metaverse space to be a successful metaverse investor. Below are a few lists of metaverse tokens that are considered the best metaverse crypto coin to invest in 2022. You will also get in-depth details of their market capitalization and the current market price at the time of this writing.
Decentraland (MANA)
The Decentraland utility and native token – MANA has earned its position as the first and foremost metaverse token.
Decentraland is a virtual reality platform that was developed on the Ethereum blockchain, and it, allows users to experience, create, and monetize content and application. Decentraland enables users to buy plots of land on the platform, with which they can monetize by developing a game on the land and building a variety of properties that will be of immense value to the metaverse visitor. The land can also be leased out or be flipped for profit.
Decentraland was launched in 2017 alongside the utility token (MANA). Following the blockchain that the Decentraland platform was built upon, MANA was created/minted as an ERC-20 token, it's the utility token that is used to buy land and pay for any sort of services on the Decentraland platform.
Market Cap: $3.9B
Current Market Price: $2.23
Circulating Supply: 1.82 billion MANA
Total Supply: 2,193,870,727 MANA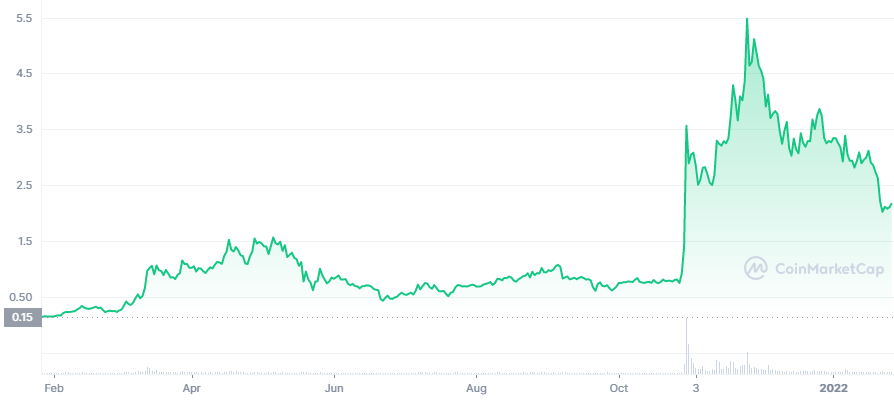 SandBox (SAND)
SAND is the utility token of Sandbox, and it was minted on the Ethereum blockchain. Sandbox was created as a blockchain-based virtual world by Pixowl in 2011. It allows users to build, create, buy and sell digital assets in the structure of a game.
The Sandbox platform is governed by non-fungible tokens (NFTs) and decentralized autonomous organization(DAO) to enhance decentralization in the platform for a thriving gaming community.
The Sandbox allows users to develop and play a game, the Sandbox platform games are a "play-to-earn" game, and every transaction on the platform is facilitated by the utility token (SAND).
Market Cap: $2.9  billion
Current Market Price: $3.20
Circulating Supply: 925,054,385.22 SAND
Total Supply: 3,000,000,000 SAND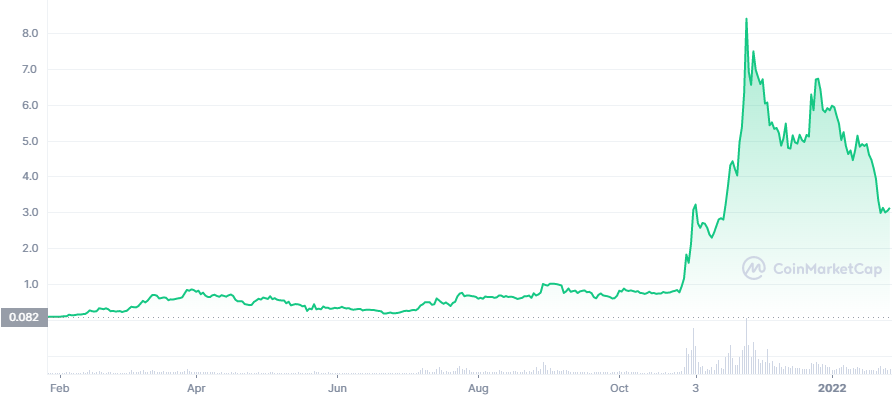 Enjin Coin (ENJ)
Enjin Coin is an ERC-20 token that's used to back the digital assets issued using the Enjin network platform, meaning that items can be bought, sold, and traded with real-world value.
Enjin is a company that provides an ecosystem of blockchain-based and interconnected gaming products. Enjin Network is a social gaming platform through which users can create websites and clans, chat, and host virtual item stores. Enjin allows game developers to tokenize in-game items on the Ethereum blockchain.
Enjin Coin (ENJ) is considered a store of value that's used to back the value of blockchain assets like non-fungible tokens (NFTs). Comprehensively, every asset that was minted with the Enjin Platform contains ENJ which is locked inside NFTs by infusing them with a reserve value, giving them instance liquidity, and ensuring their transparency and scarcity to benefit the developers and users.
Market Cap: $1.4 billion
Current Market Price: $1.66
Circulating Supply: 853,576,205.57 ENJ
Total Supply: 1,000,000,000 ENJ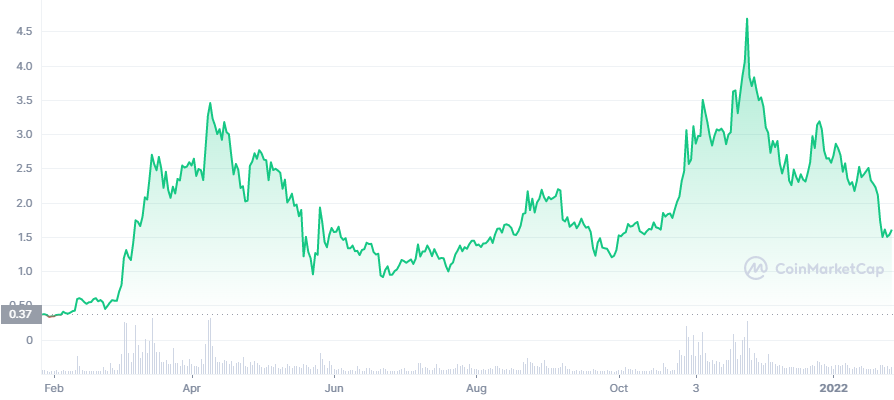 Bloktopia (BLOK)
BLOK is a cryptocurrency token that was minted on the Polygon network, it is the native token that powers the Bloktopia platform.
Bloktopia is a metaverse platform created and built on the Polygon network. The Bloktopia is a decentralized virtual reality skyscraper that's made up of 21 levels claiming to be a recognition to 21 million Bitcoin supply, it acts as a primary hub for users to have access to crypto information and immersive content in one place.
It also enables users to educate themselves in the basics or more advanced crypto learnings, and it enables users to earn revenue by owning virtual real estate, playing games, building networks, and more.
Market Cap: $233 million
Current Market Price: $0.02805
Circulating Supply: 8.34 billion BLOK
Total Supply: 200,000,000,000 BLOK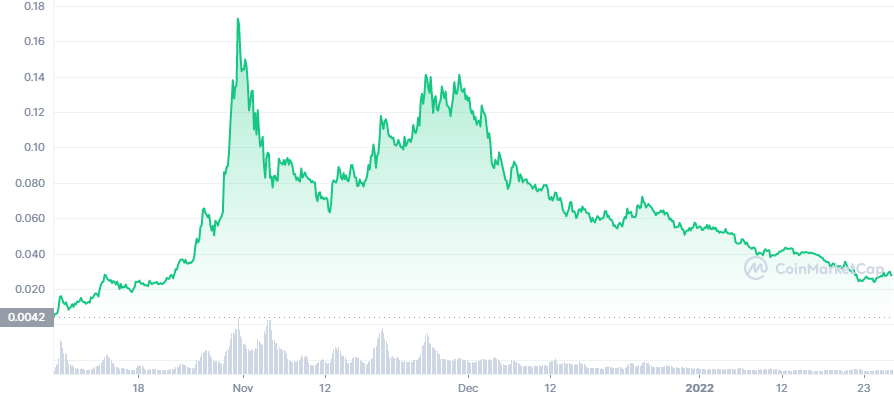 DEAPcoin (DEP)
DEAPcoin is the native token of the DEA project that is used to Purchase NFTs on DEP NFT Marketplace, and it's also used as fees for processing transactions. DEA Project is a blockchain-based NFT DeFi platform with over 1,000,000 registered users that features games, NFTs, and various other forms of interactive items.
DEAPcoin is an ERC-20 token that is used to purchase NFTs in DEP NFT Marketplace to enhance the gaming experience within the platform. The platform aims to address a problem to copyrights for the secondary market transaction of individual artwork by making the portion of the sales on every NFT be rewarded as royalty to the original creators eternally.
It also allows users to play games for free while earning DEP tokens on their PlayMining platform.
Market Cap: $211 million
Current Market Price: $0.05196
Circulating Supply: 4.07 billion DEP
Total Supply: 30,000,000,000 DEP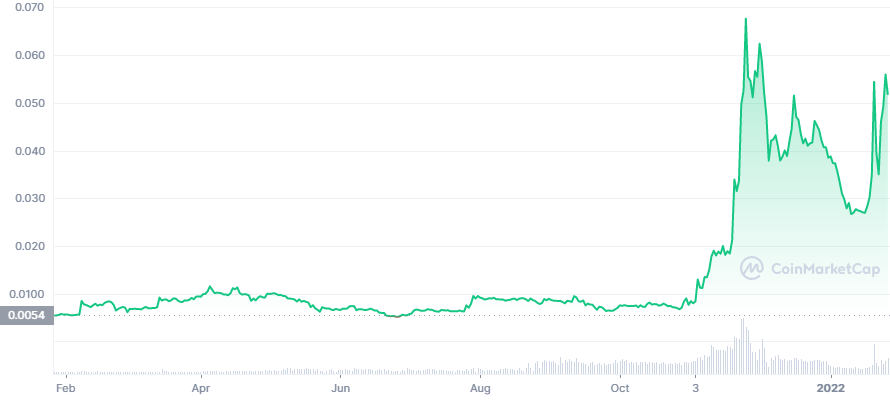 In conclusion, major speculation is that Metaverse is still in its infancy age, and investing in the new sector might be a great investment decision. However, this article is for informational purposes only as you will be responsible for any profit or loss incurred from an investment made on any of the aforementioned tokens. The article shouldn't be considered investment advice.