TL;DR Breakdown:
Dent is a blockchain project on the mission to enable mobile data trading and eSIM technology.
DENT price predictions on different platforms suggest that the cryptocurrency could increase more with every proceeding year.
As the world is gradually transitioning to the digital era where most of the daily activities are automated and digitized, the need for internet/smartphone data becomes necessary. People would purchase and burn their data bundles to perform certain activities online, including social media, video streaming, online gaming, and more. One challenge with buying internet bundles for browsing is that some people do not even run out of the whole data before it expires. 
The worldwide leader in IT and internet networking computer, Cisco, had also released a report which informed that 15 percent of $32 billion data purchased are always not used – which goes at the expense of the users. The strategic effort to address the issue of internet data wastage resulted in the establishment of the Dent blockchain and its cryptocurrency (DENT). 
So, we will emphasize the basics of Dent blockchain and DENT token prediction for 2021 and the years to come.
The History, Basics, and Promise of DENT
Based in Hong Kong, the blockchain company Dent (formally known as DENT Wireless LTD) was established in 2014 by Tero Katajainen in the process of creating an "automated Forex market system with built-in risk management functions." The other founders joined the project about three years later. It's safe to mention that the Dent project is driven by two-core objectives: enabling embedded-SIM (eSIM) technology and the liberalization of mobile data. 
Through blockchain, Dent developed a marketplace for internet users to purchase and trade and dormant or excess data and voice packages without having to use outdated SIM cards. "We are striving to liberalize the market of mobile data while creating new opportunities for telcos too." The ecosystem, meanwhile, is powered by the DENT token, which somewhat spells a good use case for the cryptocurrency – provided the marketplace flourishes.
DENT price prediction 2021, 2022
DENT is an Ethereum-based cryptocurrency (ERC-20 token), which facilitates data trades on the marketplace. Internet users on the Dent marketplace can use the cryptocurrency to purchase and sell-off their data bundles, thereby reducing the loss of funds incurred when data expires. In addition to this, the DENT token can be traded for fiat currency in digital currency exchanges. 
On Coinmarketcap, DENT ranked as the 416 largest digital currency with a market capitalization, $17,860,057. At the time of writing, the cryptocurrency was worth about $0.000206, with 24hr trading volume above $760,000. Although the maximum supply of the token is unknown, it does have a current supply of 100 billion, of which 86.9 DENT are presently in circulation. 
It's also worth noting that DENT trades on some popular exchanges such as HitBTC, Binance, Upbit, Omgfin, VCC Exchange, and others.
Countries Supported by Dent Exchange 
In the Middle East, Dent exchange supports only Turkey. 
Western Europe: Ireland, Belgium, France, Luxembourg, Germany, Netherlands, Austria, Switzerland, and Liechtenstein.
Eastern Europe: Croatia, Hungary, Poland, Slovakia, Czech Republic, and Slovenia.
Northern Europe: United Kingdom, Sweden, Estonia, Norway, Denmark, Iceland, and Finland.
Southern Europe: Malta, Portugal, Greece, Italy, Cyprus, and Spain.
South Africa: Kenya, and Uganda.
Oceania: Australia, and New Zealand.
Eastern Asia: Japan, and South Korea.
South-Eastern Asia: Singapore.
North America: Canada, and Mexico.
South America: Paraguay, Argentina, Uruguay, and Brazil.
DENT Token Price History
Before the DENT price prediction, it's worth noting the price history of the cryptocurrency since it launched on exchanges. Although to some extent, such data can help to better understand where the DENT cryptocurrency is headed for the future. Following the price chart from Coimarketcap, the token has since been trading very flat after months of making an all-time high (ATH) at $0.09 on January 10, 2018.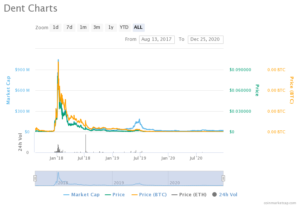 In April 2017, DENT traded at $0.000628 to close the year at $0.019647. Starting the next year with that price, DENT entered its most-profitable months, which was the first three months of 2018, with the biggest being January. On the first day of the year, the token closed at the price of $0.018232, from which it began peaking to the ATH on January 10. As seen in the chart above, the price began plummeting heavily from the peak. Another notable increase began in May last year, which led to $0.0025 in June before it fell back at the $0.000 range.
DENT price prediction for 2021
Regardless of DENT price performance, many popular prediction platforms expect modest growth in the price of the digital currency.
Trading Beasts prediction for DENT token 2021: Starting next year (i.e., January 2021), Trading Beast predicted that the DENT cryptocurrency price would reach a maximum of $0.0002932; $0.0002954 in February; $0.0002972 in March; $0.0002980 in April; $0.0002973 in May; $0.0002951 in June; $0.0002938 in July; $0.0002994 in August; $0.0003063 in September; $0.0003142 in October; 0.0003234 in November, and the highest 2021 price at $0.0003330 in December.
Wallet Investor prediction for DENT token 2021: The DENT price prediction from Wallet Investor isn't quite bullish as that of Trading Beast. From January 2021 to December, the platform predicted that the DENT price would reach a minimum price of $0.000196 and a maximum value of $0.000229.
Digital Coin Price prediction for DENT token 2021: Digital Coin Price is another popular prediction platform for digital currencies. The DENT price prediction from the platform suggests that the crypto could reach $0.00050706 in January; $0.00047040 in February; $0.00060962 in March; $0.00050383 in April; $0.00045643 in May; $0.00047245 in June; $0.00044512 in July; $0.00043012 in August; $0.00054752 in September; $0.00050179 in October; $0.00060224 in November, and $0.00047274 in December.
Gov Capital prediction for DENT token 2021: Gov Capital currently has a three-month DENT price prediction for 2021. In January, this platform predicted that the DENT cryptocurrency would see the lowest record of $0.00072675 and a maximum of $0.0322. In February, Gov Capital predicted the month's lowest price to be $0.0001377 and $0.0041745 as the month's highest value.
Cryptoground prediction for DENT token 2021: DENT cryptocurrency will begin trading at the price of $0.00075 according to the DENT price prediction from Cryptoground. The platform expects the crypto to close the year at $0.02384, which is quite bullish. 
Dent Roadmap for 2021
Since the DENT token powers the transactions on the Dent data marketplace, the price-performance somewhat relates to the development, collaboration, and exposure of Dent. So, before looking at the DENT price prediction for 2022, it's worth noting the plans or roadmap for the marketplace for the coming year. During the first half of 2021, the Dent team plans to heighten their distribution and marketing, while still rolling out new services for the marketplace. 
In H1 2020, Dent intends to:
Launch embedded-SIM or eSIM for Windows products, especially for laptops and tablets running on Windows 10.

Allow data trading for eSIM on both Mobile and Exchange.

Deploy a key update on the data marketplace to allow a more convenient trading experience for users.

Establish an international presence through a new worldwide marketing campaign that will target data users and travelers in foreign markets.

Roll out eSIM promotion on popular social media platforms such as Twitter, Facebook, Instagram, and Snapchat.

Kick-off Dent B2B sales channels by allowing reseller partners.

Optimize network connectivity and devices in preparation for Tokyo's Summer Olympics.

Expand its global pack for embedded-SIM by adding 20 more nations.

"Research and development for a new IoT product "eSIM on a chip" to create an open-source "operating system" for connected devices to replace WLAN setup features with a pre-connected DENT eSIM on a chip for manufacturers to embed onto their products as default."
DENT Price Prediction for 2022
Trading Beasts prediction for DENT token 2022: In the next two year, Trading Beasts DENT price prediction reads that the cryptocurrency will reach a maximum value of $0.0003435 in January; $0.0003545 in February; $0.0003647 in March; $0.0003762 in April; $0.0003873 in May; $0.0003988 in June; $0.0004098 in July; $0.0003369 in August; $0.0004322 in September;$0.0004428 in October; $0.0004535 in November; and $0.0004637 in December.
Conclusively, the platform predicts that 2022 will be more profitable for DENT holders than in 2021.
Digital Coin Price prediction for DENT token 2022: Digital Coin Price DENT price prediction is even more bullish compare to Trading Beast'. This platform predicted an average price of DENT in 2022 reach $0.00072183 in January; $0.00058071 in February; $0.00072163 in March; $0.00057703 in April; $0.00065751 in May; $0.00030540 in June; $0.00070745 in July; $0.00001959 in August; $0.00061389 in September; $0.00013562 in October; $0.00065686 in November; and $0.00058870 in December.
Cryptoground prediction for DENT token 2022: The 2022 DENT price prediction from Cryptoground reads that the cryptocurrency will begin the year at the price of $0.02384. This platform expected modest growth of $0.0356 at the end of the year. 
Buying and Storing DENT Cryptocurrency
Buying the DENT token is quite easy, in case you are wondering how to purchase it. As earlier mentioned, this cryptocurrency is available on popular exchanges like Binance, OKEx, KuCoin, and others. The cryptocurrency is supported for trading against major cryptos like Bitcoin (BTC), Ether (ETH), Binance Coin (BNB), and Tether (USDT). Storing the cryptocurrency is also easy, as DENT is supported by many hardware wallets, including Ledger Nano S, MyEtherWallet, and Metamask.
Conclusion
Although the DENT price predictions are quite impressive, it's also worth mentioning that the cryptocurrency might exceed or underperform these predictions depending on the growth of the data marketplace. Since DENT powers the activities in the marketplace, more traction means the demand for the ERC-20 token will increase accordingly, which is a healthy factor for the price growth. 
Meanwhile, it's also advisable not to depend on these predictions entirely. Do your own research and invest responsibly.