Several gamers and investors in the cryptocurrency space are intensely craving a Pokemon NFT collection. But why? Billions of Pokemon trading cards are sold every year. So, based on the historical interest and sales record of Pokemon, many people are betting big that the next phenomenal to be pulled by the company will be non-fungible token (NFT) versions of characters.
Despite the NFT market has been blowing up in sales and also seeing the participation of many reputable brands, the Pokemon company is yet to officially disclose or announce any intention to release Pokemon NFT in the future. Will there be a Pokemon NFT collection soon? It's likely or maybe not. However, some people are hopeful that the collection will be released soon.
Investors want to bet big on Pokemon NFTs
NFTs are supposed to be a unique and virtual representation of real-world assets, as we explained earlier. To date, CryptoPunk and Bored Ape Yacht Club (BAYC) are a few of the many NFT collections that made headlines last year with crazy sales records and the spike in their floor price. Pokemon might pull similar records, following the already-present global interest in the trading cards. 
For this reason, many people want to bet big on the Pokemon NFT collection if released. "Can Pokemon just release an NFT collection and take all of my money, please," says British DJ & Producer Daniel Taylor. Judging by the ongoing hype around a potential Pokemon collection, the NFTs could sell off quickly after launch.
When is Pokemon NFT dropping?
At the moment, there is no specific date scheduled for the Pokemon NFT release. In fact, the company hasn't made any official announcement regarding its plan to create these tokens. It's quite strange not to see a Pokemon company venture into the booming NFT market, given other big-name companies are already jumping on the train. 
If at all Pokemon NFTs will be a thing, the silence could mean the company is planning something spectacular. Also, people tried predicting which platform would host the Pokémon collection, and the speculations tilted towards VeVe, a marketplace for licensed digital collectibles released by Ecomi.
VeVe has a record of hosting NFTs from reputable brands. In October, VeVe sealed a partnership with Disney for the release of the Mickey Mouse NFT collection. Marvel Entertainment and French automobile brand Citroën had also collaborated with VeVe to release digital collectibles.
Pokemon NFTs in OpenSea
While the Pokemon company hasn't officially jumped into the NFT bandwagon, some contents are already seen listed and trading on OpenSea, one of the biggest NFTs markets. The description reads the "Rarest collection of Pokemon NFT's" and constitutes a total of 19 items owned by 16 people. So far, it has a trading volume of 8.2 Ether (ETH), which is equivalent to $25.5k.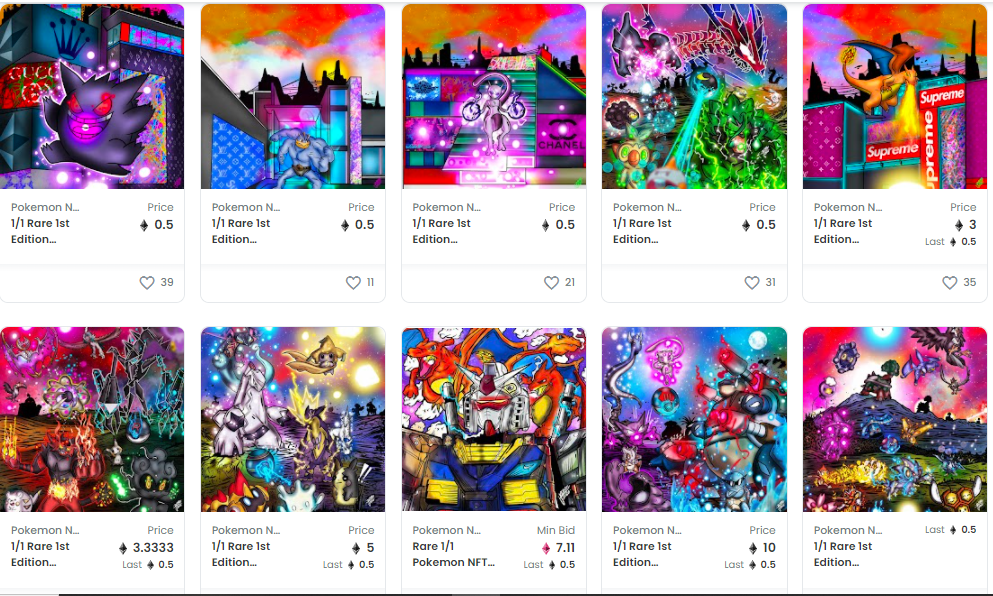 The floor price of the contents sits around 0.5 ETH or $155. Although the creator of the so-called "Pokemon NFT's" is verified on OpenSea, it remains unknown if the contents are affiliated with the Pokemon company.