Coin360 is one popular cryptocurrency data aggregator that keeps users updated with cryptocurrency prices around the clock. It's crucial as a cryptocurrency investor and trader to keep tabs on the price of digital currencies while buying, selling, or trading cryptocurrencies. Depending totally on a particular cryptocurrency aggregator might not be ideal, as there could be the possibility of a data discrepancy. So, in this article, we will list about 17 Coin360 app alternatives to use in 2021 for cross-checking prices.
About Coin360 and its features
The cryptocurrency price and exchange tracking platform, Coin360, was established in 2017 by Evan Ropp. This application was designed to monitor live cryptocurrency prices and also to provide a detailed analysis of cryptocurrency exchanges. Coin360 utilizes tools like heatmap, watchlist, liquidity book, global chart, and widgets. It also has a section where it curates trending news happening within the digital currency space.
The market information provided by the Coin360 application is curated from verified digital currency exchanges. These data collected from exchanges are used to visualize cryptocurrency prices and volumes, including the exchange rate for any digital currency. To be precise, Coin360 curates market data from several trading platforms that include Bitmex, Binance, OKEX, Huobi Global, HitBTC, Bithumb, Coinbase Pro, Upbit, Bitfinex, Kraken, Bitstamp, Liquid, bitFlyer, Gate.io, Coinone, Bittrex, Gemini, amongst others.
Evan Ropp has been at the helm of Coin360 since its launch in 2017 as the chief executive officer (or CEO).
Is Coin360 the Best for You?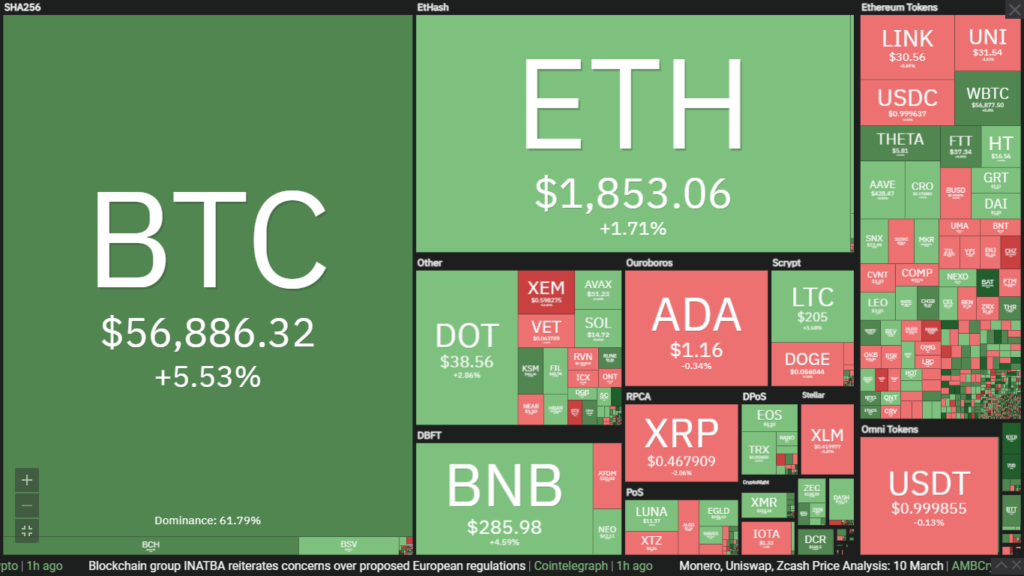 There is one unique feature with Coin360, which makes it the preferred option for many people, including media platforms, and that's its grid-style display option. Coin360 allows users the option to view cryptocurrency prices in a grid format, which also categorizes the cryptocurrencies, making it possible for users to view many coin prices from a single interface. The option is also available for exchange data.
Besides this feature, Coin360 also provides users the option to whitelist their favorite 10 to 50 cryptocurrencies. This option works with cookies, and so, it will be cached on users' devices, allowing them to view their favorite cryptocurrencies from a single interface. Additionally, the Coin360 app also features "Liquidity Book," which allows users to monitor the best liquidity for a given transaction amount.
So, why should I consider Coin360 app alternatives?
As earlier mentioned, it's not ideal to totally depend on one cryptocurrency data aggregator to make informed decisions regarding your investments. On rare occasions, there may be inconsistency with market reports on the platform, which might negatively affect your trades. This is one plausible reason you should also consider using other Coin360 app alternatives to confirm the accuracy of cryptocurrency prices reported on the platform.
Meanwhile, there have been disturbing reports from Coin360 users, ranging from incessant calls from people who claimed to be the customer care representatives from Coin360. These and some other reasons are why we've decided to come up with 17 Coin360 app alternatives for your perusal.
Also read: Where to buy Dogecoin (DOGE) in 2021
Coin360 App Alternatives to Use in 2021
CoinMarketCap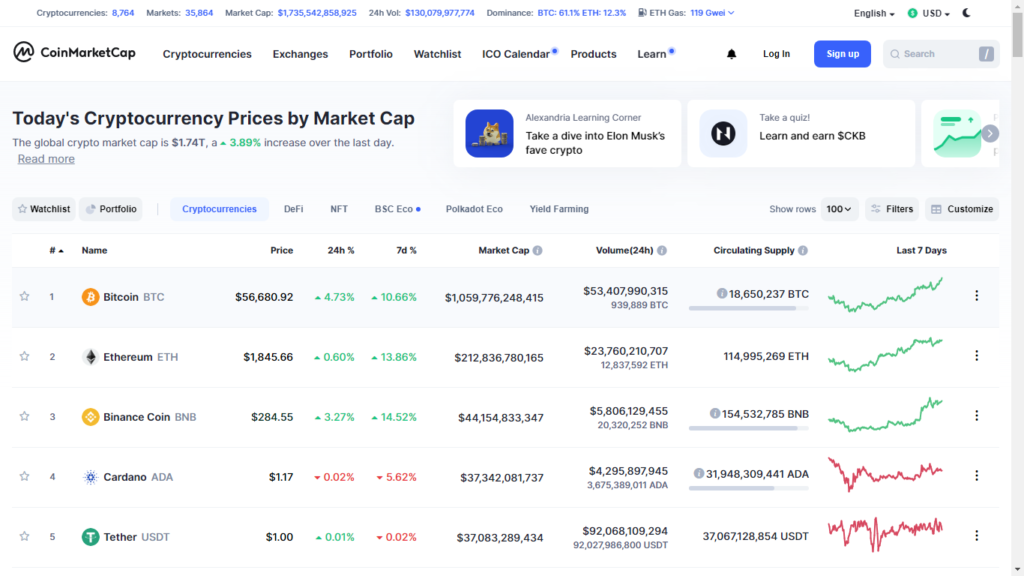 CoinMarketCap is unarguably one of the most popular cryptocurrency data aggregators. The data aggregator is registered in the United States and currently affiliated with Binance, the largest digital currency exchange, via acquisition. Many people consider CoinMarketCap the best tracking platform for comparing prices and values of cryptocurrency. Among other features, CoinMarketCap supports whitelist and crypto portfolio tracking.
Coincodex
Coincodex is one other Coin360 app alternative you might want to consider in 2021. Besides monitoring live cryptocurrency price movements, the data aggregator provides users the option to track the performance of their favorite cryptocurrencies from one place, thereby cutting out the time/stress when trying to get the data separately. Similar to Coin360, Coincodex also features a crypto news section.
Cryptocompare
This is a cryptocurrency data aggregator that runs on a special type of algorithm; just like other Coin360 app alternatives, Cryptocompare monitors and filters the price of cryptocurrencies. It also runs the current price of a specific cryptocurrency against the latest trades conducted. Unlike the Coin360 app, Cryptocompare also features a forum where users can interact and share opinions concerning digital currencies.
Coincheckup
Coincheckup is another Coin360 app alternative that provides detailed information on daily cryptocurrency price flows. It records the price changes of cryptocurrencies from weeks or months, showing the roll-over investment gotten from any cryptocurrency. Interestingly, Coincheckup features a section for market prediction, including fundamental and investment analysis.
Coingecko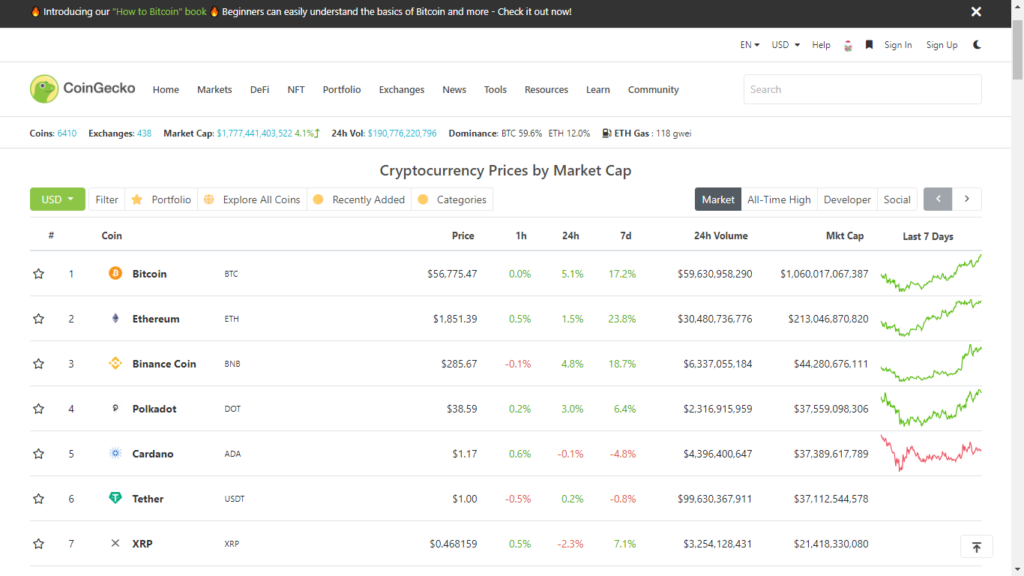 Coingecko is another go-to platform for cryptocurrency price reports. Many people also consider this cryptocurrency data aggregator as the second most-visited after CoinMarketCap. This is probably because Coingecko provides several market-related data from a user-friendly interface. Among other features, Coingecko has a section for decentralized finance and non-fungible tokens.
Coincap
This cryptocurrency data aggregator, Coincap, uses a special algorithm for updating real-time prices of digital currencies. The price changes are updated constantly. However, Coincap has fewer services when compared to other data aggregators like Coin360, CoinMarketCap, Coingecko, and many others.
Coinlib
Coinlib features almost the same options as CoinMarketCap and Coingecko. In addition to that, this crypto data aggregator also supports an option that allows users to access and analyze up to four cryptocurrencies at the same time. This allows easy access to as much data as possible from a single interface.
Nomics
Nomics is an alternative to Coin360 that was launched in 2018. The platform shows historical price ranges and also analyzes different cryptocurrencies. It also provides crypto exchange data and a currency converter option for several cryptocurrencies.
Coinpaprika
Coinpaprika is a cryptocurrency market research and price analysis platform. It supports data and graph analysis for more than 20 cryptocurrencies. It also provides market caps, community statistics, and developer teams, among other features.
Cryptorank.io
Cryptorank is another platform that provides useful digital currency statistics for traders. The platform features range from watchlists, alerts, News, cryptocurrency widget, converter, market data API, and so on.
Messari
Messari is another popular crypto research platform to consider in 2021. This platform provides useful cryptocurrency market data from its team of researchers, who are well knowledgeable about the digital currency market and space. This and many more unique features on the platform make it an ideal Coin360 app alternative.
Live Coin Watch
Live Coin Watch was launched in 2017. It has a simple interface that enables users or visitors to easily navigate and understand crypto analysis provided on the platform. It contains different sections for social sentiment, liquidity, and coins' availability.
Coinlore
Coinlore is a simple alternative to use. The platform is mainly for cryptocurrency price analysis, coin research, and market analysis. It has data for over 5,000 digital currencies and also supports some essential features like Watchlist, Portfolio tracking, Data API, and many more.
Coinranking
This coin360 app alternative provides a rich list of cryptocurrency live prices. The contents of the platform are well organized, and it's available in many languages, including French. Coinranking has a section for exchange and non-fungible token (NFT) data.
Athcoinindex
Athcoindex is one cryptocurrency data aggregator that shows the live prices of popular cryptocurrencies and their recent all-time high (ATH). This is very useful when analyzing the market performance of digital currencies.
Bitinfocharts
Bitinfocharts is another useful cryptocurrency analytics platform, although it doesn't display contents and prices in the nicest interface. However, it provides tons of relevant information about several cryptocurrencies, including Bitcoin rich list and crypto network hash rate.
OnchainFX
OnchainFX is a Coin360 app alternative powered by Messari. Among other features, the platform displays coin prices in a well-tailored manner, allowing for easy comparison and monitoring of cryptocurrency prices.
Also read: Best exchanges where you can buy Cardano (ADA) in 2021 instantly
Conclusion
Although these cryptocurrency data aggregators have their better side of being a coin360 app alternative, they also lag in some areas. This is the more reason you shouldn't depend on a single platform to analyze and make financial decisions, especially when it involves volatile assets like cryptocurrencies. The above-listed coin360 app alternatives are subject to further review as the system of running each platform may change.