If you are a lover of video games and also a crypto enthusiast, CryptoBlades Game could be the one to turn your passion into profit. In this article, I will be walking you through what the CryptoBlades game actually is and how you can start playing and earning from it.
What is CryptoBlades Game?
CryptoBlades Game is a game that was built on blockchain. It is a game that allows you as a player to control your NFTs (this can be characters, weapons, etc).
It is a blockchain game which implies that selling and trading your NFTs is done a lot and is one way to earn from the game. Cryptoblades is one of the best blockchain games and has a total of about 2901 players.
The game was developed by a game development company, the riveted games LLC established in 2004. In CryptoBlades as a player, you battle with monsters, you can craft unique weapons, trade on the popular market, and a lot more.
However, to become a CryptoBlades player, you need a minimum of about 4.6 $SKILL (may not be the current value) but the normal minimum recommended value amount is around 1 $SKILL.
CryptoBlades utilize play -to- earn model. This implies that as you play, you have chances of getting $SKILL which is the token used in the game.
NFTs on CryptoBlades which we already know may be characters, weapons, etc, or in general assets of the player can be traded on the marketplace for a $SKILL token and these tokens can, in turn, be exchanged or converted to fiat currency.
A player can involve in the following to earn in the CryptoBlades platform.
Partake in combats through characters and weapons for $SKILL.
Trade NFTs with other players for BEP-20 tokens.
Minting characters and weapons, then selling them for $SKILL on the marketplace (exchange $SKILL on a DEX for currency which can be traded on an exchange).
How to Download CryptoBlades App
If you're wondering if you can play the game on mobile, you have nothing to worry about because you absolutely can.
CryptoBlades is a web-based browser game and there is no need to download or install the game on your device whether Android or an iPhone device.
You need to visit the CryptoBlades website to start playing games,
But there's a process to that, you need to download any cryptocurrency wallet that supports Binance Smart Chain (BSC). That is where you store your SKILL tokens and BNB tokens which are used to get $SKILL to play the game.
Then finally you need to install the Metamask app on your mobile device and then configure a wallet, deposit BNB and swap to SKILL token and navigate to the CryptoBlades website via the Dapp browser.
Metamask wallet is a crypto wallet and this wallet allows you to store and make transactions on decentralized exchange (DEX).
How to Play CryptoBlades Games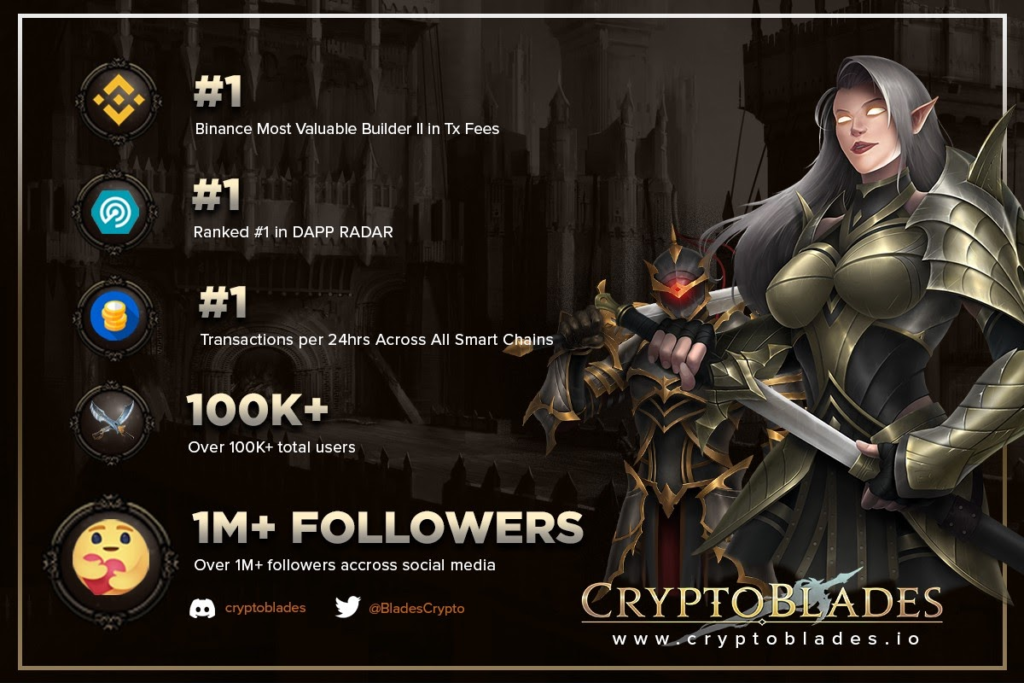 The CryptoBlades gameplay is not a complex one and the requirements to start playing CryptoBlades game are:
Metamask Wallet
BNB
$SKILL Token
Players can win $SKILL tokens when they defeat enemies and when they make in-game raids.
As a player, if you enhance your gaming skills, you gain more tokens.
There are four elements in the game which are fire, earth, water, and lightning, and these elements are assigned to different characters.
The number of elements a character has can either enhance or reduce the chances of victory in battle. You can also gain more tokens by staking your SKILL and trading characters on the marketplace.
Now to start playing games on CryptoBades, get your character (create your character).
You have to hold enough $SKILL to do this. It is advisable to have at least 5 to 10 $SKILL.
Get your weapon (sword), you click on the blacksmith button and create a weapon for your character. You have to accept the transactions which are at a cost and then you get your weapon.
Check if your sword matches your character, if you are planning to use a lightning character make sure to equip the character with a lightning sword.
Check the status of your character and see if the character is ready for a battle, you click on combat and click on a weapon that is of the same trait as the character.
Then select the enemy to fight, you have to follow the order of the elements.
As a fire character, you have to go against the tree which is earth and earth goes against lightning, and lightning goes against water and water goes against fire.
When you select your enemy, you fight and then you wait for the result.
Depending on your character and its weapon, you have chances to win the battle or not, If you win the fight, you get a skill as a reward. You can use your skill to buy weapons, characters, sell or exchange for BNB.
This is just a brief run-through on playing the game
CryptoBlades Token ($SKILL)
$SKILL is the native or governance token of the CryptoBlade platform that was created on the Binance Smart chain blockchain
SKILL token is what enables you to keep playing the game as it is used to purchase characters, weapons (NFTs).
$SKILL can be staked to gain more as talked about above and can also be traded in the marketplace.
SKILL is currently rated at $19.76 and the price to BTC is 0.00041549 BTC.
There is a maximum supply of $SKILL which is 1,000,000 SKILL
Why is SKILL Token Soaring?
SKILL has surged higher as of recent but the question is what are the metrics behind it
SKILL is soaring higher because of the high demand on the token
SKILL is the only requirement to start playing games on CryptoBlades game and it is used to purchase characters and weapons in the platform thus, developing new use cases for the token
According to CoinMarketCap, the live Cryptoblades price today is 19.70 USD (at the time of writing) with a 24hour trading volume of $3,051,569.
Cryptoblades is up 3.37% in the past 24hours.
Conclusion
CryptoBlades Game is a very astonishing game and has a lot of potentials in the crypto sphere. Starting doesn't require much and you can have an edge starting now
However, this article is for informational purposes only and should not be regarded as investment advice